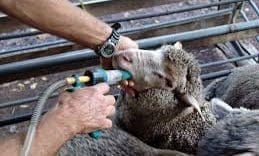 ANIMAL health company Boehringer Ingelheim has decided to phase out its popular sheep capsule range in Australia by the end of 2022.
Boehringer Ingelheim Animal Health Australia has confirmed that following a review of the local market, it has made a decision "to optimise its Australian cattle and sheep portfolio of animal health products".
Sheep Central understands the company's full range of capsules will be discontinued, including the Extender SeCo and Extender Junior capsules, which only contain the BZ, Albendazole. Dynamax contains the ML, abamectin, plus the BZ, Albendazole.
The capsules have been used mostly in southern Australian systems to combat scour worms, particularly through wet Winter-Spring periods when there is a high ongoing worm challenge. There is a long-standing, and generally moderate to severe resistance to the BZ actives, but it is known that the capsules with their constant feed in of active ingredient tended to work better than a single oral drench of the same BZ active.
The abamectin in Dynamax adds an active that has been found to be generally quite effective against scour worms — though resistance is gradually increasing — so Dynamax capsules are also generally very effective.
The company said the discontinuation is reflective of the ever-changing dynamics of the local market. It said the decision takes into account a number of external factors such as increased market competition, customer consolidation, pricing, and internal factors such as removing complexity from its manufacturing and supply chain and investing in new innovation.
Boehringer Ingelheim said it will deliver a more targeted range of innovative cattle and sheep products, including leading brands such as Eprinex, Triguard and Marks Min.
The company will also continue to distribute its full portfolio of innovative cattle and sheep therapeutic medicines such as Metacam, Mamyzin and Bivatop.
Boehringer Ingelheim country managing director for Australia and New Zealand, Wes Cook, said the company takes its responsibility to animal health and wellbeing seriously.
"We have communicated changes to our local product portfolio as early as possible to ensure customers have appropriate time to consider what this change means for them.
"We are confident that there are suitable product alternatives available in the local market to effectively treat these conditions in sheep," he said.
He said the company's technical veterinarian team will work closely with customers to develop transition plans that support the ongoing health and wellness of animals on-farm and it will continue to significantly invest in the research and development of new breakthrough therapies.
ParaBoss executive officer Dr Deb Maxwell said she is not concerned with all capsules being discontinued, as there is an equally or more effective alternative at a lower cost that is already widely used in Australia.
"Long-acting moxidectin injections provide a more potent macrocyclic lactone active than abamectin in Dynamax, a three-month protection claim similar to capsules.
"Injections are typically easier to administer than capsules, and they are cheaper with capsules being about two or three times the price of the equivalent dose of moxidectin LA injection."
Dr Maxwell said as resistance is evident to abamectin and moxidectin – though to a lesser extent in scour worms where capsules are typically used, but more so in Barber's Pole worms — ParaBoss firstly recommends using a variety of strategies to avoid the use of long-acting products.
But if they do become necessary, there are three practices to slow any further development of drench resistance when using long-acting products, she said.
"Whether using an injection or capsule give a proven-effective oral primer drench from a different drench group/s at the same time; monitor persistence of the product with worm egg counts at 60 and 90 days (or sooner based on results when previously used); and use an exit drench of a different effective drench group/s just as worm eggs become evident, to kill these worms that may be resistant to the long-acting product.
"Long-acting moxidectin injections are widely available; with most farmers being familiar with Cydectin Long Acting injection for sheep, from Virbac, but there are at least another six generic brands," she said.
Resistance has reduced effectiveness of long-acting drenches
Respected veterinary parasitologist Dr Brown Besier said Dynamax was a big seller, despite the hefty price, and popular to give to ewes pre-lambing, as it was effective against most major worm species for three months — giving worm control for the ewes and reduced the exposure of the lambs to worms.
"However, Dynamax would have had a lot of competition from the cheaper long-acting moxidectin injection, which last for nearly that time against Barbers Pole worm and Brown Stomach worms, but much less for other worm types.
"In recent years several generic moxidectin injections have come onto the market," he said.
Dr Besier said drench resistance has reduced the period of effectiveness of all long-acting drenches, and resistance to the two ingredients in Dynamax is now very common.
"Advisers have always been cautious about recommending long-acting products, whether capsule or injections, due to their potential to exacerbate drench resistance.
"Only resistant worms survive for the long period that they are working and you end up with a purely resistant worm population," he said.
"This can be managed, but needs quite a bit of thought and some effort, and in reality most farmer don't talk to an adviser or vet to plan how to manage the resistance risk."