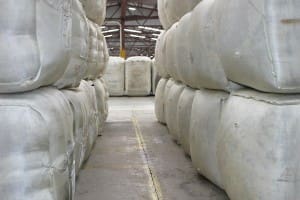 Prices for Merino wool, spinners and best style types with staple strength over 40 Newtons/kilotex, surged by as much as 50 cents through the 18-micron and finer range, AWEX reported this week.
AWEX senior market analyst Lionel Plunkett said support for the lower spec types was less positive and these generally tracked lower during the sale, falling by a similar amount to their broader counterparts.
"Price differentials continue to widen in the finer types as buyers seek out the better types at the expense of part-tender, lower style, and high mid-break types," he said.
The AWEX-Eastern Market Indicator fell three cents to 1051 cents this week, with a national pass-in rate of four per cent. The EMI in US dollar terms fell 17 cents to US848 cents with the Australian dollar at 80.64 US cents.
Mr Plunkett said the national bale offering this week dipped to 47,368 bales, breaking a five-week run of auction weeks where the national total has exceeded more than 50,000-bales.
"The last time five consecutive sales of more than 50,000 bales were held was four years earlier."
Medium and broader wool prices soften
Mr Plunkett said there was a similar market pattern to last week with a softening in the medium and broader ranges overshadowing isolated strength in the finer microns. He said the 19-micron and broader wools were all fairly consistent in their movements, falling progressively each day to close 10 to 20 cents below the previous week.
"In the finer ranges the rises in the Micron Price Guides again obscured the movements of individual types."
He said Merino skirtings recorded reasonable results despite the mixed reception in the fleece sector. Best length and style wool attracted most support and finished close to the previous week while some short and seedy types lost some ground.
"Crossbreds had a quiet week and made only minor movements aside for some downward pressure in the 25-26 micron range out of Melbourne, especially for those that were visually coarse.
"The 27 to 32 micron range still attracted good support despite prices having come 'off-the-boil' over the past few weeks," Mr Plunkett said.
Merino cardings managed to firm another 5 to 10 cents.
Melbourne fine wool open steady
Landmark wool risk manager Anthony Boatman said the fine wools in Melbourne opened on a steady note on Wednesday, with prices edging up to 5 cents higher for the 18.5 and finer categories.
However, medium to broad Merino fleece wool continued to lack support, with most lots from 19 to 23 micron falling back 5-10 cents, he said.
"Crossbreds were also softer, easing around 5 cents, although the 32 micron lots were quoted 7 cents higher on limited volumes.
"A similar trend continued into Thursday's market, with the fine wools again firm to unchanged. Better style and strength lots were well sought after, lifting 10-20 cents."
Mr Boatman said the majority of medium to broad micron wools were down around 10 cents as support remained limited on a relatively large offering. Crossbreds were softer to unchanged over both sale days. However, oddments were stable, remaining firm to unchanged over both days, he said.
Sydney's fine wools well-supported
In opening sales in Sydney on Wednesday the limited offering of fine wools was well-supported, with most categories quoted firm to unchanged, Mr Boatman said.
"Most support was centred around the better style and strength lots.
"Medium micron categories began with good promise, before gradually receding as the sale progressed."
He said the 19 and 19.5 micron categories were down around 5 cents, while the 20 to 22 micron categories dropped 10-15 cents by the close of trade, and the 23 micron categories were 20 cents under their previous quoted level.
"Crossbreds were in limited supply and remained little changed."
On Thursday, the fine wools were again in good demand, with gains of 10-15 cents for the 19 micron lines, and the 16.5 to 17.5 micron categories.
Other fine wools were firm and the medium to broad wool sold at generally unchanged levels, Mr Boatman said. Oddments sold well with stains and crutchings up 10 cents, while crossbreds were soft to unchanged.
Fremantle's 18-19 micron fleece eased 15 cents
Mr Boatman said fine wools did not enjoy the same support in Fremantle sales as they did on the east coast.
"The 18 to 19 micron categories eased back around 15 cents with values for the finer end now up to 70 cents behind their east coast counterparts.
"The 19.5 to 22 micron categories offered generally sold 5 cents lower than last week's levels, and 20 micron categories were quoted down 9 cents," he said.
"The oddment catalogue was better supported, with locks up 5-10 cents, and crutchings reported up to 10-15 cents higher."
No sales were held in Fremantle on Thursday.
Sources: AWEX, Landmark.