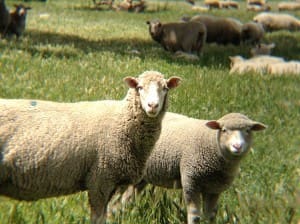 Sheep producers in Queensland and NSW are being advised to look for Barber's Pole worm symptoms in flocks and use a new quick DNA test for diagnosis.
While Barber's Pole worm infections are regular events in summer rainfall regions, it also occurs in localised areas as far south as Tasmania after summer rainfall meaning regular monitoring is critical.
The Livestock Biosecurity Network said while summer rainfall in some areas of Queensland and NSW was welcomed, livestock producers need to look-out for Barber's Pole worm.
This parasite attaches to the lining of the gut, can be fatal for all classes of sheep, and is particularly prevalent during wet conditions in summer.
Livestock Biosecurity Network (LBN) NSW regional officer Louise Pearce said during these high-risk times, producers should increase their monitoring and testing.
"They should be alert for the clinical signs of infection such as anaemia which causes pale to white lower mucous membranes (inner eyelids), reluctance to move, deaths and drop off the mob when mustered," Louise said.
"Producers should be monitoring the parasite burden with worm egg counts before problems develop, however it is still important to keep a close eye out for other signs of infection which are often the first indicators in the paddock that something is amiss."
Researchers at the University of Melbourne, in collaboration with AusDiagnostics, have recently announced a new DNA test for the specific diagnosis of roundworm species such as Barber's Pole worm.
The new diagnostic test can be conducted within 2–3 days, rather than the seven days required for the conventional larval culture technique, and has improved sensitivity and accuracy.
Producers should collect faeces from their flocks as for normal drench resistance testing and the sample will be forwarded to Veterinary Health Research (VHR) in Armidale, NSW for analysis using the new DNA test.
Treat flocks immediately if outbreak occurs
Burdens of Barber's Pole worm are very good producers of eggs and numbers build up rapidly in the right conditions leading to large-scale losses – once an outbreak begins, Louise said the flock should be treated immediately with an effective drench.
"Ideally, the sheep should be moved onto a 'clean' paddock after they are drenched – if they must remain in the same paddock, they should be treated with an effective drench with persistent activity (closantel or long acting moxidectin), to prevent re-infection soon after treatment and monitored to check the effectiveness and ongoing protection.
Paddocks in which outbreaks of Barber's Pole worm have occurred should be regarded as dangerous to sheep for many months," she said.
Long-term prevention of problems associated with Barber's Pole worm required an integrated parasite program which should include drench resistance testing, grazing management and monitoring of worm egg counts.
"Specific programs for a producer's area can be developed by using the tools on the Wormboss website in consultation with their local animal health advisor," she said.
Do your drench resistance testing
Drench resistance is very common in Barber's Pole worm and a recent study published in the Australian Veterinary Journal showed that most properties have resistance to all the older drench groups and even four way combinations.
"Drench resistance is very common so it is very important to know your resistance status and to prevent it coming in when you buy sheep with sensible biosecurity practices like quarantine drenching," says Louise.
"The key is to use one of the new drenches, Zolvix or Startect and two to three other actives when sheep arrive, and then check that the quarantine drench has worked by performing worm egg counts 10-14 days later," Louse said.
The role of LBN is to improve the knowledge and understanding of animal health, welfare and biosecurity among key stakeholders.
While LBN information is targeted at livestock producers, the organisation is also a key participant in a national network of government and industry partners involved in helping protect livestock industries from emergency animal disease.
LBN will engage with its broad range of stakeholders across Australia to increase levels of awareness and understanding of biosecurity.
To help protect their livelihood and income, producers are encouraged to complete the Farm Biosecurity Checklist at www.lbn.org.au.
To find out more about LBN, or if you are interested in holding a biosecurity workshop in your area, contact LBN Regional Officer – Louise Pearce (NSW) on 0488 400 207 – or visit www.lbn.org.au
Sources: Livestock Biosecurity Network, Wormboss