Only Merino – Lost Amongst the Vines from Wool Network on Vimeo.
AUSTRALIAN Wool Network's Direct Network Advantage campaign has been extended to South Australia with the launch of DNA Barossa in Adelaide today.
AWN's DNA program links growers' wool to regionally-labelled and marketed garments, responding to an emerging trend among consumers to see where the fibre in their clothes comes from.
AWN chief marketing officer, Cynthia Jarratt, said the "farm to fashion" philosophy follows on from the food industry's successful "paddock to plate" concept.
"Just as we saw a growing demand for provenance in the food industry, we now see consumers are more and more wanting to understand the origins of the fibres they wear and use.
"Because AWN is a bale-to-retail business – sourcing wool from our growers, taking it through the manufacturing process and to the finished product via our retail brands – we are able to satisfy that demand and provide the transparency many consumers are looking for."
Ms Jarratt said the DNA program allowed AWN to show customers the source of the fibres in the products they buy and it also benefits wool growers who have long wanted to know what becomes of the wool they produce.
Barossa-inspired Only Merino Collection launched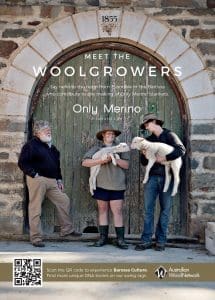 The DNA Barossa launch will showcase a unique collaboration between wool growers and renowned Barossa Valley-based abstract artist Marnie Gilder, AWN said.
The Only Merino Barossa Collection by Marnie Gilder is inspired by Barossa landscapes and features a series of 100 percent Merino wool blankets and throws, each with a Quick Response-enabled swing tag.
AWN said customers can easily scan the swing tags with their mobile phones to view videos showcasing the Barossa, its wool growers and the sheep that contributed to the making of the collection, as well as listen to the unique stories directly from woolgrowers from the Barossa region.
Ms Jarratt said the launch of DNA Barossa is the next step in AWN's DNA program which has seen the organisation promote some of Australia's premier wool growing regions since launching the program in 2014.
"The picturesque Barossa is a unique wool growing region where you often find wool and wine working together with sheep used as lawn mowers and weeders grazing in between the rows of grapevines," she said.
"We are proud to promote this bucolic, unique and vital wool growing region."
Ms Jarratt said a provenance strategy was very important in targeting growing markets such as Chinese tourism to Australia.
"Chinese tourists are discerning and are looking to buy products that are iconically Australian, sourced and made in Australia and of the highest quality.
"With our DNA program, our retail brands and woolgrowers are poised to take advantage of these emerging trends and markets," she said.
The Only Merino Barossa Collection will be exclusively available only at select retailers throughout the Barossa at a special farm gate price or online at: www.merinoandco.com.au