AUSTRALIAN Wool Innovation has shrugged off suggestions its social media support for 2019 director election candidate Michelle Humphries represented inappropriate agri-political activity.
Certain forms of agri-political activity are precluded under AWI's Statutory Funding Agreement with the Federal Government, but the SFA curiously appears not to preclude "AWI, or an officer of AWI, recommending a candidate for election to the board".
However, Australian Wool Growers Association director Martin Oppenheimer said if the rules around agri-political activity in the SFA did not cover AWI's Twitter support for Dr Humphries "then the rules are wrong."
"If you are saying it is OK to use levy funds to promote one candidate over another for the board over all the others, I don't agree with that.
"That's not a good use of levy funds," he said.
"They are not recommending a candidate for election to the board, they are just promoting a person.
"They are not saying vote for that person, this is where it is all subconscious promotion and marketing," Mr Oppenheimer said.
"I couldn't find one mention of the other candidates."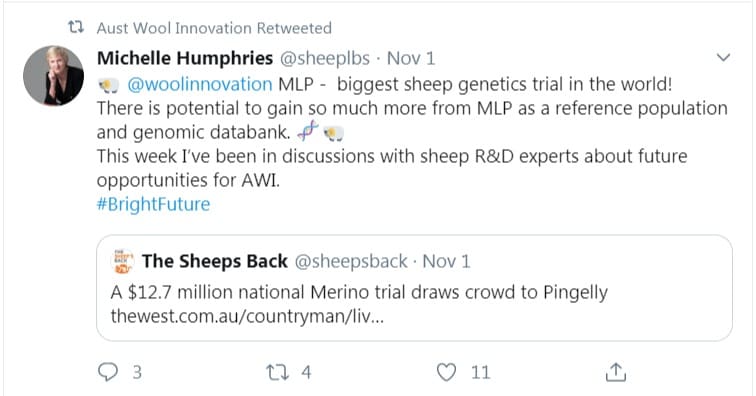 Mr Oppenheimer documented the AWI Twitter support from Dr Humphries candidacy in the 2019 election and could not find any examples of support for other candidates.
He said the AWI Twitter account with more than 6300 followers gave Dr Humphries 14 retweets and nine mentions over the last seven months, since May this year.
"Of all the other candidates you would think they would mention one of them once in the last six months, wouldn't you?
"And if that doesn't happen then you've got to say 'there is a campaign here' and we know they started the campaign long ago," he said.
"But they are using grower funds to run the campaign, that's not what the grower funds are for."
AWI claims impartiality in candidate treatment
Dr Humphries was one of three candidates — along with re-standing AWI directors Wal Merriman and David Webster — to win the AWI board nomination committee's recommendation to shareholders. The three candidates also won AWI board support to share in undeclared proxies at the ballot on November 22.
AWI chair Colette Garnsey was asked to explain the support for Dr Humphries, disclose under whose direction the social media action was undertaken, whether she considered it agri-political activity and if she would take any action.
Ms Garnsey did not reply to Sheep Central's questions, but an AWI spokesperson said: "AWI is diligent in the impartial way it treats all board candidates and is very careful in its fair treatment of candidates.
"AWI tweets and retweets hundreds of industry-related posts that we believe might find useful or interesting, including some of the Sheep Central articles."
It's outrageous – candidate Cocking
Another candidate in the 2019 AWI election, NSW wool grower Paul Cocking said the social media exposure given to Michelle Humphries showed AWI "did not know what is wrong or right."
"I don't know what pub they drink at, but I don't think they would drink at a wool growers' country pub if they think that is appropriate.
"It's just outrageous, it's just so wrong, it's getting to the heart of the problem of the company, it's just not appropriate, no matter who the candidate is," he said.
"They are pushing their favourite and then not retweet or mention any of us, they've even got her collecting signatures if you have a look.
"They've also so got her and AWI going through all the retailers in Europe," Mr Cocking said.
"She has access to everything and to everyone – you shouldn't give her access to the (AWI) database in an election year."
It's definitely inappropriate – WoolProducers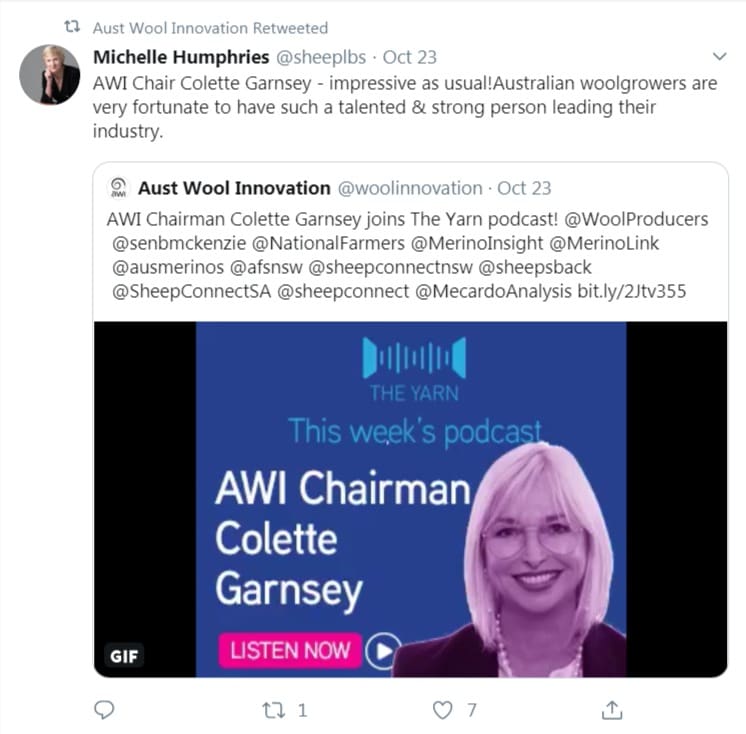 WoolProducers Australia president Ed Storey said WoolProducers had been told that AWI had been retweeting comments from just one director (Michelle Humphries) and not all candidates.
"I would presume that AWI would have policies and procedures in place to ensure that didn't happen, and if that has been happening, I presume the board or the CEO would immediately ensure that doesn't happen in this last week."
Mr Storey said Ms Garnsey should apologise to those candidates who are on Twitter and getting nothing retweeted by AWI.
"It's definitely inappropriate.
"It's certainly giving people the opportunity to think that AWI is being very agri-political," he said.
"If that is the case, it is extremely disappointing and I would imagine there are many people at AWI who are very embarrassed."
"The department should certainly look into it.
"WoolProducers are for increasing shareholders democratic rights.
"AWI talks about it, and if this is the case, this is attempting to reduce shareholders' democratic rights."
Under the AWI-Federal Government SFA 2016-2020, 'agri-political activity' means engaging in or financing any form of external or internal political campaigning, but does not include an activity required or authorised under the Corporations Act 2001 or another law. Agri-political activity also does not include any of the following:
(a)           AWI, or an officer of AWI, recommending a candidate for election to the board,
(b)           AWI making statements or providing information to the industry on matters related to AWI's objects in the proper performance of AWI's functions and the proper furtherance of its objects;
(c)           use by another person, for agri-political purposes, of a report or other publication prepared or financed by AWI in accordance with this Agreement;
(d)          the use by an officer of AWI, or an employee of AWI of his or her own funds to conduct a campaign for election to the board or the board of any entity engaging in agri-political activity; or
(e)           consultation with an industry representative body.
Dr Humphries could not be contacted to comment on her support from AWI.
Australian Wool Innovation will hold its annual general meeting this Friday 22 November at 10am (AEST) at the Amora Hotel, 11 Jamison Street, Sydney. The AGM will be live streamed. Click here to register to view the webcast.