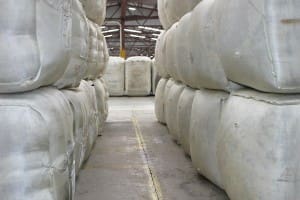 The minimum bale weight for wool in Australia will be increased by 20kg to 130kg in 2016 if field trials are successful, the Australian Wool Exchange said today.
AWEX chief executive officer Mark Grave said the body's board agreed to increase the minimum bale weight for non-speciality wool from January 1 2016, subject to no significant adverse outcomes in field trials due to finish on June 30, 2015.
"The decision, to increase the minimum bale weight, was based on the need to improve safety of handling wool bales, potentially reduce costs to the wool grower and wool buyer and increase the efficiency and productivity of the wool supply chain," he said.
AWEX has agreed to a transition period of 14 months with an implementation date of January 1, 2016, coinciding with the release of the 2016-18 Code of Practice.
"The announcement is being made now so that woolgrowers, woolclassers, wool brokers and stakeholders make use of the opportunity to start preparing now, well ahead of January 1, 2016," Mr Grave said.
Fields trials will analyse new bale weight's effectiveness
The field trials will measure and analyse the effectiveness of the new bale weight, to assess whether there are any unknown consequences of implementing the change, Mr Grave said.
Details of the trials will be available after the AWEX Board has had the opportunity to consider the feedback from industry organsiations.
"The wool industry has shown with the introduction of the new wool pack standard, that it has the capacity to lead and work together to achieve improvements for the industry.
"This is another example," Mr Grave said.
"To put this issue in perspective, currently about 4.6 percent (1 in 20) of all bales fall between 110-129kg, with the vast majority of wool bales weighing between 170-200kg.
"We are trying to address the issues which can arise with low weight and poorly pressed bales such as instability under pressure, when stacked on trucks, warehouses or on farm."
Communication campaign for bale weight message
AWEX also flagged that an industry supported extension campaign is required to communicate the change.
"As always the industry relies on state farming organisations, wool brokers and woolclassers to communicate this message.
"An integral part of this communication will be: Why change? What are the benefits? and; When will this begin?" Mr Grave said.
"Growers, woolclassers and wool brokers should start talking about this now, in fact the sooner the better."
AWEX has written to industry organisations seeking their support and feedback for the trials and the inclusion of detailed bale weight data in electronic catalogue transmissions.
The AWEX Board will consider the feedback and finalise the trial details at their next meeting on November 28, 2014.
A WoolProducers of Australia proposal earlier this year to increase the maximum bale weight above 204kg failed to get general industry support.
Source: AWEX