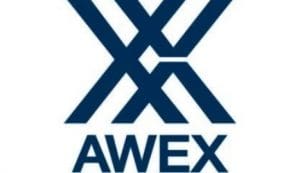 WOOL from sheep treated with freeze branding will be defined in an alternative 'non-mulesed' category under a proposal by the Australian Wool Exchange put to the industry this week.
Despite feedback late last year from some wool producers and Merino ram breeders who oppose describing freeze branding (liquid nitrogen application) as a 'non-mulesed' practice, AWEX is proposing to have two non-mulesed categories on its National Wool Declaration.
Wool from sheep treated with freeze branding and clips is categorised as 'non-mulesed' on the current NWD, because under the Australian Animal Welfare Standards and Guidelines for Sheep mulesing is the removal of skin from the breech and/or tail of a sheep using mulesing shears. Freeze branding does not involve the use of shears, but modifies the breech by causing excess skin to slough off after the process.
However, some non-mulesed wool producers, Merino breeders, wool integrity schemes, animal welfare bodies and brands regard sheep freeze branding as a form of breech modification and not equivalent to 'non-mulesing'. Some Australian producers and Merino breeders believe freeze branding's categorisation as a 'non-mulesed' practice could prejudice the market reputation of wool from sheep that have had no breech modification, apart from tail docking.
A media release from AWEX chief executive officer Mark Grave this week said it is seeking feedback by the end of January on a proposal for the current mulesing status of NM (non-mulesed) to be replaced with the following categories:
NM1 – No sheep in this mob has been mulesed, and an alternative method to mulesing has not been used, and;
NM2 – No sheep in this mob has been mulesed, and an alternative* method to mulesing has been used.
Alternative methods include liquid nitrogen, clips and intradermal injections.
The AWEX release said the proposal recognises that both categories identify wool from sheep that have not been mulesed, it maintains the value of NM status, provides continuity of reporting (of method), and provides customers of Australian wool with greater depth of information.
WoolProducers Australia chief executive officer Jo Hall said the body is still discussing its response to the latest round of NWD consultation.
NWD review held back to finalise NM question
Mr Grave said identification of alternative methods to mulesing has been the most interest in the review and the AWEX board has given this significant consideration and felt it appropriate to consult further with industry for feedback and comment.
AWEX's Industry Services Advisory Committee reviewed the NWD last year and made recommendations to the AWEX board.
Mr Grave said AWEX's review of the NWD is consistent with previous reviews where consultation with industry plays an important part in the process.
"The NWD review opened in May last year with an open consultation period, this current consultation is about engaging with industry stakeholders to keep them informed and provide further opportunity for their considered input to the DRAFT NWD 8.0.
"The 2019 review of the NWD was the largest, in terms of the number of submissions received and the level of interest from a range of stakeholders."
He said the 58-plus review submissions were provided to AWEX in-confidence, as are any recommendations and will not be released. This is consistent with the review of the Code of Practice and previous NWD reviews.
However, Dubbo wool broker and grower Don Macdonald said AWEX held back release of the review's results due to "divided opinions" on whether to categorise freeze branding as 'non-mulesed.' A special AWEX conference call was held in late December to discuss the issue.
"It is being driven by those who don't want freeze branded wool to crowd their space, but if you are going to do that you've got to revisit the definition of mulesing because freeze branding might be breech modification, but it is not mulesing," Mr Macdonald said.
"My concern is, we've don't want to confuse the marketplace, we don't want to start something overseas where they say 'what do you mean, what is going on now?'
Mr Macdonald did not support the AWEX NWD proposal for two NM categories.
"I don't support that because I think it is confusing for the marketplace and if they want to go down that path they are actually going to have to revisit the definition of mulesing."
Call freeze branding what it is – Oppenheimer
New South Wales non-mulesed wool producer and Merino breeder Martin Oppenheimer said he was pleased AWEX had extended the NWD review to seek more industry input on the NWD NM category.
"It needs to be sorted as quickly as possibly and in a way that is not going to harm the industry.
"'Non-mulesed' is an accepted brand under the NWD, buyers understand what it means and the adoption rate of the NWD is increasing," he said.
He said NM wool production is probably the fastest growing sector in the Australian wool industry.
"My point is why would you jeopardise the 'non-mulesed' brand and market, why would you bring into doubt about what 'non-mulesed' means?
"Why would you muddy the waters on 'non-mulsed, why would you make it difficult for buyers to understand?"
Mr Oppenheimer said buyers, brands and consumers understood what 'non-mulesed' meant. He did not support breaking it up the NM category on the NWD into different numbers or categories, and especially while there were still unanswered questions about the registration, efficacy and effect on animal welfare of freeze branding.
"So if there are alternative methods that are successful in meeting the needs of the animals and the people who look after them, then those alternative methods should be called what they are.
"You either call them AM for 'alternative methods', but it makes no sense to put them under 'non-mulesed' and relying on the current Australian definition which relies on the use of shears, while it is still removing skin from the breech," he said.
"People in the pipeline will be looking at it from a truth in labelling point of view and so will the animal welfare and rights groups, which is a very contentious issue.
Mr Oppenheimer said New Zealand's definition of mulesing as the removal of breech skin by any method was the 'gold standard' which Australian non-mulesed wool producers were competing with.
"The alternative methods should be called exactly what they are or lump them under a category called AM, then everyone will be exactly clear on what it is."
NWD review has been a thorough process
Mr Grave said the NWD review is a thorough process and the AWEX board has considered and accepted a number of recommendations, including:
– Replacing Mulesing Status code 'PR' with 'AA' (Analgesic and/or Anaesthetic) where a registered AA product has been used, and
– Ceased Mulesing to be reformatted into two questions to improve understanding and reduce errors. The definition of CM has not changed, and
"In addition, some minor changes have been made to the NWD template for ease of completion," he said.
AWEX is now seeking feedback on new NWD draft version 8.0 by the close of business Friday January 31, 2020. The proposal and draft NWD v8.0 can be accessed though the AWEX website here.
Submissions must be in writing and include the name and address of the author/organisation. Emails are welcome and encouraged to ensure submissions are received by the closing date.
Feedback is to be returned by COB 31 January 2020 to Mark Grave, Chief Executive Officer, Australian Wool Exchange Limited.
By email: [email protected] or by post: PO Box 651, North Ryde, NSW 1670.