SHEPHERD Ag's Auto Feedlot Drafter caught the judges' attention at the Henty Machinery Field Days this week to pick up the Highly Commended award in the 2023 Machine of the Year.
The unit has been designed by Temora, NSW, school principal-turned-sheep feedlotter Justin Dunn, to automatically draft out sheep of heavier weights.
"We've been researching and developing this for the past 12 months, and we're delighted this unit has been recognised by the judges," Mr Dunn said.
"It's another piece of constant-flow equipment for the feedlot."
Mr Dunn was previously employed full-time in education, but for some years been developing equipment that allows his own sheep feedlot to operate with limited labour.
One of his previous inventions, the Shepherd Auto Feeder, won the Agri-Innovator Award at the 2018 Henty Machinery Field Days. It automatically flushes trough water and dispenses feed from an attached silo, and is sold into all parts of Australia, with South Australia and western Victoria being key demand areas.
As conditions turn dry, and a shortage of labour impacts sectors including agriculture, Mr Dunn is expecting solid interest in the auto feeder.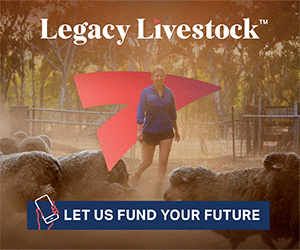 "It's about low-stress handling, and increasing efficiency and productivity.
"Every time we handle lambs, they lose weight, so this is a passive way of drafting off those bigger lambs that can bully the smaller ones and stop them from gaining weight," he said.
The auto drafter has been designed for installation between two pens, and will draft heavier lambs into the adjacent lot.
Lambs that have not hit the target weight can back out of the drafter and return to the pen they came from after eating a small serving of feed dispensed at the front of the unit.
The auto draft incorporates a rear sensor to ensure the scales weigh and draft one animal at a time.
"A lot of the technology we use came from me being remote most of the time."
Mr Dunn has two farms in the Temora district, and feedlots up to several thousand sheep at a time, as well as growing mostly barley and oats for fodder and grain to put back through the feedlot.
Following the Bureau of Meteorology's declaration yesterday that an El Niño event is under way, Mr Dunn said dry times can be expected to direct more sheep off pasture and into pen-feeding situations.
"There's an environmental aspect here; you've got to bring sheep off country and contain them in drought periods or you will damage your country."
Mr Dunn feeds his lambs coming off grazing on a mix of grain and lupins plus a mineral supplement to ensure acidosis does not impact them.
He starts them on around 100 grams per day of grain in the mix, and over 10 days can move to full grain.