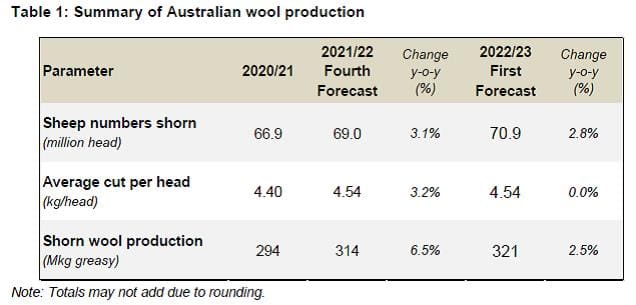 AUSTRALIA'S greasy wool production has been forecast to increase by 6.5 percent year-on-year to 314 million kilograms in 2021-22 and to lift again to 321mkgs the following year.
The latest Australian Wool Production Forecasting Committee today said most key wool producing regions continue to enjoy favourable seasonal conditions and these has boosted per head production.
The committee said the main driver behind its first forecast of shorn wool production for the 2022/23 season of 321mkgs greasy is an increase in sheep shorn numbers to 70.9 million, up 2.8 percent.
Incoming AWPFC chairman, Stephen Hill said abundant summer feed in many major wool-producing regions together with an early break to the season continued to favour sheep and wool production.
"Average cut per head is expected to increase by 3.2pc to 4.54 kg greasy," he said.
The committee said Australian sheep producers are continuing to rebuild the flock with an expected 3.1pc increase in the number of sheep shorn to 69.0 million head during 2021/22.

New South Wales continues to have the largest sheep flock with 22.35 million sheep shorn resulting in a state production of 103.9mkgs greasy. Interstate transfers and sheep slaughter from Western Australia have returned to normal levels, indicating a rebuild in their sheep flock, the committee said.
AWTA wool test volumes to the end of March 2022 were up by 8.5pc year-on-year. First-hand offered wool at auction to the end of March 2022 (week 39) was up by 11.1pc.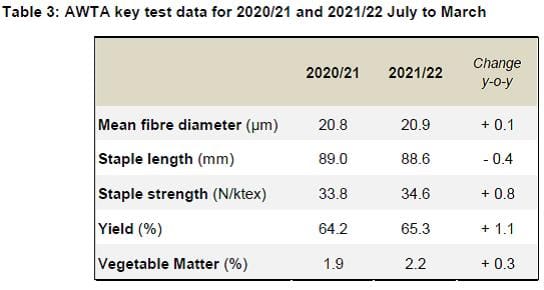 The AWPFC's said the number of sheep expected to be shorn in 2022-23, 70.9 million head, remained low (20th percentile) and will continue to place a ceiling on further increases in shorn wool production. The low sheep numbers continue to be offset by the average cut per head (4.54 kg) which is at historically high levels (83rd percentile).
Mr Hill started as chair of the Australian Wool Production Forecasting Committee from April 2022, replacing outgoing chair Russell Pattinson who has chosen to retire from the role. The AWPFC thanked and acknowledges Russell's contribution to the committee over the past 15 years.
Mr Hill has more than 30 years' experience in the global wool industry, including from the family farm in New South Wales' southern highlands producing superfine wool to internationally-based sales and business development roles. The committee said he has strong relationships throughout the Australian wool industry's domestic and international customer base, including exporters, early-stage processors and vertically integrated mills.