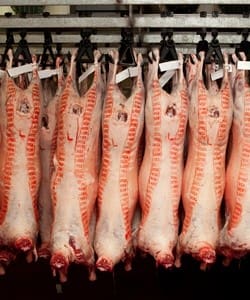 INTENSIFYING poor conditions across many of Australia's key sheep production areas have led to a significant upward revision of sheep slaughter forecasts for 2018 in Meat & Livestock Australia's Sheep Industry Projections September update.
Annual lamb slaughter is now projected to be 22.9 million head for 2018, up 2 percent on 2017, while sheep slaughter is forecast to reach 9.3 million head, up 23pc on 2017 levels.
MLA's market intelligence manager, Scott Tolmie, said it has been a year of extremes so far for the Australian lamb market, with prices soaring into uncharted territory as strong demand meets tightening supply.
"Australian lamb prices have been rising strongly since April, breaking records as they smashed through the 700c and 800c/kg carcase weight marks for the first time," Mr Tolmie said.
"Poor seasonal conditions and high feed costs have led to a waning supply of finished lambs as the year has progressed. This, combined with strong international demand, has resulted in fierce competition for a diminishing supply and driven up prices across the board.
"The dry conditions drove increased lamb slaughter for the first half of the year, spiking in the second quarter of 2018 as conditions worsened and producers looked to destock. This peaked in June with the highest month of lamb slaughter on record," he said.
"Lamb slaughter has fallen in recent months due to the delay in new season lambs entering the market.
"With no indication of improved seasonal conditions in the short-term, reports suggest there will be greater numbers of light weight, unfinished new season lambs coming onto the market this year, as many producers in drought-stricken NSW and northern Victoria face challenging feed conditions," Mr Tolmie said.
"The timing and quality of the new season lamb crop will have a large impact on prices for the rest of 2018."
Lack of rain forcing destocking and lowering carcase weights
Mr Tolmie said while strong lamb and mutton prices have been a motivating factor to maintain or build flock numbers, the lack of rain across much of Australia has put a lot of pressure on producers to de-stock or supplementary feed.
Mr Tolmie said the ongoing dry conditions had also placed downward pressure on carcase weights, with the national average lamb carcase weight for 2018 forecast to be 2pc lower than 2017 and the average sheep carcase weight down 8pc, at 23kg.
"In terms of lamb production, lighter carcase weights are expected to offset the year-on-year rise in slaughter in 2018. Total lamb production forecast for the year is 511,000 tonnes carcase weight (cwt), which is very similar to year-ago levels.
"Higher sheep slaughter, only partly offset by lighter carcases, has lifted forecast mutton production to 213,000 tonnes cwt for 2018 – an increase of 13pc from 2017." Mr Tolmie said.
Looking at the export market, Mr Tolmie said strong global demand for Australian sheep meat, combined with the softer Australian dollar and constrained domestic supplies out of New Zealand, have supported record export volumes and values.
"Lamb exports between January and August increased 12%, to a record 183,000 tonnes shipped weight, while mutton shipments surged 25pc, to 105,000 tonnes," Mr Tolmie said.
"Furthermore, the unit value of Australian lamb exports for the year-to-July reached new record highs, at A$8/kg, and was mirrored in mutton, which climbed to A$5.88/kg for the same period.
"These factors saw the value of Australian sheep meat exports last financial year hit new heights, at A$3.29 billion, up 24pc year-on-year. Nonetheless the domestic market remains the single most valuable for the industry with Australians the world's largest consumers of lamb on a per capita basis," he said.
Click here to read the September update of MLA's 2018 Sheep Industry Projections.
Source: MLA.