INTERACTIVE MAP: Click on icons for a description of each project, or refer to list below article for further details on individal proposals. (Click on + and – buttons to zoom in or out, or click and drag map to adjust as required)
NEWS that construction will commence on Queensland's first new greenfield cattle processing plant in more than 20 years has refocused attention on the large number of abattoir developments that have been proposed around Australia in recent years.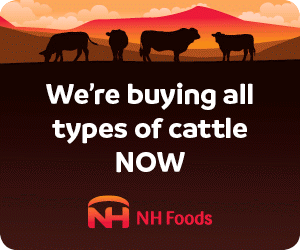 According to Beef Central and Sheep Central's research, at least 20 proposals have been announced to build new medium to large scale meat processing plants, or to refurbish and re-open previously closed abattoirs, in that time (see above map).
An update on each proposal is provided in the list below.
More articles looking at some of the deeper trends around new abattoir development proposals, and more detailed updates on some of the individual projects, will follow in coming days.
Of the 20 publicly announced proposals identified since 2013, two well-known greenfield projects have proceeded to full operation, with contrasting results:
A handful of projects have also involved multi-million dollar refurbishments of previously closed plants:
The Batchelor abattoir 130km south of Darwin, which last operated in 2003, has had a major refurbishment completed by Melbourne-based processing group Central Agri Pty Ltd. The newly renovated plant has the capacity to process 150 cattle per day, and is expected to re-open for business at any time, with only final NT Government approvals now standing in the way of the facility being allowed to commence operations.
Significant redevelopments of the former Castricum Brothers lamb plant at Dandenong, south east of Melbourne, into a cattle abattoir which now has the capacity to process over 1000 cattle per day, and the Deniliquin sheep abattoir in the NSW Riverina, were carried out in 2015 by Joe Catalfamo's Australian Meat Group (AMG). The Dandenong facility has been operating since that time but the Deniliquin sheep abattoir is not currently operating.
Another major abattoir development currently underway is the new 1400 cattle per day and 11,000 sheep per day multi-species abattoir being constructed by TFI on a greenfield site near Murray Bridge, replacing the plant lost to a devastating fire in January 2018. The project, which the company has said will cost 'some hundreds of millions of dollars', is expected to see the first stage, for beef processing, up and running by November 2020.
Of the 18 proposed abattoir developments on the list below (which does not include the already constructed Livingstone and Yeeda plants), the on-property abattoir being developed by CQ cattle producers and branded beef exporters Blair and Josie Angus near Moranbah is the only greenfield project so far confirmed as proceeding to construction.
The proponents of a small number of other projects have stated they expect construction work to commence on their projects within coming months, but how close remains unclear.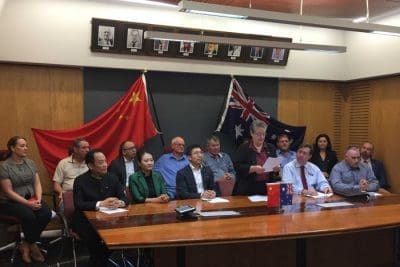 Over the past six years several towns in Northern Queensland have vied to become the site of a second large-scale beef abattoir in the region, which is currently served by JBS' Stuart plant at Townsville, with Hughenden appearing to emerge as the front runner of that race so far.
After various reiterations of plans involving local cattle producers and different Chinese investment parties since 2014, the Flinders Shire Council announced to media in July it had signed a development deed with Chinese-backed company CNVM Investments Pty Ltd to build a $100 million, 1000 head per day processing plant and feedlot with approved capacity of up to 50,000 head, on council owned land at Hughenden.
The project has now moved to the 'detailed project design and approvals stage', the council statement said.
Asked if the announcement meant the project now had the financial backing it needed to go ahead, Flinders Shire mayor Jane McNamara told Beef Central that it did, and that only the formal transfer of land and final development approvals from the State Government are required for construction to commence. There is still no definitive timeline on when that may happen, but she nominated construction commencing in 2021. "We're just waiting on the detailed design and then the transfer of land will go ahead, and getting all the environmental approvals that goes with it, and we should be able to start building," Mayor McNamara said.
At least one previously announced project on the below list has been confirmed as being no longer in progress (Toowoomba), but a number of proponents did not respond to inquiries seeking an update, suggesting several more projects are no longer being actively pursued.
Most of the proponents of the projects reported they still in the process of working through designs, development application processes, securing suitable suites and water, and seeking investment backing.
TOMORROW: More than 100 abattoirs have closed across Australia since the 1980s, including 16 in the past decade. Against that backdrop, why the sudden interest in building new abattoirs, and are the proposals realistic?
QUEENSLAND
ROMA
Proposal: In early 2019 Valinda Team Pty Ltd, a company formed by Central Queensland catttle producer Val Cormack and Chinese born business partner Linda Claxton in 2017, publicly announced investment is being sought to build an $84 million abbatoir with capacity to process 600 cattle in two shifts per day, on a 200ha site owned by Mr Cormack on the Warrego Highway between Roma and Wallumbilla.
Status:  A Preliminary Development Application for high impact industry was submitted to Maranoa Regional Council in March 2019. In August 2019 the Maranoa Regional Council voted 5-3 in favour of granting the preliminary approval, with local media reporting some community opposition had risen around potential groundwater impacts. A full development application is yet to be lodged with the council. Mr Cormack told Beef Central this month an application has been submitted with the Queensland Government for the development to be granted 'Project of Regional Significance' status. On the question of funding, Mr Cormack said the Valinda Team Pty Ltd is currently in discussions with several potential investors, and was especially seeking the involvement of local investors.
TOOWOOMBA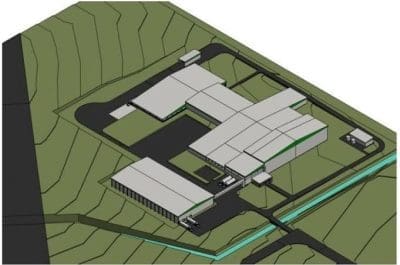 Proposal: In 2016 Toowoomba civil construction and engineering firm and large-scale family farming business FKG issued a call for investment interest in a multi-faceted project including the construction of an $80m, full service kill beef abattoir and milk processing factory at Wellcamp, near Toowoomba's new international airport.
Status: The proposal encountered public opposition based on noise, odour and planning concerns and in June 2017 the development application with the Toowoomba Regional Council was formally withdrawn. FKG spokesperson Dallas Hunter told Beef Central the specific Toowoomba beef processing proposal is no longer active, but added that the need for a new service kill facility in the region still exists. FKG is focusing on a project to build a 150MW hybrid gas and solar power microgrid, and building new food processing factories and protected horticulture glasshouses, he said.
CHARLEVILLE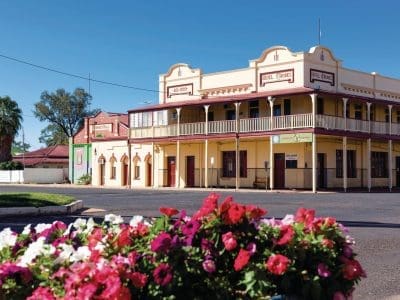 Proposal: In 2016 John Burey, owner of the Charleville Kangaroo abattoir, and Chinese investors Grassland & Cattle (Australia) Pty ltd, which owns two cattle properties in the surrounding Warrego region, announced they would convert the Charleville kangaroo abattoir established by Mr Burey into a beef plant capable of processing 250 cattle per day.
Status:  Murweh Shire Council approved a development plan in October 2016. The proponents did not respond to Beef Central's enquiries seeking an update on the current status of the project.
GOONDIWINDI
Proposal: $100m abattoir with capacity to process 1000 cattle per day over two shifts proposed near Goondiwindi by Chinese-owned, Australian-managed company Fucheng International. Proposal outlined in Development Application involves redeveloping former sheep abattoir on The Oaks site 12km north of Goondiwindi, which had a production capacity of approximately 16,000t of sheepmeat a year according to details in the application, into a cattle processing plant capable of producing 72,000t a year.
Status: Goondiwindi Regional Council told Beef Central it approved an application for the abattoir on 20 December 2017. Attempts to contact Fucheng International were not succesful.
EMERALD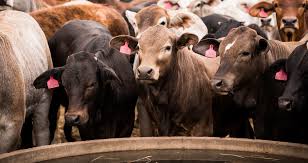 Proposal: Emerald Beef Processors Pty Ltd proposing to construct and operate a $73-$83m abattoir near Emerald to provide custom kill service for 450 cattle per day, with project incorporating a renewable energy supply.
Status: A feasibility study conducted by consulting firm GHD was released in October 2018. Information reported by the Central Highlands Regional Council says Emerald Beef Processors Ltd has successfully completed an 'initial seed capital fund raising round', and directors are undertaking due diligence on new technologies being applied in other comparable industries. It reported two suitable sites have been identified with negotiations underway, and says the company is now seeking investment in Phase 2 of the project which includes greenfield site purchase and approvals, detailed infrastructure design, and the establishment of business and shareholding structures.
GLADSTONE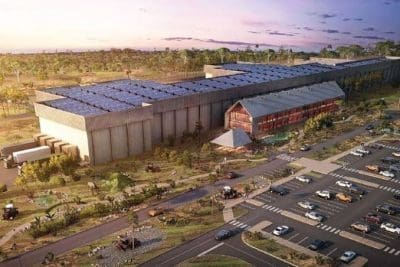 Proposal: $308m project announced in October 2018 involving three integrated developments, – 600 head per day cattle abattoir, a solar farm and a hydrogen generation plant.
Status: Project announced by Asia Pacific Agri-corp Pty Ltd, a company created by a group CQ cattle producers and business people, to develop the new abattoir and renewable energy facilities, in October 2018. In September 2019 project partners told Beef Central a Non-Disclosure Agreement has been signed along with agreement in principle for financial backing from an overseas investor with existing meat industry interests. The investor's identity or country of origin has not been disclosed, but one source close to the project said the investor was from a country other than China. Development applications for the three-project proposal are advanced but still yet to be lodged.
MORANBAH
Proposal: A $27.5m boutique-scale custom-kill abattoir with capacity to process 200 cattle per day, on property at Sondella Station owned by Blair and Josie Angus near Moranbah, with accommodation village for up to 70 staff.
Status:  Construction to commence on November 1, ahead of planned opening date late 2020/early 2021. Further details in recent article here.
HUGHENDEN
Proposal: A $100 million-plus project incorporating 50,000 head feedlot and beef cattle abattoir with capacity to process between 800 and 1500 cattle per day, to be built on 900ha of council owned land at Hughenden, exporting frozen beef from Townsville to China.
Status: A feasibility study in 2014 was followed by various project iterations involving Chinese investment. Project was granted Major Project Status by the Federal Government in November 2017. In July 2019 the Flinders Shire Council announced it had signed a business plan with the Chinese Investment Company CNVM, telling media construction would commence in 2020, with operation to begin in 2022.  Flinders Shire mayor Jane McNamara said the project now has full financial backing and construction will commence when transfer of land is completed and final approvals are secured.
JULIA CREEK
Proposal: In May 2015, after developing a proposal over the previous 10 months to build an $80 million abattoir with the capacity to process 200,000 cattle per year, McKinlay Shire Council released a public call for investment interest in the proposal.
Status: No public update since initial call for investment, requests for further information were not successful.
CHARTERS TOWERS
Proposal: In May 2015 Charters Towers Regional Council announced it would develop a business plan to assist with the establishment of a new abattoir in Charters Towers, saying at the time it had been working with interested international investment groups for more than 18 months with the hope of attracting investment for such a project.
Status: No public update since initial business plan announcement, requests for further information were not successful.
INNISFAIL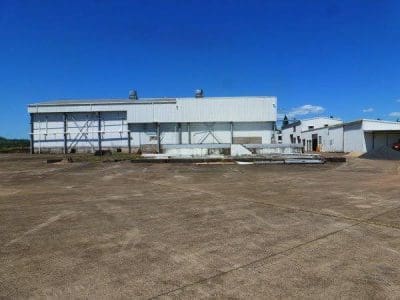 Proposal: In 2016 Innisfail-based engineering firm Maddocks and Associates announced it had conducted a study into the feasibility of recommissioning the Innisfail abattoir, which last operated in 2006 under Teys Australia, when damage caused by Cyclone Larry forced its closure. After several years of inactivity, mothballed equipment from the plant was auctioned off in 2011. Maddocks and Associates told Beef Central the feasibility study, which was announced in conjunction with a campaign to sell the property in 2016, suggested $34m would be required to upgrade the plant and to provide initial working capital, estimated to be about 40pc of the cost of building a new plant.
Status: Requests for an update on the announced proposal were not responded to.
NORTHERN TERRITORY
BATCHELOR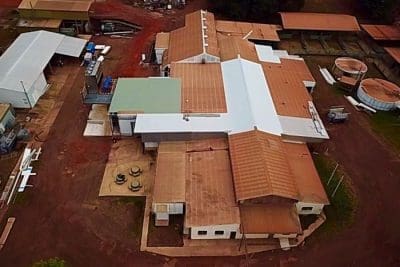 Proposal: Melbourne-based meat processing company Central Agri Group, which also operates a plant at Trafalgar in Victoria, a boning room in Melbourne, and an abattoir at Esperance in WA, invested in a multi-million dollar refurbishment of the meatworks at Batchelor, 130km south of Darwin, which last operated in 2003. The upgraded facility will have capacity to process 150-200 per day, processing culled cows, culled bulls, buffalo and cattle not suitable for live export specifications.
Status: Construction of works now completed and refurbished plant has successfully run pilot shifts, project now waiting on final approvals from Northern Territory Government with processing to commence as soon as approval is granted, expected to be within weeks.
NEW SOUTH WALES
HUNTER VALLEY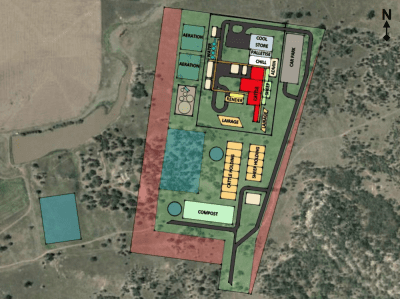 Proposal: In May 2016 Chinese-backed company FJT Australia announced proposal to construct a multi-species abattoir with capacity to process 1000 cattle per day or 1400 sheep per day, and 25,000 head feedlot, near Yarraman Estate west of Muswellbrook.
Status: A spokesperson from the Muswellbrook Shire Council told Beef Central the proponent obtained Secretary's Environmental Assessment Requirements for an Environmental Impact Statement from the NSW Department of Planning and Environment in June 2016. The proponent had met with council staff on a number of occasions, with access to water and water security identified as issues going forward. There has been no public update since that time and our attempts to contact FJT Australia were not successful.
GUNNEDAH
Proposal: In March 2017 the Gunnedah Shire Council said it had signed a Memorandum of Understanding with China's Lianyungang Agricultural Development Group Co Ltd, with the view to building a cattle and sheep abattoir at Gunnedah.
Status: It was announced in January 2019 that a funding application had been lodged with NSW Government. The Gunnedah Regional Council did not respond to requests for an update on the project.
GUYRA
Proposal: $80m multi-species cattle, sheep and goat abattoir, with initial capacity to process 2000 sheep and 250 cattle on segregated lines per day, to be built on 40ha of industrial zoned land next to site of previous Guyra abattoir, which closed in mid-1990s. The plant, designed for toll processing also aims to develop its own New England branded products and supply chains.
Status: Capital for feasibility studies, advanced concept design, livestock studies and development application for an industrial subdivision of the acquired site has been funded by the six local New England business people leading the project. The development application process for the industrial subdivision of the site is said to be advanced, with early stage discussions now progressing with potential investors.
VICTORIA
GILLIESTON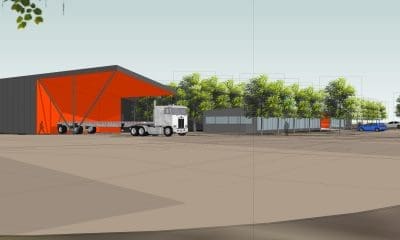 Proposal: Meatworks Australia Pty Ltd proposing to build a $30m sheep and goat abattoir on a former dairy farm at Gillieston near Shepparton, with the capacity to process up to 18,000 sheep per week.
Status: Works approval lodged with Victorian Government and Greater Shepparton Council. Meatworks Australia did not respond to requests for an update on the proposal. In September 2019 the ABC reported on opposition to the project by nearby residents.
SOUTH AUSTRALIA
PORT PIRIE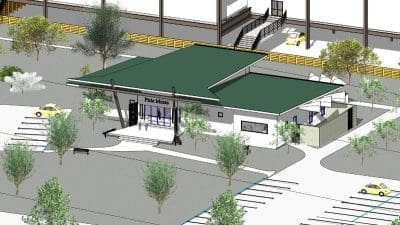 Proposal: It was publicly announced in April 2019 that a $60m multi-species, service kill abattoir designed to process cattle, sheep, goats and camels will be built by majority-Australian owned Pirie Meats. Capacity for 3000 small stock and 300 large stock per shift.
Status:  In September 2019 Pirie Meats CEO Reg Smyth told Beef Central and Sheep Central that the Development Application is close to being finalised and submitted, and due diligence was underway with a major finance group and potential service kill customers. Mr Smyth said he is aiming for construction to commence in 2020.
TASMANIA
KING ISLAND
Proposal: Evans Agribusiness Trading (EAT) Group, an agriculture Investment management business, via its subsidiary King Island Meat Processing Pty Ltd, to build a new, $53m export abattoir on King Island with capacity to process around 30,000 cattle per year. Previous abattoir on King Island closed in 2012, with cattle from island now shipped to Tasmania, where JBS operates a plant Longford and Greenham's operates a plant at Smithton. EAT currently operates a small abattoir on island and owns the King Island butcher shop. EAT says the facility will be underpinned by a business model that involves farmers as equity partners with binding agreements for long term supply of their animals along with co-ownership of the new King1801 premium beef brand. EAT has stated 70pc of King Island farmers have signed long term foundation supply agreements.
Status: Evans Agribusiness Trading group submitted Development Application in 2017. King Island Council granted approval in January 2018. A legal challenge by neigbouring landholders against the project's proposed location was dismissed by the Supreme Court in November 2018. A May 2019 report by Meridian Agriculture, commissioned by the State of Tasmania, suggested that with available supply on island and existing competition from Tasmanian processors 'establishing and profitably operating such a facility will be challenging'. An Evans Agribusiness Trading Group spokesperson told Beef Central the Meridian report 'failed to highlight the true potential of the Tasmania's red meat industry on the global food stage'. EAT told Beef Central it is is 'about to commence the build'  and further public announcements relating to the project are expected before the end of the year.