Australia's National Merino Challenge moves to Adelaide this year and Dione Howard from NSW aims to be there.
The 20–year-old third year veterinary science student was part of the successful Charles Sturt University team last year and started with the Riverina TAFE team in 2013.
She works on the family sheep and cropping property between Lockhart and Henty in NSW, where the Roseville-blood Illawarra Merino Stud is run by her father Graeme Howard and grandfather Ken Howard.
The NMC is run by Australian Wool Innovation as a two-day, national competition that improves the engagement of young people within the Merino industry by developing their knowledge, skills and networks. The challenge is designed to include existing industry tools and techniques, with students learning practical skills such as condition scoring, feed budgeting, Australian Sheep Breeding Values and visual assessment for animal selection, and AWEX wool typing.
Expanded program for 2015 challenge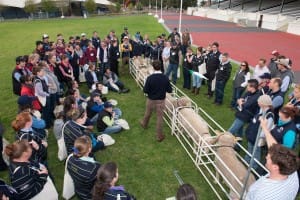 In 2015 the NMC will include an expanded program for students to not only learn a balanced approach to sheep and wool appraisal, but knowledge of the entire wool supply chain. A Careers Panel will also be a new feature of the 2015 NMC to show students the many different paths available within the wool industry. Registrations are now open for the 2015 National Merino Challenge taking place on May 9 and 10 at the Adelaide Showgrounds.
So far the NMC has involved over 150 students and 30 teachers from 19 different secondary schools, universities and registered training organisations.
Young Australians showing interest in wool
AWI this week said a significant and growing number of young Australians are showing interest in a career in the wool industry by participating in the challenge and Dione said it is a valuable forum for people who want to get involved in the industry.
"It teaches you about the wool and production traits involved in producing Merinos.
"It is just a really good overview looking at all the components that go into production and all the different areas that you can be involved with in the industry," she said.
"It has been great in terms of a networking opportunity and should be continued by the industry.
"It is the best thing I have been to for youth in the Merino industry."
Challenge exercises using ASBVs with visual assessment to help meet flock breeding objectives have been especially important for her and will be used on the family farm, Dione said.
AWI said the NMC is in its third year as a pilot program and continues to gain momentum, with an increase in sponsors and trainers willing to help teach the next generation of Merino specialists.
In February, NMC Train-the-Trainer workshops took place across three states involving more than 25 new teachers. AWI said these workshops ensure trainers are kept up to date with breeding and selection skills and industry knowledge and provide resources to be used in the classroom. The NMC provides teachers with materials and techniques to prepare their students for the challenge as well as providing the students with materials they can use to get ready for the NMC.
NMC busting industry myth
Craig French from TAFE Western in Dubbo NSW said he once thought there was "a disconnect" with young people coming through into the wool industry.
"But the NMC is breaking that myth, as there are plenty of young people genuinely keen on a future in the Merino industry – it's very encouraging to see."
Charles Sturt University agricultural science student Lexi Cesnik said there are some amazing benefits of competing in the NMC, including being able to speak with professionals in each of their respective fields, such as Lifetime Ewe Management co-ordinators and wool buyers.
"It gives students the opportunity to make lasting connections for their careers. I look forward to a lifetime in the wool industry, thanks to the skills I developed and the friends I made during the NMC," she said.
AWI gratefully acknowledges the generous support of the NMC's sponsors who have committed to supporting the program: Royal Agricultural & Horticultural Society of SA, Australian Wool Network, Elders, Landmark and Aglive.
The NMC forms part of a large suite of educational initiatives from primary school through to post graduate encouraging woolgrowers, fashion designers and wool processors alike.
To register for the 2015 National Merino Challenge, download the form from the dedicated NMC website www.awinmc.com.au
Source: Australian Wool Innovation