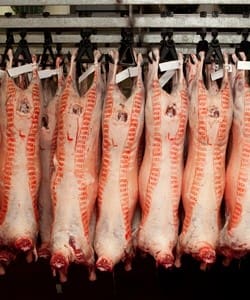 Australia's lamb slaughter reached a record level for the month of February this year.
Meat and Livestock Australia said after a drier than expected start to the year, Australian lamb slaughter in February reached 1.9 million head.
This was five percent higher than the same time last year and 18pc above the five-year average, according to Australian Bureau of Statistics figures.
February lamb carcases heavier
MLA said despite the dry conditions throughout February, producers' were still able to consistently finish lambs, albeit in some cases with grain assistance, which has lessened the impact of deteriorating feed conditions on lamb carcases.
"As a result, the average lamb carcase weight during February increased 4pc on year-ago levels, to 22.87kg.
"Australian lamb production consequently lifted 9pc on the same time last year, to 43,779 tonnes cwt – up 22pc on the five-year monthly average."
MLA said while lamb slaughter in the first couple of months has been high, it is expected that supplies will progressively tighten over the coming months – particularly as throughout the second half of 2014, slaughter was sustained at high levels.
Sources: Meat and Livestock Australia, Australian Bureau of Statistics