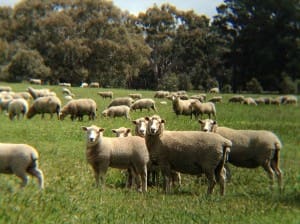 Australia's domestic lamb supply was likely to remain stretched due to the increasing wealth in global developing markets and improved market access, particularly in China, Meat and Livestock Australia's Manager of Market Information Ben Thomas said today.
Launching MLA's 2015 Sheep Industry Projections, Mr Thomas said the ever-growing demand for lamb from the US, Middle East and China looks bright for exports, while the smaller markets of Japan, South East Asia and the EU will remain important destinations for Australia's product.
On the demand side, the international trade scene will likely remain buoyant particularly given tighter New Zealand supplies and a weaker Australian dollar.
After two record years, Australian lamb exports are likely to contract 15 percent to 202,000 tonnes this year before gradually increasing to a new record volume of 250,000 tonnes in 2019 – the culmination of increased production at the same time as growing international demand.
Production contraction after record slaughter years
Mr Thomas said after two years of record lamb slaughter, the decline in production was expected, but a recovery was anticipated from next year onwards.
"Annual lamb slaughter is likely to dip below 20 million head briefly before picking back up again next year and continuing what has already been a long term slaughter trend."
Live export momentum to continue
Mr Thomas said the building momentum of live exports over the past two years looked set to continue, forecast to reach 2.4 million head and up 5pc from 2014, assuming uninterrupted trade.
"Kuwait, Qatar and Jordan should remain the three largest live sheep destinations forecast to account for an expected 70pc of live exports."
Going forward, strong demand is anticipated, not only from these larger markets, but also other growing export destinations and recently re-opened Middle Eastern markets, going a long way to assist the value of the Australian sheep industry.
Challenges are declining supply and continued demand
Australian sheep producers will be challenged by a decline in supply and continued strong demand for export markets as flocks are rebuilt, MLA said.
"Prices held up extremely well last year for both mutton and lamb even with intermittent drought and such high slaughter.
"The major challenges this year will be the decline of supply against continued strong demand from export markets – which are forecast to take 55.5pc of production, Mr Thomas said.
Flock to stabilise at 71 million sheep
MLA expected the sheep flock to stabilise at around 71 million head this year before slowly building up again by 2019 as more producers look to transition into prime lamb production.
"There are also positive fundamentals for mutton, as after two high years of sheep turnoff, the demand for breeding ewes looks to be solid provided available feed and water are sufficient enough for flock rebuilding," Mr Thomas said.
Australian mutton exports are anticipated to decline 27pc year-on-year to 136,000 tonnes, coming off what was the highest volume in 20 years, with a recovery in production by the end of the projection period, giving rise to further exports.
View the 2015 sheep industry projections online here
Source: Meat and Livestock Australia