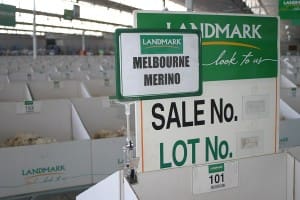 AUSTRALIAN wool prices surged this week after Chinese authorities suspended greasy wool imports from South Africa due to a Foot and Mouth Disease Outbreak.
AWEX senior market analyst Lionel Plunkett said the South African industry's subsequent postponement of a scheduled February 20 wool auction has led to an overall reduction of global auction wool supply.
"Melbourne sold in isolation on the first day of selling and the limited offering came under  intense buyer pressure from the outset.
"Mainly pushed by Chinese interests, prices quickly increased by 80 to 90 cents," he said.
"When sales resumed on the second day in Sydney and Fremantle, similar price rises were experienced.
"The price rises pushed the Micron price Guides for 21 micron wool in all three centres to all-time highs," he said.
"The North and South MPGs also posted new records for 20 micron."
He said it was worth noting; however, that although the market recorded strong positive movement for the week, there was a distinct softening experienced on the final day of selling.
This was reflected in the EMI losing 9 cents on Thursday and the falling market was more evident in the Western region, Mr Plunkett said, with the western indicator falling 41 cents.
The AWEX Eastern market indicator added 59 cents this week, to close at 2027 cents/kg clean.
"The EMI has now risen for eight consecutive sales, adding a total of 178 for this period."
Brokers passed in 6.1pc of the 42,029 bales (1864 more) offered. The EMI in US$ gained 50 cents to US1451c/kg.
Mr Plunkett said the crossbred wool sector continued to track sharply upward this week.
"Prices generally improved by 20 to 50 cents.
"These increases have pushed the MPGs for 28 and 30 microns further into record territory."
Mr Plunkett said due to the spike in prices, many sellers holding wool in brokers store have decided to offer lines next week, pushing the national offering well beyond original estimates. There are now 49,738 bales on offer, over 8500 bales more than expected.
Click here to see the latest AWEX Micron Price Guides.
Source: AWEX.