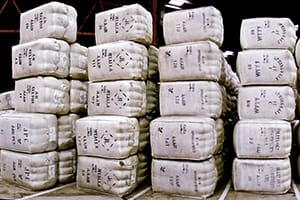 Wool prices reached their highest level in three years this week, despite a higher Australian-US dollar exchange rate.
Australian Wool Exchange senior market analyst Lionel Plunkett said the AWEX-Eastern Market Indicator rose 19 cents to 1172c/kg clean, representing a 78-cent lift above its early April level.
Despite the Australian dollar rising US2.42 cents during the week, briefly spiking above 80 US cents for the first time since January, and the EMI in US dollar terms rising 43 cents to US937c/kg, good demand across the catalogue led brokers to only pass in 2.9 percent of the 44,301 bales offered.
In his weekly wool report, Mr Plunkett said buyers were initially tentative in their approach and some sectors quoted as slightly cheaper in the first hour of selling.
"Sentiment managed to improve and by the end of the day most fleece types had posted gains.
"Fremantle gave the most promising signal at its one-day sale when it outperformed the east coast," he said.
"The rises in that selling centre, which were late in the day, translated into significant rises on Thursday."
Melbourne prices jump 30 cents
Mr Plunkett said the Melbourne offering attracted most support after making smaller rises on the previous day, jumping as much as 30 cents in selected pockets of the fleece catalogue.
"Merino skirtings found keen demand on both days, particularly on Thursday, closing the week as much as 40 cents dearer.
"Merino cardings (MC) made further advances of 5-10 cents this week, pushing the Southern Region MC Indicator through the 1000-cent level for the first time," he said.
"In local $A terms the MC indicators have been in record territory since January but are still $1 below their 2011 peak when converted to US dollars."
Mr Plunket said with strong results elsewhere, crossbred wool was the only sector to disappoint, closing 5-10 cents cheaper for the 28-32 micron range.
"The finer ranges of 25 and 26-microns managed good support on limited volume."
Source: Australian Wool Exchange.