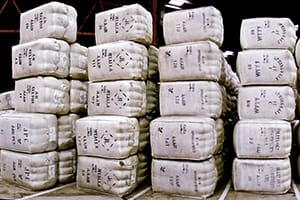 Wool prices rose this week as the product became cheaper in US dollars for exporters.
AWEX senior market analyst Lionel Plunkett said the market finished higher despite the short-lived correction last sale when prices eased back on the final day and the AWEX Eastern Market Indicator closed six cents lower.
The AWEX-EMI this week finished 7 cents higher on 1242 c/kg clean, with the Australian-US dollar exchange rate slipping 2.26 cents lower to US79 cents. The EMI in US dollar terms closed on 981 c/kg this week, 22 cents slower.
AWEX EMI lift due to medium and broad Merino support
Mr Plunkett said the rise in the EMI this week was largely due to solid support for the medium and broad Merino types, which closed 10 to 20 cents higher for the week.
"The focus on these types carried through to the final day, especially in Melbourne where there were was a firming trend of 5 to 10 cents.
"There was less enthusiasm in the finer microns which initially gained some ground before a flat finish resulted in a sector which was mostly unchanged week-on-week."
Mr Plunkett said buyers resumed support for Merino skirting types this week after losing ground last week. The 19 micron lines attracted most of the bidding action, closing 20 cents higher for the sale.
"Crossbreds had a fairly quite week on the back of their smallest offering in eight months.
"Prices closed firm to 10 cents dearer with most interest reserved in the 25-27 micron range," he said.
Merino cardings continue to rally
Merino cardings continued their impressive run with further increases this week.
"The rise in the Southern Region Merino Carding Indicator was its eleventh consecutive weekly gain — over that period the MCI has risen 163 cents.
"Only two other rallies have lasted longer; the best being in 2001 when it lasted 13 weeks."
Mr Plunkett said it was a similar size national selection to the previous auction, with the one-day Fremantle sale being balanced out by a spike in Sydney volumes – the north's sixth largest sale for the season.
Volumes are forecast to dip below 40,000 bales next week as shearing starts to slow down, he said.
"Recent high clearance rates are also reducing available stocks which may have been re-offered."
Source: AWEX