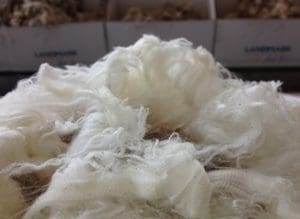 PROMPT delivery needs, less supply and a more favourable exchange rate helped lift Australian auction wool prices this week.
Well-prepared clips were again favoured as the benchmark AWEX Eastern Market Indicator lifted 27 cents to 1778c/kg clean.
Brokers offered 38,219 bales, 4426 fewer than last week, and passed in 4 percent.
AWEX senior market analyst Lionel Plunkett said although the market result was on the positive side of the ledger after falling for six consecutive trading days, for most of the Merino fleece sector it was a case of "two steps forward, one step back" after a modest downturn on the last day.
"The movements appeared to be influenced by currency fluctuations given it tracked the Australian dollar inversely.
"A fall of 1.8 cents to 77 US cents initially boosted the market before it was hampered by a half cent increase on the final day," he said.
"In $US terms the EMI barely moved, dipping 3 cents for the series."
Mr Plunkett said overall the Merino sector finished between 20 and 50 cents dearer.
"The better types maintained support throughout the final day despite the weaker undertones, whilst high mid-break wool were increasingly neglected and extended their discounts."
Merino skirtings and crossbreds hold gains
Merino skirtings opened on a firm footing and mostly held onto their gains, finishing slightly higher, Mr Plunkett said.
"Crossbreds also had a positive sale, closing 20 cents higher on the previous week."
Merino cardings closed out the week ahead, improving 30 cents clean on the east coast, he said.
Mr Plunkett said the next two auctions are currently forecast to have about 47,000 bales each, separated by the one-week Easter recess.
"Volumes are then expected to gradually contract as the season winds down into its usual quiet time of the year."
Next week includes a feature sale to be held at the annual Sydney Royal Easter Show.
Values lift on prompt demand, volume and exchange rate
Australian Wool Innovation's weekly market report said wool values lifted once more due to a slight improvement in prompt demand, lighter volumes on offer and an advantageous foreign exchange rate.
"Most types and descriptions recorded gains almost to the cent of the forex differentials, except 19 to 21 micron Merino fleece which broke out beyond the percentage currency gain, indicative of some fresh demand."
AWI said overseas customers would have thought that they had a lucky break with the all of the major currencies opening the selling week at over 2pc to their advantage.
"The local wool market immediately kicked up by a similar magnitude, but some of the keener overseas buyers had already locked in at the cheaper delivered price in $US and other currencies.
"After such a turbulent few days of forex fluctuations, the EMI movement when expressed in US dollars was far less excitable and ended up being just US2 cents lower at US1377c/kg clean."
AWI said Merino wool buyers very keen on wools with the better tests or containing light VM (vegetable matter) readings.
"This demand was witnessed across all micron brackets and gains on these wools was initially 60 to 80 cents, but a pull-back was recorded on the final day as sale rosters were released showing a massive increase of over 21pc or 8000 bales for next week.
"A strengthening dollar also slowed interest, but it was primarily the pressure relief of more wool than expected available for prompt buying that hampered the rising market."
AWI said initially the better-prepared crossbred clips took the best possible money out of buyers' pockets as unskirted clips remained relatively out of favour, and copping discounts above and beyond what it would have possibly cost to prepare the clips to the code of practice.
"The market was hitting a price point late in the week that appeared to top out, but the large volume will no doubt test current demand levels."
Sources: AWEX, AWI.