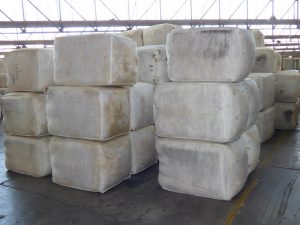 WOOL prices fell at Australian auctions this week, with finer Merino and crossbred clips the most-affected.
However, despite the AWEX Eastern Market Indicator falling 14 cents to 1669c/kg, the benchmark is 306 cents, or 22.5 percent, higher than at the corresponding sale last year.
Brokers passed in 6.4pc of the 48,409-bale clip. The EMI in $US terms fell 9 cents to US1270 cents, as the $A-$US exchange rate rose to US76.11 cents.
AWEX senior market analyst Lionel Plunkett said the size of the offering allowed buyers to be more selective in their purchases.
"The market opened solidly, wools sold at levels at or above those achieved at the previous sale. However, as the sale progressed, prices began to slowly but noticeably deteriorate.
"In recent weeks, as the market rose, the finer microns enjoyed the largest increases in price. The finer microns again experienced the biggest market movements," he said.
"This week; however, it was price corrections — the finer the micron, the greater the reduction in price.
"In general terms, 18.5 micron and finer fell by 30 to 40 cents for the week, compared to 15 to 20 cents for the 20.0 micron and coarser."
Mr Plunkett said the skirting market closely mirrored the fleece, prices generally reducing by 20 to 40 cents, with the finer microns and wools carrying larger amounts of vegetable matter most-affected.
The crossbred sector also experienced price corrections, generally 20 to 40 cents, with 28 micron and coarser lines suffering the largest reductions, he said.
The oddment market defied the other sectors and managed to maintain its upward trend. Most types and descriptions recorded price rises of 10 to 20 cents for the week, the finer wools enjoying the greatest increases. A large offering of lambs was irregular but generally 15 to 30 cents dearer.
Click here for the latest AWEX Micron Price Guides.
Source: AWEX.