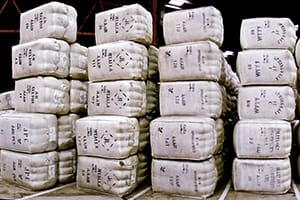 WOOL prices broke a five-week losing streak this week to lift the AWEX Eastern Market Indicator 36 cents to 1205 cents clean.
The EMI in $US terms lifted 12 cents to US872 cents as the $A-US dollar exchange rate fell 1.18 cents to US72.33 cents. Brokers passed in 4.7 per cent of the 39,554 bales offered.
AWEX senior market analyst Lionel Plunkett said a buoyant market eventuated at all three auction centres on Wednesday, after a stylish New Zealand catalogue was well-received and finished ahead of the previous sale.
He said increases of 20 cents were noted across most microns and included both the better types as well as the lower spec types.
On Thursday, there were further rises of 10 cents in the opening hour before rallying over the course of the day, he said.
"The Micron Price Guides recorded rises of 20 to 40 cents for the day, with some lots as much as 50 cents higher.
"Specialist types in the superfine range continue to find good support and are attracting significant price premiums over some of the lower quality types."
Mr Plunkett said Merino skirtings followed fleece prices higher, although the gains were generally not as large.
"Selected lots were 40 to 50 cents higher for the week but a more typical rise was 20 cents.
"Crossbreds also firmed 20 cents for the sale. Merino Cardings rounded out "Room 2" with modest rises of 10 to 15 cents."
Keener overseas enquiry this week
In the Australian Wool Innovation weekly market report, trade consultant Scott Carmody said the auction markets reacted positively this week to keener overseas enquiry, local buyer interest and more favourable exchange rates. The EMI is currently 169ac/clean kg better or 16pc better than 12 months ago.
Wool exporters reported a much better tone from their overseas customers and an increase in enquiry for purchasing, the report said. This was also carried into the derivative products as bid buy prices moved up closer to spot levels. With very little new business having been concluded over the previous month, this change in sentiment was enough to give the local auction buyers the incentive to accumulate inventory and cover off old sales. Subsequently the physical market reacted positively and strongly.
Mr Carmody said a depreciation of 1.5pc of the $A-US dollar exchange rate aided buying opportunities for those using $US. The reduced offerings at auctions also placed pressure on price levels, as once again the rostered quantity of bales to be sold failed to appear. He said just two days prior to auction, 43,000 bales were advertised for sale, meaning 8.5pc less wool was offered than anticipated. The AWTA testing of fresh wool continues to fall below industry expectations with around 8pc less wool tested on a year to year comparison.
The best performing types in the market were again the best superfine (less than 18.5 micron) Merino fleece types, Mr Carmody said. These wools were, as expected, under extreme demand, and saw price rises of 50 to 90ac/clean kg for the week. All other Merino fleece types were well sought and recorded gains generally of 40 to 60ac/clean kg, with price gaps extending due to quality out to as much as 150ac/clean kg in some cases.
Merino skirtings, cardings and all crossbred types increased between 15 and 25ac/clean kg as the sentiment change in the Merino fleece flowed through to all of these sectors.
The auctions scheduled for next week currently show a roster of 44, 500 bales.
"With the change in market direction, it is highly likely that this volume will hold to that number, although wool growers may yet hold off waiting for even better pricing opportunities.
"A slowing down of the rises and a slight pullback in price levels that occurred late in the week at Fremantle could indicate a settling of the market," Mr Carmody said.
"The pullback was mainly restricted to the lesser types, so any of the good wools available should remain in the sights of buyers, particularly anything suitable to the European market.
"Overall a good sellers' market should be envisaged."
Click here for the AWEX Micron Price Guides for this week.
Sources: AWEX, Australian Wool Innovation, Landmark.