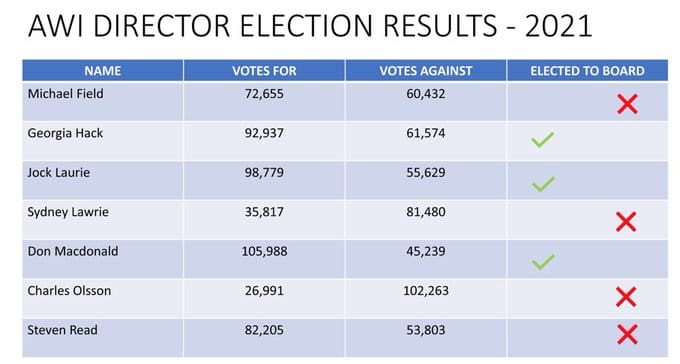 AUSTRALIAN wool growers have retained the current board of their research, development and marketing company with one change – the election of a new candidate, retail general manager Georgia Hack.
At the Australian Wool Innovation annual general meeting today, chairman Jock Laurie and fellow director Don Macdonald retained their seats and Ms Hack, general manager of marketing for retailer David Jones, was elected to replace retiring former AWI chair Colette Garnsey.
The final for/against voting results for the candidates in the election after proxies were: Jock Laurie 98,779/55,629; Don Macdonald 105,988/45,239; Georgia Hack 92,937/61,574; Steven Read 82,205/53,803; Michael Field 72,655/60,432; Sydney Lawrie 35,817/81,480, and; Chick Olsson 26,991/102,263.
Mr Laurie said 1146 valid proxy forms were lodged for the election and AGM resolutions, representing 170,000 voting rights, or 12.67 percent of the total voting rights. There were nine invalid proxy forms.
Shareholders also voted to retain the AWI board at seven directors and to place a 10-year cap on director tenures.
Jock Laurie re-elected AWI chair unopposed
Mr Laurie was re-elected as AWI chair unopposed after the annual general meeting.
"What it tells me is the industry has given us an opportunity and a responsibility to make sure that we can deliver as best we can with the company and if we don't get it right they can make a judgement down the track."
Mr Laurie said AWI was doing a lot of work in areas like consultation and re-establishing relationships.
"The elections tells me they are prepared to give us a chance and they'll judge us on that."
AWI chairman Jock Laurie was re-elected as board leader after the AGM.
The election result largely defeated a campaign by the Field/Read/Macdonald ticket to bring change to the AWI board.
Mr Read wished the successful candidates all the best, but said it was disappointing to "put your heart and soul into an industry to bring about change and not get up."
"Nevertheless, we put up a pretty good argument for change, but as it turned out we couldn't get shareholders' support.
"It's a serious industry and we hope that they (the board) can bring the changes that growers talked about, but didn't necessarily vote for."
Open proxies sealed the result
It seemed apparent from the final voting tallies that the three successful candidates benefited from the use of open proxies allocated by Ms Garnsey, consistent with AWI board candidate preferences outlined prior to the election.
Ms Garnsey said she allocated 13,271 proxies to Mr Laurie's re-election, 15,139 votes to Don Macdonald and 16,622 votes to Ms Hack.
Ms Hack said she is honoured to join the AWI board to contribute her knowledge and skills in marketing and retailing to one of Australia's most important textile exports.
"I am eager to learn more about the wool industry and provide a retail and marketing industry perspective on how to grow Merino wool demand globally.
"I look forward to working with the board on key opportunities to drive growth, contributing to a thriving wool industry in Australia."
New South Wales wool grower Michael Field said the election result was "very disappointing", but he wished Ms Hack, Mr Laurie and Mr Macdonald all the best and looked forward to them continuing to drive the industry forward.
"I don't know what it indicates, to be honest, perhaps apathy."
He said he had to assume that the result indicated a lack of desire for change on the board "or is it just apathy, I suspect."
"Hopefully, myself, Don and Steve were going to drive things forward, but that has been thrown out the door.
"We still need to work with AWI and the staff that are there of course."
Chick Olsson thanked his supporters and congratulated the new directors, especially Georgie Hack.
"I think she is a real asset for the wool industry.
"I believe wool has never had more market challenges to its future existence, and the new board will have to consider some serious options as to how it considers operating into the future," he said.
"It must rapidly adopt modern commercial principles as a priority if it is to remain relevant."
Mr Olsson said he has enjoyed his 15 years working in the wool and sheep industry, meeting many wonderful people along the way.
"I would especially like to thank the Australian Wool Growers Association board for their support, in particular the chair Rob McBride and new vice-chair Angela Byron, 2 amazing wool industry advocates.
"I would like to wish all the wool growers and their families a wonderful holy season ahead and much success for their wool-growing enterprises into the future and thank them for their years of support and fellowship."
WoolProducers looks forward
WoolProducers Australia president Ed Storey congratulated the newly elected and re-elected directors, thanked all other candidates and looked forward to working more constructively with the AWI board.
WoolProducers said the results followed the recommendation of the AWI Board Nomination Committee and also demonstrated the power of the chair's proxies given the low voter return.
"The low shareholder turn out is a bit disappointing."
Mr Storey said with the results of the elections and WoolPoll finalised, there are a number of issues affecting the wool industry such as labour shortages, the EU's Product Environmental Footprint legislation and competition for land use.
"The AWI board now needs to hit the ground running in ensuring that wool remains relevant and the fibre of choice by consumers around the world.
"WoolProducers, as always makes the offer to work constructively with the AWI board to achieve whole of industry good outcomes through aligning our differing industry roles, with WoolProducers' policy expertise complementing AWI's research, development and marketing skills."
Mr Storey said the shareholder support for a 10-year cap on director tenures is a pleasing result and one that WoolProducers had been seeking for many years which was identified by Ernst Young in their 2018 Review of Performance of AWI.
"Putting a cap on director tenure supports a healthy culture as it enables an orderly rotation of directors, while retaining company and corporate governance knowledge plus facilitating new directors to join the board to add fresh perspectives.
"This ensures diversity in thinking, which is essential to any board," he said.