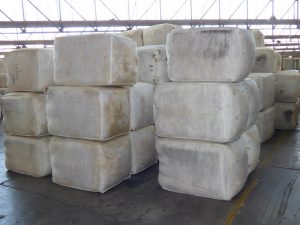 AUSTRALIA'S wool clip has exceeded the $1 billion value mark three weeks earlier than last year with a surge in Merino wool prices this week.
With a strong surge in fine Merino fleece prices, pushing many micron price guides to five-year highs, wool valued at $72.47 million was traded this week, pushing the seasonal clip value this year to more than $1.068 billion.
The main competition came from China with slight European interest relating mainly to forward sold positions rather than new business.
A 185kg 17 micron bale this week was worth $2045, more than an 18 micron bale at $1923, a 21 micron bale at $1702, a 23 micron bale at $1668 and a 28 micron bale at $803..
Australian Wool Exchange senior market analyst Lionel Plunkett strong buyer interest has pushed the AWEX Eastern Market Indicator up 49 cents to 1363c/kg clean — its biggest increase and highest close in 17 months.
Brokers passed in just 3.5 percent of the 47,469 bale offering.  With the $A-US exchange rate down at US73.69 cents, the EMI in US dollars closed at 1004 cents, up 21 cents.
Mr Plunkett said the market started off slowly when Melbourne sold in isolation on Tuesday, with the small Australian-based catalogues only slightly dearer before a late NZ-catalogue found better support and set the tone for the rest of the week.
On Wednesday, the market initially jumped 20 cents higher, but quickly gathered momentum to close 40 cents higher for most of the Merino microns, he said.
"The finer microns attracted the most support and some types were as much as 50 cents dearer."
Mr Plunkett said the pattern was repeated on Thursday, with the finer microns (<20) again the centre of buyer attention and making further increases of 30 cents.
"By the end of the week the finer microns were around 70 cents higher than the previous sale and many of the micron price guides were at five-year highs.
"Merino Skirtings tracked a similar line, closing 50 cents higher for the sale."
Mr Plunkett said crossbreds were mixed, initially gaining ground before a lacklustre finish. The 26-micron wools finished lower, but other microns firmed 10 to 20 cents. Merino carding types maintained their renewed interest, rising 20 to 50 cents.
Click here for the latest AWEX Micron Price Guides.
Source: AWEX.