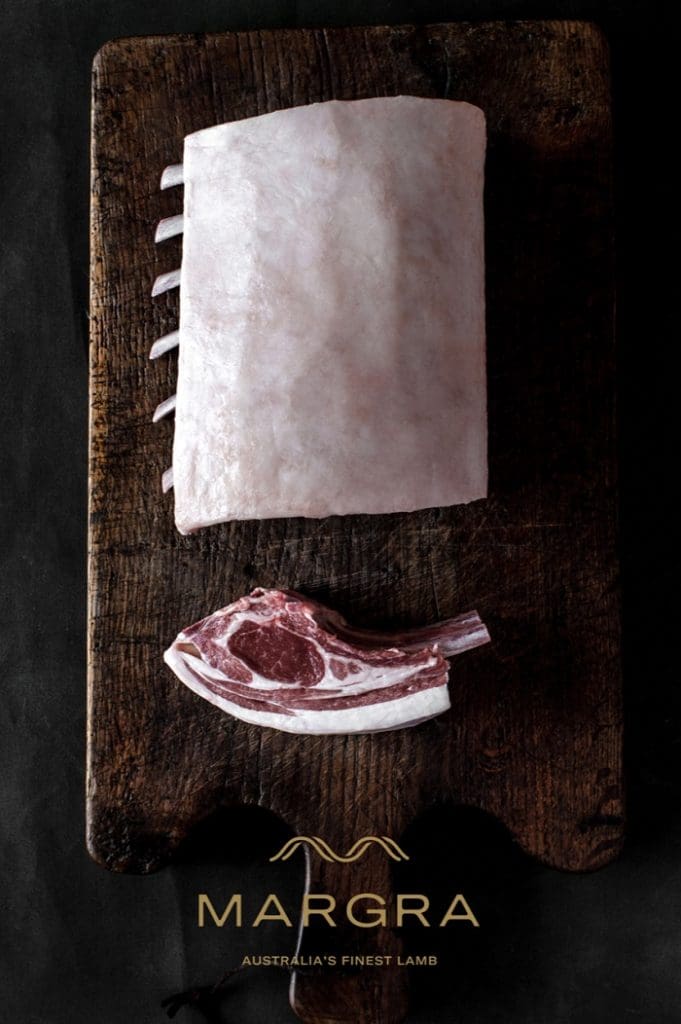 AUSTRALIAN White lamb marketing is set for global expansion with a partnership between the Tattykeel Stud's Margra Lamb brand and established Wagyu beef marketer Paradigm Foods.
Paradigm Foods today announced the new partnership just days after the Gilmore family's Tattykeel Stud set new Australian records for the breed and meat sheep at its annual sale — $240,000 for a ram and $26,000 for a ewe.
The sale grossed $4.9 million with stud rams averaging $42,667, flock rams averaging $8704 and ewes $6311.
Paradigm Foods general manager Nick Thompson said the business was looking forward to working closely with the Gilmore family to represent their hard work in establishing a truly premium lamb product.
"We are of the firm belief the future of premium lamb lies in the Australian White breed which has been bred specifically for superb eating quality," he said.
"Already, Margra has been established in some of Australia's leading restaurants with the assistance of well-known chef Mark Best, but there is significant opportunity for Australian White lamb to become a globally renowned product, with particular interest now being seen in the United States.
"Since 2020, the global average change in the value of Australian chilled lamb exports has risen 25 per cent (Meat & Livestock Australia), and we think we can capture even more value with Aussie Whites," Mr Thompson said.
"The results of the Tattykeel sale yesterday clearly show producers are also seeing this opportunity, which is translating to an increase in supply that will allow us to grow the Australian White category through bespoke brands and telling the unique breed story in food service and retail settings.
"We're also eager to connect with other producers of Australian Whites to feed into the Margra brand given the potential we see to grow this market."
Tattykeel principal Graham Gilmore said the partnership with Paradigm would help to further grow the global market reach of the breed he helped to pioneer.
"The eating quality we have been able to achieve with Australian Whites has really only previously been seen in Wagyu beef – so we really are delivering a unique and unparalleled lamb experience."
"We are keen to collaborate with Paradigm Foods to share our story and product with customers throughout the world who we know will be delighted by this delicate lamb meat that is very proudly Australian born and bred," Mr Gilmore said.
Mr Gilmore said Paradigm has become a shareholder in Margra, which is already supplying product to 80 restaurants on Australia's east coast, competing against top-end Wagyu, duck and salmon suppliers.
He said Paradigm would run the Margra marketing and the breed's retail brand Alba, which will be supplied by the clients of Tattykeel daughter studs. Margra Lamb supplies come exclusively from Tattykeel clients. Paradigm is an established marketer of Wagyu and premium beef brands into 28 countries and Margra was already supplying offshore food service, in Singapore and Los Angeles, Mr Gilmore said.
Margra Lamb is the culmination of a years-long journey by brothers, Martin and Graham Gilmore, who worked with Associate Professor Aduli Malau-Aduli from James Cook University to develop their unique product, drawing on inspiration from native haired sheep seen in South America. While Martin did not live to see the fruition of their project, the Tattykeel and Margra legacy continued by Graham and his sons James and Ross at Oberon, New South Wales.
Mr Gilmore is determined to establish the Australian White lamb brands as the world's best premium lamb-eating experience, underpinned by genetic testing of seedstock supplying lambs.
He said Australian White flocks aiming to supply lamb will be vetted with a genetic test to verify they have the traits that will maintain eating quality standards for consumers.
These traits include its finely micro-marbled meat and thick subcutaneous fat, elevated levels of omega-3 long chain fatty acids and the low melting point of the meat's fat (28-34 degrees Celsius).