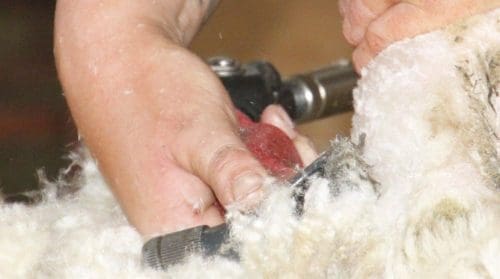 AUSTRALIA is being outcompeted by New Zealand for access to United Kingdom-based sheep and wool industry workers while the free trade agreement with the UK is progressing.
Australia and the United Kingdom have agreed to new arrangements under the Working Holiday Maker program and Youth Mobility Scheme within two years of the entry into force of the Australia-UK FTA.
These include allowing UK citizens to apply for a Working Holiday (subclass 417) visa up to the age of 35 years inclusive, and to be granted up to three Working Holiday visas (not including any "COVID-19 affected visa") with no requirement to undertake any 'specified work'.
However, Victorian shearing contractor Teresa Hiri said under the current arrangement for UK workers, including for shearers and wool handlers, some UK workers could not work in Australia and other could not come back after their first visit.
Ms Hiri said she knew of UK shearers and shedhands who wanted to come to Australia but could not because they were older than 30 years.
"There are a few of them that want to come over, but can't, because of their age and they're unsure how to apply for a visa."
This contrasted with the situation in New Zealand where she had heard one contractor had 45 UK workers.
She said the current visa situation is holding up the shearing of sheep in Australia
"The industry was dying before and they are making it even worse while they are not letting these people come – all they want to do is work.
"No-one wants to work here, so why can't we get them?"
Fellow western Victorian contractor Emma Morvell said there is still a shortage of industry workers, especially wool handlers rather than shearers, with the pay rise in New Zealand keeping more at home.
"Good shed staff are hard to find."
Shearing Contractors Association of Australian secretary Jason Letchford said he was aware New Zealand has always had a more liberal free trade agreement with the UK than Australia, with an easier pathway to swap workers.
"We definitely welcome a change so that we can get skilled UK shearers and wool handlers into Australia."
He said one of the issues dealing with PALM or workers from Asian countries is that they were not yet skilled for shearing or wool handling.
"And also the UK season should align well with Southern Hemisphere or Australian work.
"It will give us a good reciprocal pathway for skilled workers."
He said New Zealand has been outcompeting Australia for skilled UK workers for many years.
"If it opens up to being similar then Australia will certainly be the beneficiary."
Minister for Agriculture, Fisheries and Forestry Murray Watt has been in London and Berlin this week for trade-focused talks with UK and European leaders.
He said the meetings will allow him to keep up the momentum on important free trade agreements and ensure that overseas decision makers and buyers have a true picture of Australia's commitment to sustainable agriculture.
"This visit comes off the back of a recent push by Trade Minister Don Farrell, and allows me to reinforce the importance of finalising the trade deals as soon as possible.
"The UK FTA is making good progress through the UK Parliament, but we need to keep up the momentum, so Australian producers can take advantage of this high value market," Mr Watt said.
"I will also be pressing the point that we need meaningful market access, across a range of commodities, as part of any new FTA with the European Union.
"In London I will meet with the UK Food and Agriculture Minister, Shadow Ministers and industry stakeholders to advocate for urgent ratification of the free-trade agreement and to ensure buyers are ready to take more Australian product."
The Department of Home Affairs' website provides information on the new Working Holiday Maker visa arrangements for UK passport holders including a link to the Australia-UK FTA available on the Department of Foreign Affairs and Trade website. Further information is available at New arrangements for UK passport holders (homeaffairs.gov.au)
A Department of Agriculture Fisheries and Forestry spokesperson said the Australian Government recognises that Working Holiday Makers provide an important cultural and economic contribution to Australia, including through their role in filling skills and labour gaps and job creation in associated industries and businesses.
The spokesperson said Australia currently has Working Holiday Maker program agreements with 47 other countries.
Australia has previously negotiated arrangements on a reciprocal basis with a number of Working Holiday Maker program countries to increase the eligible age range for WHM applicants from 30 to 35 years of age. This includes eligible citizens from Canada, France, Ireland and more recently, Denmark and Italy which came into effect on 1 July 2022. Australian citizens up to the age of 35 will also benefit from the reciprocal arrangements.
On 17 December 2021 the Australia-United Kingdom Free Trade Agreement (Australia-UK FTA) was signed 'virtually' but has not yet entered into force.