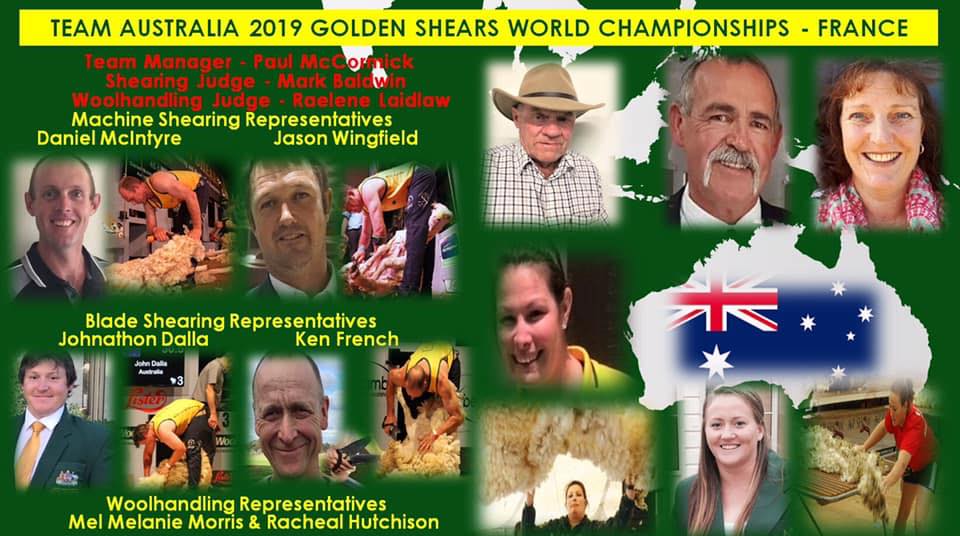 EUROPE'S heatwave could play into the hands of Australian shearers and wool handlers getting set to compete at their industry's 2019 world championships in France next week.
The 18th World Shearing and Woolhandling championships are being held at Le Dorat, in western France, from July 1-7, when temperatures are forecast to range from 27-31 degrees Celsius.
Europe has been suffering a Northern Summer heatwave and temperatures are forecast to top 40°Celsius in parts of Spain and France today. Temperatures have already been over 44°C in northern Spain and southern France. Last month, AccuWeather meteorologist Tyler Roys said high temperatures may reach 40°C in parts of southern and eastern France from July into early August.
Australian shearing and wool handling team manager Paul McCormick is leading a team of experienced representatives for the championships.
Speaking from London this week, Mr McCormick said reports indicate the sheep to be shorn in the championships and the weather conditions might suit the Australians, who all have experience competing internationally.
The Australian team includes machine shearers Jason Wingfield from Cobram in Victoria, and Daniel McIntyre from Glen Innes in New South Wales. The Aussie wool handlers are Mel Morris from Longford in Tasmania and Rachael Hutchison from Gilgandra, NSW. Australia's blade shearers are John Dalla from Warooka in South Australia and Ken French Glen Isla in Victoria. Shearing judge Mark Baldwin and wool handling judge Raelene Laidlaw round out the Australian contingent.
Some of the team have experience with the European sheep and wool, and Mel Morris has been competing in wool handling competitions in Ireland and Scotland recently, preparing for what will be her last world championship before retiring from competition. Rachael Hutchison has had experience in Wales.
But he believes the sheep are likely to be mainly Texels or Cheviots and the wool handlers will have to roll and tie the fleeces up.
"I think we will be competitive.
"Jason has heard that the sheep are not shearing very well in France this year, so that might suit us a bit better," he said.
"Apparently they are not combing well over here which is what all the Kiwis would like and we are used to pushing a bit harder on our sheep, so it might suit our men a bit better, that's what we are hoping."
He said the current high temperatures in France might also suit the Aussies, who are familiar with working in hot conditions.
"It's abnormal, it's about a month earlier than normal so I'm told – they all reckon it is a heatwave."
He said the priority for the shearers will probably be to handle the sheep to keep their speed and quality together.
"It will be very similar to home and I hear the boys feel a little bit confident, to get up to the finals."
Mr McCormick expected Australia's blade shearers to go well, with both having competed in finals on British breed sheep before.
He expected the wool handlers' experience on the European sheep would also help them.
"A lot of the focus is on tying the fleece up in a knot and just being neat and tidy – I think they will be onto it really."
The Allflex New Zealand Shearing and Woolhandling Team comprises machine shearers Rowland Smith, of Maraekakaho (near Hastings), and Cam Ferguson, of Waipawa, woolhandlers Pagan Karauria, of Alexandra, and Sheree Alabaster, if Taihape, and blade shearers Tony Dobbs, of Fairlie, and Allan Oldfield, of Geraldine. The manager is Ken Payne, of Balclutha.