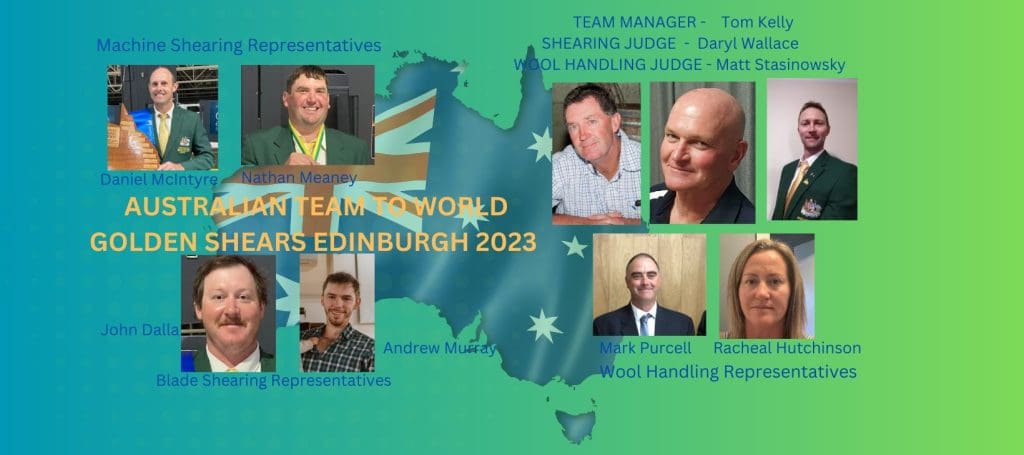 AUSTRALIA'S top shearers and wool handlers are putting on some last-minute preparation in-country for the world shearing and wool handling championships in Edinburgh Scotland later this month.
The Golden Shears World Championship is the premier sheep shearing and wool handling competition, and shearers and wool handlers from more than 30 countries will converge on the 2023 Royal Highland Show venue from 22-25 June.
Team manager Tom Kelly said several members of the Australian team organised to participate in British competitions leading up to the championships to familiarise themselves with the British rules. This included the wool handlers Victorian Mark Purcell and Racheal Hutchison from New South Wales, who will compete at the Royal Three Counties Show from 16-18 June at Malvern in Worcestershire.
The machine shearers in the Australian team are NSW's national champion Daniel McIntyre and Nathan Meaney from South Australia. Australia's blade shearing duo for the world championships is John Dalla from SA and Andrew Murray from NSW.
Australia's contributions to the world championship's judging cohort will including wool handling judge Matt Stasinowsky and shearing judge Daryl Wallace.
Mr Kelly said Australia had a good experienced team for the 2023 championships.
He said Mark Purcell is competing in his first world championship, but he and Racheal are very experienced campaigners and have come through a strong competition pathway through Sports Shear Australia.
"They (Mark and Racheal) had a very good trip to New Zealand … they beat the Kiwis pair in the trans-Tasman, so I think we are very strong in that department – we're quietly confident that they will stand up well."
Mr Kelly also rated the chances of Australia's shearers very highly with Daniel's many years of international competition and Nathan coming off good performances at the recent trans-Tasman in Bendigo, winning the Mark Conlan award for the best shearer and narrowly missed winning the national title from Daniel.
"They are both really fast starters; they are really quick out of the blocks.
"It is going to be a really quick clean shear over there and the level of competition over there is going to be really strong, so they will stand up well," he said.
"They are also both coming off the back of long shearing seasons and the United Kingdom is just starting its season.
"They (Daniel and Nathan) are working on plans to freshen up before the championships."
Mr Kelly said the Sports Shear Australia shearer pathway is engineered to keep the pressure on shearers.
"And both those boys really stand up well."
He said both believe they can shear better than they did in the last trans-Tasman competition against New Zealand that was one by the Kiwis. Daniel was also focussing on getting to the UK early to acclimatise and fhreshen up before the championships.
Mr Kelly said the blade shearers aimed to put in some preparation together in South Australia to get their gear finalised before leaving for the United Kingdom.