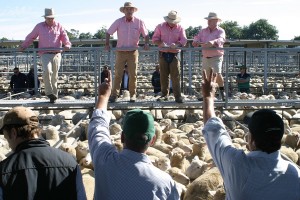 AUSTRALIAN lamb production and export records are tipped to tumble again this year with the expectation of a helpful lower Australian-US dollar exchange rate, Meat and Livestock Australia said today.
MLA's 2015 Australian Sheep Industry Projections July update reported the number of lambs to be slaughtered this year is now expected to match 2014.
"Cascading from that will be record production as a result of slightly higher carcase weights, and with the A$ working in Australia's favour, so too will lamb exports," the update said.
MLA's market information manager Ben Thomas said lamb turn-off has never been higher in Australia which indicates lamb marking rates have improved considerably in recent years. This is the result of producers finishing lambs to slightly higher carcase weights.
"The progressive growth of the Australian lamb industry is really highlighted by the sustained increases in turn-off as well as the weaker A$ also helping bolster prices.
"Remarkably, lamb exports have continued to track higher over the last two decades," Mr Thomas said.
"After the first six months of the year, exports (of 117,994 tonnes) are up 4pc on last year's record, but this volume is also 31pc above the five-year average and 42pc above the ten-year average."
Globally, the three key export destinations for Australian lamb will remain strong, taking 64pc of all lamb exports, MLA said.
High lamb shipments to US despite storage tonnages
MLA said despite high volumes of sheepmeat in US cold stores, the volume shipped to that market during the January to June period is up 9pc year-on-year, at 24,363 tonnes, with the average export unit price up 13pc year-on-year, at $10.62/kg. The weaker A$ has been of significant assistance.
Shipments to the Middle East have jumped 17pc, while China has taken considerably less lamb compared with last year, yet the market still remains the third largest destination, taking 14pc of lamb exports so far.
Mr Thomas said after two high slaughter years, the Australian sheep flock was estimated to be back at a core breeding size, resulting in lower mutton production and a decline in exports to all major markets.
He said domestic lamb consumption also looked likely to remain pressured by global demand, with the increasing volume produced in the next five years expected to be destined for international markets.
"Australian lamb prices have averaged higher year-on-year across the board, but seasonal conditions and global demand will largely influence the strength of the market going forward," Mr Thomas said.
Lamb offerings expected to increase
MLA said sheep and lamb prices averaged higher than year-ago levels over the first six months of 2015, yet a typical seasonal decline is imminent over the coming months, with lamb offerings anticipated to increase.
The update said Australian lamb prices have averaged higher year-on-year across the board – with the trend more pronounced at the lighter end of the spectrum. This is reportedly due to greater demand for legs off the lighter carcases, along with some restocking interest.
After six months, the national light lamb indicator (12-18kg cwt) averaged 527¢/kg cwt, up 10 percent, the restocker indicator (0-18kg cwt) was up 9pc at 531¢/kg cwt, while heavy lambs were only 1 cent higher than the same period last year, averaging 554¢/kg cwt.
Lamb prices have averaged higher early in the year
MLA said over the past five years, the national saleyard lamb indicators have averaged 6-8 percent lower in the second half of the year when compared to the first.
"Considering a large number of lambs are expected to hit the market, combined with a drier than average rainfall outlook, this trend seems likely to be repeated this year – albeit coming from a relatively high base."
Mutton also performing well
Mutton exports for the January to June period were down 18pc year-on-year, at 76,547 tonnes, with declines to all major markets. Mutton prices have also performed well this year, with the national average at 353¢/kg cwt after six months – 17pc higher than the year before – largely assisted by tighter availability.
Source: MLA.