BOTH lamb and mutton set new export volume records for 2014, driven by a combination of strong international demand and dry conditions across many sheep producing regions.
Australian lamb exports hit a new high of 236,908 tonnes in 2014, 11 percent higher than the previous year's record, representing an additional 23,000t.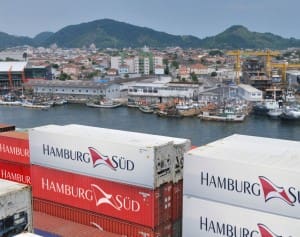 The majority of export markets for Australian lamb registered considerable growth over the past 12 months, fortunately absorbing high domestic supplies, as feed and water deficits were recorded across many key livestock producing regions throughout the year.
Lamb shipments to the Middle East in 2014 were 7pc higher than the previous year, totalling 64,250 tonnes, while volumes to the US for the year surged to 46,200t – 18pc higher than the 2013 total.
Demand from China was not as strong as the year prior, with the 2014 total back 2pc to 38,800t. Lamb exports to the EU increased 20pc, to 14,000t, while volumes to South East Asia (13,000t) and Japan (10,100t) lifted 20pc and 32pc year-on-year, respectively.
Papua New Guinea finished the year on a stronger note, although the overall total for 2014 was 28pc lower than the year before, totalling 9000t. Shipments to Canada were up 11pc, at 6200tt, and volumes to Korea reached 4800t in 2014 – 52pc higher than the previous year.
For the month of December just completed, lamb exports were 2pc higher than the corresponding period last year, DAFF export trade data showed, reaching 20,611t.
The Middle East remained the largest market in December, at 5800t, followed by the US (3500t), China (2,200t) and the EU (1,900t).
It is likely that Australian lamb exports in 2015 will come back from the highs seen in 2014, MLA suggests, as domestic supplies begin to tighten, although global demand is expected to remain strong.
Highest mutton exports in 20 years
Australian mutton exports also registered a record high volume last calendar year, with December exports recording the largest monthly volume since November 1994 and 9pc higher year-on-year, hitting 20,300t.
The surge in shipments was largely attributed to the Middle East taking 47pc more mutton during the month compared to the previous year, at 5100t, as well as volumes to South East Asia increasing 41pc, to 3,100t. Demand from the US remained strong, with exports almost tripling the corresponding month in 2013, at 1620t. In contrast, volumes to China during December declined 19pc year-on-year, to 6050t.
With most of the key export destinations registering solid growth in demand for Australian mutton throughout the year, the total shipment in 2014 reached 185,992t – the highest volume in the last two decades.
The Middle East was the largest market for 2014, with exports totalling 52,800t for the year, up 29pc on 2013 levels, while China followed closely behind, at 50,064t – 14pc lower than the previous year. Shipments to South East Asia increased 23pc in 2014, to 27,400t, and solid demand from the US saw volumes lift 52pc, to 13,300t.
Mutton to the EU declined 5pc year-on-year, to 4700t, while exports to Japan (5100t) and Mexico (3700t) were up 35pc and 28pc respectively.
Following a year of very high sheep slaughter, it is likely we will see a contraction in mutton export volumes in 2015, MLA says.