LAMB export volumes from Australia are expected to reach an historical peak this year, buoyed by increased demand from China.
Meat and Livestock Australia said while drought induced turnoff has buoyed meat supply, China's pull on Australian red meat and a soft A$ has supported international demand.
With one month to go, 2019 is set to be the third largest year ever for beef exports (behind 2014 and 2015), the top year for lamb, third for mutton and tenth for goat meat, MLA said.
Lamb exports continue growth trend
MLA said lamb exports have strengthened again in 2019, with the year set to mark the largest ever for lamb exports and the fourth consecutive year of growth. Total lamb exports for the 2019 year-to-November were 258,000 tonnes, up 5 percent on 2018.
Lamb exports to China have increased 35pc year-on-year, while most other markets have had only minor shifts on last year's export volumes, indicating a more even distribution of additional export growth in comparison to beef. South Korea and Iran — due to the collapse in the Iranian currency and removal of subsidies — were the only markets to see a significant drop in their share of exports, while China increased its share by 6pc to take up to 26pc of total lamb exports.
Mutton market dominated by China
MLA said mutton exports have improved slightly on 2018, reaching 164,000 tonnes for the year-to-November, up 1pc year-on-year. China has dominated the mutton market, taking 72,000 tonnes so far this year, up 52pc on 2018 and with a total mutton export market share of 44pc. MLA said Chinese demand has undoubtedly been placing other markets under pressure, given most top mutton markets, with the exception of Singapore, have recorded negative growth so far this year.
Business as usual for goats
Goat exports for the year-to-November reached 19,800 tonnes, up 1pc on 2018. The US remains the major market for Australian goat, commanding 70pc market share off the back of 4% year-on-year volume growth, MLA said.
MLA said 2020 will be underpinned by a continued shift in global dynamics, with Australian supply set to tighten, South American beef exports expected to expand and the ongoing impact of African Swine Fever shifting meat trade flows to China.
China set to topple Japan as top beef destination
MLA said beef exports for 2019 have been exceptional and, with one month to go in the year, total export volume sits at 1.11 million tonnes, 8pc above 2018 for the year-to-November period. Growth of grass-fed beef exports has been huge, with an additional 10pc, or 73,500 tonnes, shipped so far this year. Grain-fed beef shipments grew by 5000 tonnes, up 2pc on last year, MLA said.
MLA said beef exports to the US and Indonesia have remained steady; however, most other markets are down as a result of surging demand from China. China has accounted for all of Australia's additional export volume in 2019 and then some, expanding by 119,000 tonnes. Subsequently, China's share of total Australian beef exports has increased from 14pc in 2018 to 24pc this year – now sitting even with traditional powerhouse, Japan, ML:A said. Assuming December volumes replicate November, Japan will relinquish the title of Australia's top beef export destination to China, MLA said.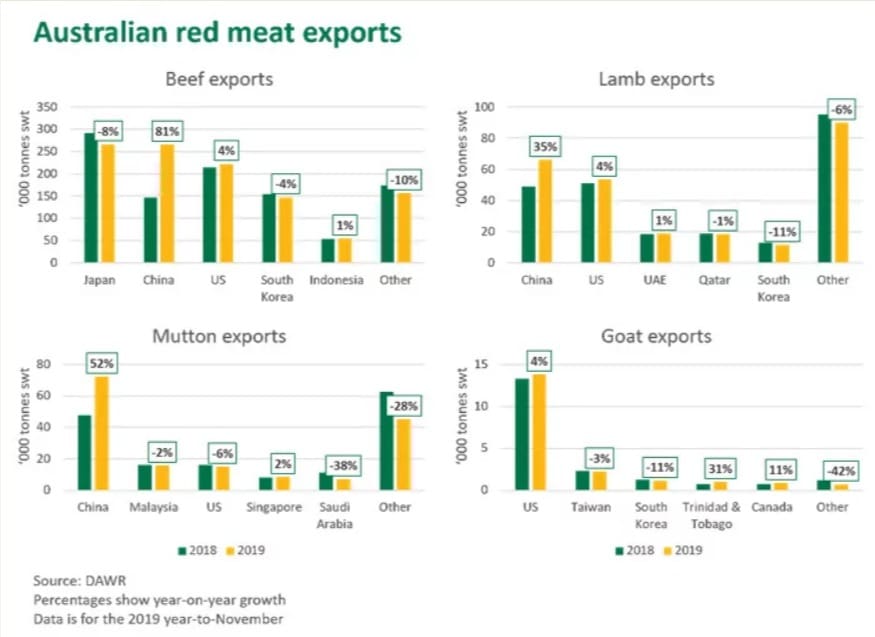 Source: MLA.