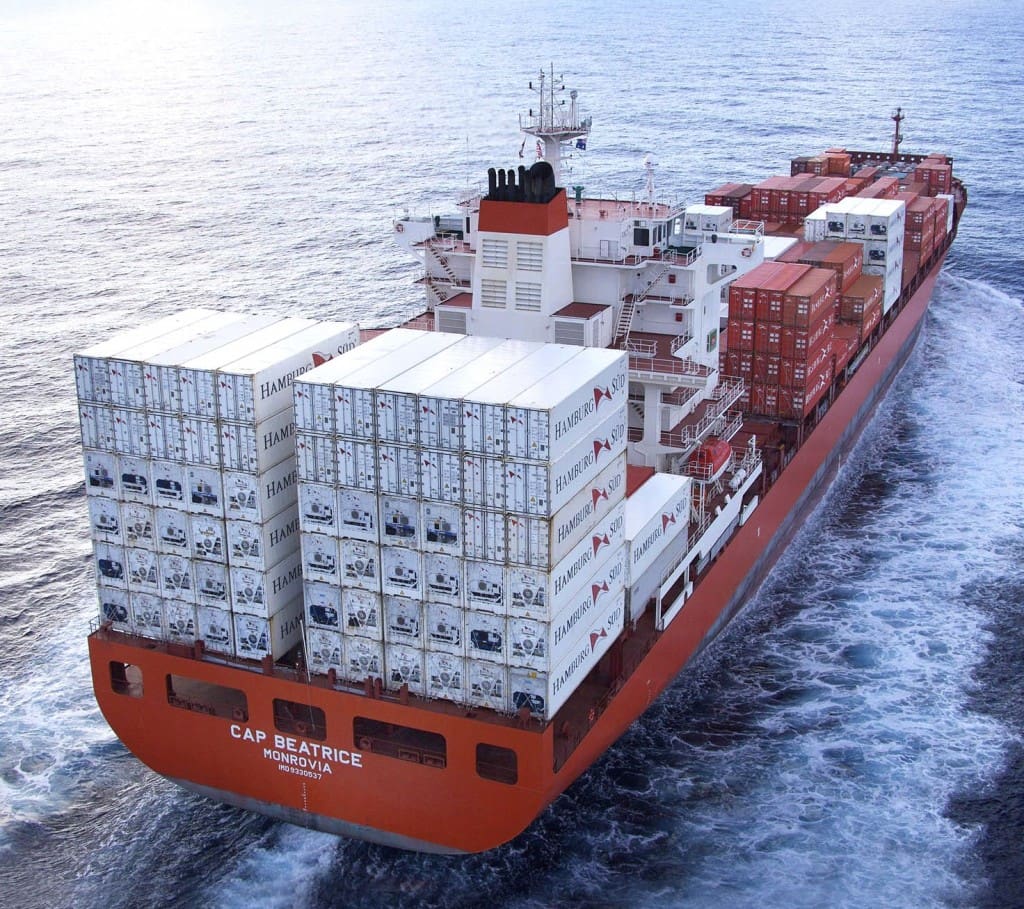 AUSTRALIA'S lamb exports are outperforming 2022 volumes, growing 6 percent in the first quarter of 2023, compared to the same period in 2022, Meat & Livestock Australia has reported.
Although exports to the United States have softened against domestic economic pressures, volumes into China, South Korea and the Middle East North Africa region have achieved substantial growth, MLA said.
MLA said 2022 was a record year for lamb exports: the 284,257 tonnes exported was the highest on record, as was the A$3.4 billion in revenue garnered for those exports.
Despite the overall increase in exports, volumes have declined in some markets, balancing out strong growth in others, MLA said.
Exports have grown strongly in China, South Korea and the Middle East North Africa (MENA) region, while declining in South-East Asia, the United States (US), and the EU-27/United Kingdom (UK) region (Figure 1). Beyond this, shifts in the overall distribution of exports offer insights into the state of the global lamb trade and what to look out for over the year.

Source: DAFF, MLA
China lamb exports up 29pc so far in 2023
MLA said exports to China are up 29pc from last year, to 14,612 tonnes so far. Slightly lower forecasts for exports of New Zealand lamb (the largest exporter to China) alongside still-rapidly growing protein demand are fueling strong export growth. This is likely to continue over the coming months as the Chinese economy emerges from lockdown-related dips in consumer spending.
South Korea lamb shipments largest on record
MLA said 2022 was a big year for Australian lamb exports to South Korea, up by 60pc to 22,901 tonnes – the largest on record. And the volume in 2023 is set to grow further, MLA said, with exports rising 47pc for the first three months to just under 6000 tonnes. This has made South Korea the third largest export destination for lamb, after the US and China.
MLA said strong growth in markets like South Korea increase the resilience of Australian lamb and make it less likely that local disruptions will affect exports. Already a strong market for Australian beef, South Korea is becoming increasingly important for Australian lamb.
MENA growth on back of travel-driven food service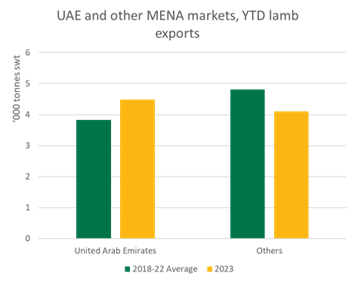 Source: DAFF, MLA
MLA said exports to the Middle East and North Africa (MENA) region have grown strongly, after a somewhat subdued 2022. This is to be expected, as travel-driven foodservice is a key channel for imported sheep meat in the region and was naturally affected by COVID. Beyond that, a shift in destination to the region is apparent so far this year, MLA said, with the United Arab Emirates firmly cemented as the major export destination in the region, growing by 32pc and taking in almost half of total exports.
The UAE was always an important market, but this recent increase means that the UAE is now the clear leader for lamb exports in the region, and exports are close to what we saw in 2019, when prices were much lower.
Lamb exports to the US and South East Asia have declined
Alongside from South-East Asia, MLA said the US is a major market that has recorded a decline in lamb exports so far in the year. The 16pc decline in exports reflects slightly lower demand in the US and appears to be at least partially driven by substitution for cheaper proteins – frozen lamb exports fell by 22pc and mutton exports grew by 41pc, almost balancing out.
MLA said this decline brings export volumes to the USA closer to levels seen in 2021, and chilled exports are still well above historic averages. Despite this, the decline in exports may have affect prices – as the most lucrative major market for Australian lamb, falls in volume could very well free up supply in other markets, especially in a context where production is still running at historically elevated levels.
Source – MLA.