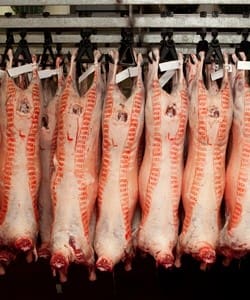 AUSTRALIAN sheep producers have turned off heavier lamb and mutton carcases on average in the 12 months up to July this year, despite drought conditions in many regions, Meat and Livestock Australian said this week.
Average lamb carcase weights rose 2 percent to 22.5kg in the 12 months to July 2015.
MLA said although lamb production declined 4 percent in July to 38,362 tonnes, compared to the same month last year, year-to-July figures showed it was up 7pc year-on-year and 17pc higher than the five-year average, at 294,570 tonnes.
Underpinning the increase was a 4pc year-on-year rise in slaughter, at 13.1 million head, MLA said.
Mutton production trending lower
Mutton production continued to trend lower year-on-year, with volumes for July at 12,284 tonnes cwt, back 4pc. This takes the year-to-July figure to 104,993 tonnes, down 20pc, MLA said.
In a similar fashion to lamb, the primary driver behind lower mutton production for the year has been fewer sheep slaughtered, with the 4.57 million head processed down 20pc from the corresponding period last year. Also similar to lamb, partially offsetting the lower slaughter was heavier carcases, with mutton carcases averaging almost 1kg heavier this year, at 23kg, MLA said.
Source: Meat and Livestock Australia.