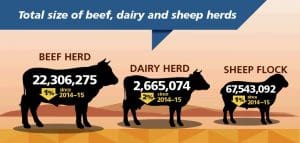 AUSTRALIAN sheep producers have produced more lambs from fewer ewes in the year to 2016 compared to the previous year, the latest Agricultural Census figures indicate.
The latest 2015-16 census figures released by the Australian Bureau of Statistics put the flock size then at 67,540,092, down 1 percent on the previous year.
The data showed that the number of breeding ewes one year and over of all breeds nationally in 2016 had declined 1pc to 37.18 million, but the number of lambs under one year was up 2pc to about 21.36 million.
The average flock size in 2015-16 was 2857. However, a change in the ABS rules for inclusion in the latest Agricultural Census mean that sheep and lamb data from smaller flocks is not included in the 2015-16 data.
The minimum size for a farming business in the latest census was increased to a turnover of $40,000 or more, up from an average annual turnover of $5000 or more for past censuses. The ABS said the new scope is more in line with other statistical collections and significantly reduced the survey burden on small farming operations.
Click here to get the latest Sheep Central story links sent to your email inbox.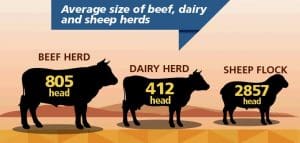 Sheep and lamb industry consultants are still analysing the 2015-16 census results and comparing it with later data on 2016 marking rates collected in the Australian Wool Innovation-Meat & Livestock Australia survey. Early general comparisons of the 2015-16 data with 2010-11 census flock results also indicate a longer term trend toward flock owners producing more lambs per 100 ewes joined in the five years up to 2016.
This is believed to have been helped by productivity and reproduction-enhancing programs such as Lifetime Ewe Management and Making More from Merinos.
Sheep Central will provide a more detailed analysis of what the latest census data means later this week.
Variable regional climatic conditions 'a boon and a burden'
The ABA said the latest Agricultural Census data collected from 104,000 businesses showed that variable regional climatic conditions  proved to be a boon and a burden to agricultural production and stocking rates in 2015-16.
ABS Director of Environment and Agriculture Statistics, Lauren Binns, said while winter and spring rain in parts of New South Wales and Queensland had produced bumper crops in commodities like barley, a warm dry spring in southern Australia saw a decrease in other crops.
"Barley production increased by 6pc in 2015-16, driven by New South Wales farmers increasing their planting area with excellent yields," Ms Binns said.
"But wheat production fell by 5pc as a result of hot conditions in late spring in South Australia and Victoria.
"Similarly, production of canola fell by 21pc with reductions in the area planted in Western Australia and poor conditions in South Australia and Victoria."
To the north, favourable conditions in Queensland and the Northern Territory had contributed to the earlier than anticipated restocking of beef cattle herds.
"Nationally, the national meat cattle herd fell by 1pc to 22.3 million, with small falls across most states offset by increases in the NT.
"Dairy herds fell by 2pc to approximately 2.7 million, while the sheep flock fell by 1pc to around 67.5 million."
Nationally, the number of agricultural businesses increased by 1 per cent to 85,681 in line with a similar increase in the total area of agricultural holdings.
Ms Binns said strong support from the agricultural sector was the foundation of the Agriculture Census – the ABS' largest business collection – and the ABS greatly appreciated farmers' time and effort in providing data.
Further details are available in Agricultural Commodities, Australia (2015-16) (cat. no. 7121.0) available for free download from the ABS website www.abs.gov.au
Click here for the ABS Agricultural Census sheep and lamb details.
Source: ABS.