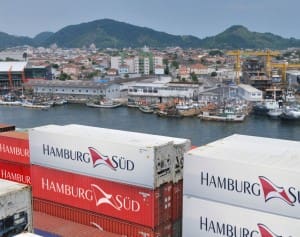 AUSTRALIA shipped a record amount of lamb to the United States last year, Meat & Livestock Australia has reported.
Lamb exports to the US lifted 8 percent in 2015 to 49,904 tonnes, up 31pc on the five-year average.
MLA said the largest year on record for Australian lamb exports to the US has been supported by strong relationships between Australian exporters and the US trade, fast growing immigrant populations who traditionally use lamb in their cooking, and the expansion of international cuisines and new fast food concepts.
Australia's total lamb exports reached 233,999 tonnes in 2015 – back just 1pc from 2014's record volume, but 23pc higher than the five-year average, according to Department of Agriculture and Water Resources figures.
Chilled shipments up, but lagging behind frozen product
Shipments of higher-value chilled product lifted 4pc last year to 99,661 tonnes and frozen shipments declined 5pc to 134,338 tonnes.
MLA said Middle East lamb shipments in 2015 increased 6pc to 68,255 tonnes, a 38pc lift on the five-year average. The rise in shipments to the Middle East is attributed to continued consumer demand and population growth, lower availability of Australian mutton for export, and a decline in New Zealand exports.
Volumes to China declined 19pc last year to 31,326 tonnes, although still 8pc above the five-year average, MLA said. The decline in shipments was largely due to high domestic lamb inventories in China. Domestic Chinese lamb is also lower in price and has an advantage of freshness over Australian frozen product – reportedly the most important purchasing factor for Chinese consumers.
On a cut-by-cut basis for 2015, compared to last year:
Carcase exports were up 6pc to 52,242 tonnes
Breast and flap exports were up 2pc to 43,247 tonnes
Leg exports declined 6pc to 36,126 tonnes
Shoulder exports declined 2pc to 34,165 tonnes
Manufacturing exports declined 19pc to 14,683 tonnes
Rack exports declined 6pc to 10,840 tonnes
Lamb shipments in 2016 are expected to decline slightly from 2015 levels – underpinned by lower production, rather than lower demand, MLA said. The US and the Middle East are expected to remain Australia's major lamb export markets in 2016.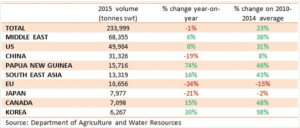 Source: MLA