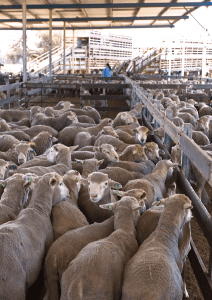 AUSTRALIA should work through the current Memorandum of Understanding on live export with Saudi Arabia to resume the sheep and cattle trade, a major exporter has claimed.
Managing director of Emanuel Exports Graham Daws said the Saudi Arabian live export trade should have resumed long ago, "but it is political that it hasn't."
There is a very robust Memorandum of Understanding (MoU) between Australia and Saudi Arabia on trade, he said.
"That instrument should been used, or an annexure to that, to facilitate the commencement (of the live sheep trade)."
According to the Australia Saudi Business Council, in 2009, Saudi Arabia was Australia's third largest Middle Eastern market for live sheep, importing over 576,000 head valued at A$55 million. Nearly 1.2 million sheep a year were exported at the trade's peak.
On May 4 2005, an MoU on the Trade in Live Animals was signed by the Australian Minister for Agriculture Warren Truss and a Saudi counterpart. The MoU outlined conditions for the trade and includes assurances that livestock (sheep, cattle, goats) will be treated in line with World Organisation for Animal Health (OIE) welfare standards. On March 21 2009, the Agriculture Minister Tony Burke and his Saudi counterpart signed a joint declaration amending the 2005 MoU to provide further detail on the livestock trade.
Mr Daws' comments come after the Trade Sub-Committee of the Joint Standing Committee on Foreign Affairs, Defence and Trade — in its report this month on Australia's trade and investment relationships with countries of the Middle East — recommended the government explore whether an independent auditor monitoring Exporter Supply Chain Assurance System implementation would meet Saudi Arabia's sovereignty concerns.
Live sheep have not been exported to Saudi Arabia from Australia since August 2012 due to the country's concern that ESCAS would impinge on its sovereignty.
MoU is perfect vehicle to re-engage Saudis
Mr Daws said the industry had not had any knowledge of what was in the MoU until recently, because it was a government-to-government document.
"We do know now and it is a perfect vehicle to re-engage with the Saudis, but it has been completely abandoned.
"But when you know the detail within that MoU it is a document that sets everything very clearly, referencing animal welfare and OIE – all the things that we need to do."
Mr Daws said he did not have any knowledge of the MoU before giving evidence last year to the Joint Standing Committee on Foreign Affairs, Defence and Trade inquiry.
"We knew there was a MoU, but we didn't know the detail that was in it.
"The MoU has only recently come to light for us … about a month ago."
Mr Daws said because the Saudi Arabia is an OIE signatory it can't ignore OIE requirements.
"We may be able to have an audit done by OIE just to ensure compliance with what the Saudis have already agree to do by signing onto OIE."
Mr Daws said when he gave evidence to the senate committee last year, the option of an independent auditor in Saudi Arabia was "the way to go, to try to have it removed from Australia dictating to a client what they will do with a product when they get it".
"It's like saying the Japanese will export cars here, but they are not going to sell them to drivers until they are satisfied the driver is competent," he said.
"It's how you approach Saudi Arabia; it is a good country to deal with, but not with a sledgehammer.
"All we need to do and demonstrate is that they are actually implementing what they have already signed up to do," Mr Daws said.
"The way to do that is through an annexure or an amendment to the MoU."
Mr Daws said when ESCAS was explained to the Saudis there was no detail given by the Australian government.
"Clearly at the moment, with ESCAS placed on Australia exporters and through the exporters, we are actually interfering in their business.
"So if we can ensure the pillars of ESCAS are maintained and it's done through a MoU, we believe that both countries ought to then be happy that a resumption can follow."
Saudis want to work through the MoU
Mr Daws said the huge market for live sheep and cattle in Saudi Arabia was needed by the industry and producers.
"The only reason we are not going there is political, because of ESCAS, but when you read the MoU you understand quite frankly where the Saudis are coming from.
"They want to work with Australia, but they want to do it through the MoU."
Neither Mr Daws nor Mr Joyce's office have agreed to release a copy of the MoU to Sheep Central, although the exporter said it doesn't say it is a confidential document.
The MoU is supposed to be a fluid document and its terms cover the inclusion of amendments or new procedures, he said.
"The (Australian) government has been stubborn and just said, if you don't have ESCAS, you can't go to any country."
He would like Australia to explore an agreement with Saudi Arabia that is "ESCAS-equivalent" within or through the MoU. However, he doesn't believe the Australian Government is "moving at all" on the issue.
Saudi agreement cannot come at cost of animal welfare
A spokesperson Minister Agriculture and Water Resources Barnaby Joyce said to date the Saudi Arabian Government has not allowed the introduction of ESCAS within its borders and there has been no agreement on a mechanism for restarting the trade.
"The Australian government is committed to a stronger trade relationship with Saudi Arabia and will continue to work toward re-opening the live sheep trade.
However, this cannot come at the cost of our world leading welfare standards and must not be to the detriment of other trading partners who have worked to ensure those standards are met and in many cases exceeded."
The spokesperson said ESCAS required exporters to only trade with importers that could achieve international animal welfare standards as verified by independent auditors.
"Since September 2013, the Coalition government has achieved significant market access gains for the live animal export industry.
Australian government officials have been working in collaboration with industry stakeholders and the Kingdom of Saudi Arabia to work toward an agreeable solution that would see trade restarted under acceptable conditions to both nations."