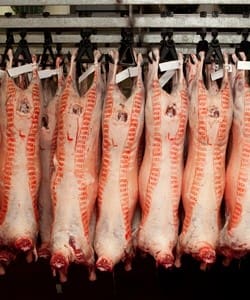 AUSTRALIA has produced more than half a million tonnes of lamb in a calendar year for the first time and increasing carcase weights have been a significant driver.
MLA this week reported that carcase weight gains are helping to drive Australia's lamb production ever higher, despite the seasonal impact of producers turning off lambs earlier.
Average lamb carcase weights in 2015 increased 2 percent year-on-year to 22.23kg and since 1990, lamb carcase weights have, on average, increased 180 grams per year, reflecting the transition away from wool and towards prime lamb production, MLA said.
"This gain does not seem like a lot, but the gradual increase in carcase weights since 1990 now accounts for 100,000 tonnes cwt of the half a million tonnes cwt of lamb produced in 2015.
"Despite unfavourable seasonal conditions across much of the south-east and many producers turning off lambs sooner than desired, carcase weight improvements continued to drive production gains."
MLA said December lamb production lifted 13pc year-on-year, to 40,738 tonnes, as a result of hot, dry conditions throughout Victoria, South Australia, Tasmania and Western Australia over spring and early summer lifting slaughter numbers.
Subsequently, lamb production in 2015 increased 5pc year-on-year, to 508,570 tonnes cwt – the first time Australia has produced more than half a million tonnes of lamb in a calendar year.
MLA said Victoria maintained its position as the prime lamb state, with production increasing 5pc year-on-year to 223,181 tonnes.
NSW produced 119,756 tonnes, up 2pc
SA produced 89,975 tonnes, up 5pc
WA produced 53,203 tonnes, up 16pc
Tasmania produced 15,033 tonnes, down 6pc
Queensland produced 7,423 tonnes, down 10pc
For more detailed and historical slaughter and production data, please navigate through MLA's public database –http://statistics.mla.com.au/.
Source: MLA