SHARING carbon emission mitigation and farming best practice strategies, innovations and policy approaches have been identified as opportunities for Australian and European farmers to collaborate in developing and justifying sustainable agriculture systems.
In a webinar last week – EU agricultural politicians, Australian farmers and institution leaders discussed the theme 'EU-Australia farming: One goal, many paths to sustainability.'
Australian beef producer Melinee Leather said she was excited by the prospect of working with European farmers on sustainability in agriculture.
"And I think there is a lot of opportunity there."
She said Australia's red meat industry has set a target of achieving net zero emissions by 2030 – the Carbon Neutral Initiative — by achieving reductions in emissions on farms, feedlot and in processing, and increasing carbon storage in soil and vegetation. She said the Australian Beef Sustainability Framework is testament to that commitment and it aligns with the EU sustainability development goals, of which Australia is a signatory. Ms Leather also cited Minister for Agriculture David Littleproud's intention to create a biodiversity stewardship program, where farmers can achieve financial rewards by reducing emissions.
Ms Leather said it is clear that Australia and the EU were "like-minded" in their approach to sustainability, sharing values and aspirations to produce high quality safe food that can be traced from the paddock to the plate.
"There are a lot of exciting opportunities there and things that we can share."
She was an active member of local beef producer network sharing knowledge and experiences, was with a group called Farmers for Climate Action and trough a fellowship is networking with leading farmers across Australia in getting key skills and creating a platform for climate resilience in agriculture.
"I think looking for opportunities to share farming best practice, examples from Australia and the EU, is an area where we can collaborate and it will help us all achieve our shared goals of sustainable production.
"It makes good sense to me that we share research and development, and new technologies and innovations, for the benefits of all of us.
Innovation is one key to producing 'more with less'
In the context of mounting pressure in Europe to buy local products and despite the geographical distance between the two blocs, European Parliament member Paola De Castro said there were a lot of opportunities to work together.
These include innovations, which are a key element in producing "more with less", he said.
There was also an opportunity to collaborate on the policies needed to explain the "right direction" for sustainable agriculture.
Australia and the European Union have an opportunity to talk more and said it would be useful to show the European Parliament how Australian farmers explain sustainable agriculture and the role of genetics, good animal welfare and chemicals to produce "good food at a good price". It can reduce the amount of misinformation about Australia's big farms, he said.
"The more we work together, the more chance we have to face the difficulty of communication with other parts of the parliament."
Need for consistent approach on carbon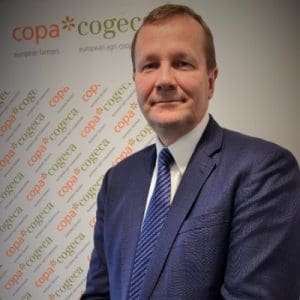 Copa-Cogeca secretary-general Pekka Pesonen said the organisation already had good collaboration with Australian farmers. Copa-Cogeca is the union of the two big agricultural umbrella organisations COPA and COGECA and the strongest interest group for European farmers.
Mr Pesonen raised the prospect of developing a consistent international approach on carbon mechanisms to demonstrate agriculture's sustainability to consumers.
Referring to the shared goal of sustainability, but different ways of achieving it, ABARES executive director Steve Hatfield-Dodds said Australia and EU should be exporting their good ideas to willing, governments and farm communities "in other countries who can learn from us."
"Australia clearly has advantages around market-orientated approaches, which might be more attractive or practical for countries with limited fiscal ability and the EU will have its distinctive contributions.
"One of the important things is to be honest about this – sustainability is a global imperative and we should resist, all countries – Australia, EU etcetera – all countries should resist the temptation to dress up things which are convenient or play well politically at home, as if they were a sustainability agenda, when they are not really," he said.
"We should be honest about the packaging of what we are seeking to do and genuinely seek to work together in this shared global interest and the interests of our grandchildren."
The webinar was hosted by the Australian Mission to the European Union and Meat & Livestock Australia.