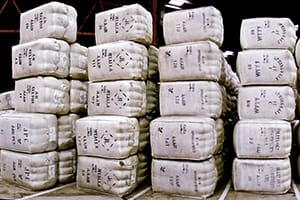 AUSTRALIAN wool prices rose again this week as a lower offering than expected and fresh forward sales into India, Europe and China in recent weeks prompted exporters to cover short supply positions.
Despite Chinese and Australian currency movements, AWEX senior market analyst Lionel Plunkett said the AWEX Eastern Market Indicator rose 46 cents clean to 1304 cents, with gains of 50-80 cents for Merino fleece wool adding to last week's 37-cent EMI rise.
The EMI in US terms closed on US964 cents, up 42 cents, with the $A-US exchange rate fluctuating from US72.4 cents to US73.92 cents during selling. Brokers passed in 1.1 percent of the 28,515 bale offering, which was 9000 bales less than the first estimate four weeks ago.
Melbourne was dominant centre
Mr Plunkett said Melbourne was the dominant auction centre where the mid-microns came under serious buying pressure.
"The 21-MPG rose 80 cents on the first day, its largest daily rise in 13 years.
"The 100-cent gains in the Fremantle MPG's gave an appearance of outperforming the east coast. However, the rises were compared to the previous Wednesday," he said.
Demand in Melbourne on Thursday was more subdued, while Sydney prices continued to firm, bringing its price levels more into line with the other markets.
Mr Plunkett said the finer microns firmed slightly in Melbourne on Thursday at the expense of the 20/21-micron range, which found less buyer enthusiasm and eased back marginally.
Merino skirtings trailed the fleece sector, but still managed rises each day to close 30-50 cents higher, he said. Crossbreds made steady increases to close ahead by 15 cents and Merino cardings lifted around 20 cents.
"Although the final result in AUD terms was similar to last sale, currency movements saw prices for the end-user only slightly higher during that series.
"A firm AUD this week saw all of the local increases converted into US dollar terms which is still the currency choice for most traders."
Mr Plunkett said the market was also affected by the devaluation of China's Renminbi (RMB) currency, which had its biggest one-day adjustment in 20 years.
Market led by forward sellers covering short position
In Australian Wool Innovation's Weekly Wool Market Review, trade consultant Scott Carmody said price rises of 50-80c/kg clean were seen in the Merino fleece sector and all other descriptions generally gained 20-40c/kg clean.
"The market once again was led, and forced upwards, by forward sellers short-covering their open positions.
"Chinese indent operators did become more active towards the close of the week as prices stabilized, but comparatively, they purchased a much smaller percentage of their usual weekly portion," he said.
Chinese and US currency fluctuations affected buying
Mr Carmody said local trading houses reportedly carried very little greasy wool stock through the recent AWEX sale recess.
"With fresh forward sales into India, Europe and China at market rates, most buyers apparently found themselves with varying degrees of short positions, hence the urgency seen at auctions to purchase."
Mr Carmody said the initial official lowering of the value of China's currency, the Renminbi (RMB) or yuan (CNY), by 1.9pc within their fixed exchange rate system against the US dollar, caught all by surprise.
"The subsequent and just as unexpected, further two devaluations played havoc with decision making on both sides of the trade.
"A cumulative total of 4pc was cut from the CNY reference rate during the past week."
Chinese buyers need more Yuan to buy wool
Mr Carmody said the currency fluctuations meant Chinese users now need more Yuan to buy US dollars to execute their purchase of Australian wool.
"On the flip side, for any Chinese wool manufacturers exporting their garments, a weaker Yuan would reduce the price of the purchaser of Chinese made goods being imported by other countries."
The selling week was also influenced by the wildly swinging $US versus $A exchange rate from US72.4-74.3 cents over the two day period of auction selling, he said.
"Local buyers and overseas customers basically had to make an educated guess at best as to where to fix their rate of currency exchange upon conclusion of a sale.
"With more adjustments to the CNY expected over the short term, traders will be extremely reticent to leave any exposure to currency risk on their books, and indent buyers using the USD rates will be monitoring and adjusting their buying limits regularly," he said.
Mr Carmody said the sale week offering 28,515 bales added to the pressure on buyers, with just 17,000 bales of Merino fleece being available to the trade nationwide.
"Outside of the auction system, trade participants also had to deal with some of the most difficult, and some say bizarre, financial decisions being made offshore in our most voluminous and influential wool destination – China.
Mr Carmody said a solid sale is expected for the 31,332 bales due to be offered in Sydney and Melbourne next week, "but the Chinese situation will be watched closely by buyers."
Sources: AWEX, Australian Wool Innovation.