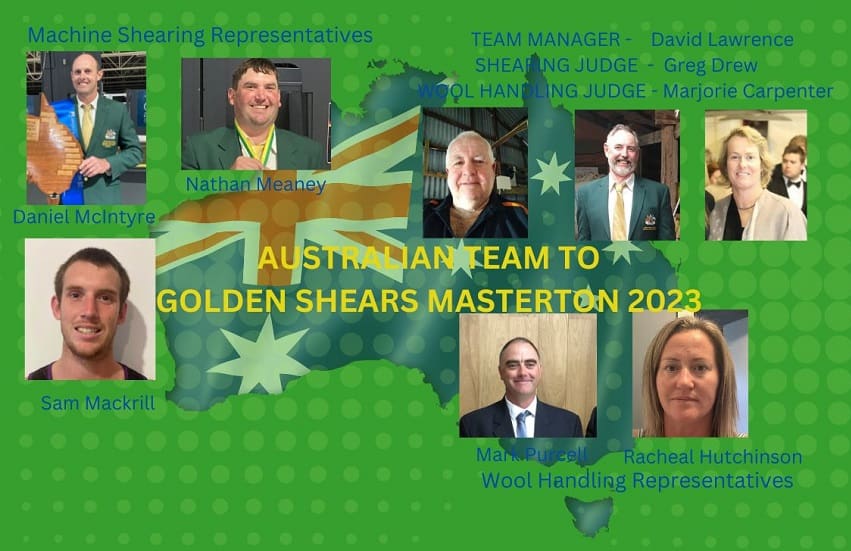 AUSTRALIA'S top shearers and wool handlers will be among more than 370 competitors in Masterton New Zealand for the three-day Golden Shears international championships starting tomorrow.
The championships will run until Saturday this year featuring 22 titles across the shearing sports, two years after its cancellation due to COVID-19.
With some late entries expected, 361 people had their entries register by Monday this week, including more than 80 from overseas, comprising at least 38 from the United Kingdom and 37 from Australia.
Sports Shear Australia's immediate past president Tom Kelly said the Australian team will include its trans-Tasman shearers New South Wales and national title champion Daniel McIntyre, South Australian and Bendigo open winner Nathan Meaney and up-and-coming Victorian Sam Mackrill, wool handlers Mark Purcell from Victoria and Racheal Hutchison from NSW, as well as team manager Dave Lawrence, shearing judge Greg Drew and wool handling judge Marjorie Carpenter.
Mr Kelly said Australia's trans-Tasman machine shearers – McIntyre, Meaney and Mackrill — had a comprehensive win against the New Zealand's Nathan Stratford, Stacey Te Huia and Leon Samuels on difficult sheep in the last test at the Australian titles at Bendigo last year, but "it's not going to be as comfortable as Masterton because it's the New Zealand home of shearing."
"I don't think the three New Zealand shearers would have been real happy with the result at Bendigo, they struggled a bit with our Merino sheep.
"So I would anticipate that they're going to come back pretty hard."
But Mr Kelly said the Australian shearers were a good blend of experience and young talent.
The New Zealand trans-Tasman wool handlers Angela Stevens and Cushla Abraham beat Australia's Aroha Garvin and Racheal Hutchison at Bendigo, but will come up against new Australian champion Mark Purcell and Ms Hutchison at Masterton.
"I think the Australian pair are very experienced and are going there pretty comfortable that they can have a crack.
"The pressure is on the Kiwi handlers, they're on their home ground, so it's probably an opportunity for Australia to relax and have a real crack at them," he said.
"We've got a really good experienced pair and we're sort of quietly confident that they will present themselves really well."
Mr Kelly said Masterton will be a good warm-up for the world titles in Scotland later in the year. He said there is a big contingent of Australians at Masterton, including development wool handlers and shearers. They have been in New Zealand doing training, workshops and competing at minor events.
"It's sensational that the event is back on track."
Golden Shears organisers see the Masterton event as reflecting the reunification of the global shearing fraternity after the border closures of the COVID pandemic and tough times of the shearer shortage. Golden Shears International Shearing Championship Society president and Wairarapa farmer Sam Saunders said Masterton is the mana of the "Shears" worldwide and the acclaim it has brought Masterton and the region of Wairarapa.
Masterton open shearing and wool handling champions have become household names, its rostrum has become a target for Prime Ministers and other politicians, and the event spawned the Golden Shears World Championships, first held in England in 1977 and in 2023 on June 22-25 at the Royal Highland Show in Scotland.
The Golden Shears has also made New Zealand the only country in which competition shearing and wool handling has government acknowledgement as a sport, with Shearing Sports New Zealand one of almost 70 national sports organisations recognised by Sport New Zealand.
New Zealand is the only country to offer formal betting on Golden Shears outcomes, with the TAB having opens options on the open shearing and wool handling finals, the PGG Vetmed National Shearing Circuit final, and shearing and wool handling tests between New Zealand and Australia.
The TAB has made defending champions Rowland Smith, a farmer, shearer and rural contractor at Maraekakaho, near Hastings, and Motueka-based wool handler Joel Henare, from Gisborne, favourites to win the shearing and wool handling titles.
The winner of the open shearing final wins a place in the New Zealand team for the world championships, as will the first two in a wool handling selection series final also being held during the Golden Shears.
Smith, seven-times winner of the open shearing titles, faces challenges from regulars such as four-times winner John Kirkpatrick and 2015 Gavin Mutch, both also farming and shearing in Hawke's Bay, and emerging hopefuls such as Toa Henderson, of Kaiwaka, Northland, winner of seven Open titles in the current season, which has 57 shows throughout New Zealand.
Henare is an even warmer favourite, aiming for a ninth Golden Shears Open wool handling title in a row and with 132 career wins, estimated to be about twice the number of wins accrued by the other 33 entered in his event by Monday.
Among those missing is fellow former world champion and multiple New Zealand Shears Open champion Sheree Alabaster, a full-time schoolteacher this week with her Taihape pupils on a school camp and missing the week in Masterton for the first time since "when I was a little girl watching my dad."
She's still determined to be there on Saturday night, despite some logistical difficulties in making it in time after netball during the day.
Another missing is departing stadium presentations host and master of cermonies Kieran McAnulty, who has had to step down because of his parliamentary commitments.
The Golden Shears will also debut some hopefully future stars, in a Teddy Bear Shear, where children pretend-shear using teddies as the sheep, handpieces or such things as wooden blocks in their hands, and mock-up shearing gear including singlets, trou, moccasins and bow-yangs, re-enacting the learning years of children from shearing families in the woolshed over many decades.
Mr Saunders says the Teddy Bear shear and other wool activity during the week is one way of "bringing-back" some of the things lost to the wool industry over the years, including the lessons from a young age including commitment to "getting up early and going to work…and enjoying it."
He said the lessons also include commitment to working as a team, despite the conditions, the ultimate factor behind the strong interest in Golden Shears this year.
"The feeling I am getting is that people have been missing the Shears.
"It just shows people enjoy the company and the feel of it all," and just can't wait. It's good to be back," Mr Saunders said.