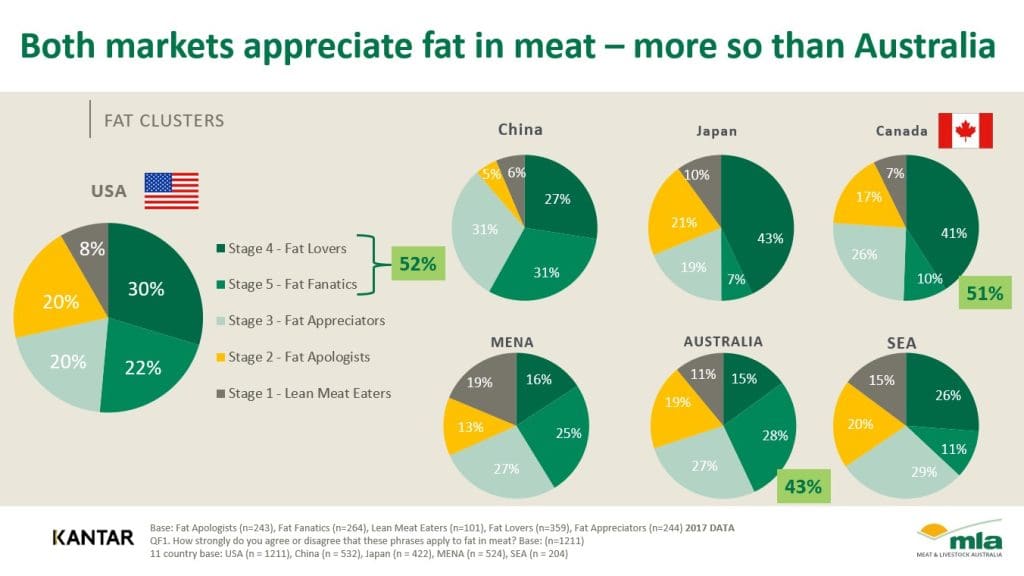 AUSTRALIA'S beef and lamb are enjoying strong consumer support in major markets for their fat content, supporting continued selection for intramuscular fat in cattle and sheep.
At the 2022 Intercollegiate Meat Judging Association Conference at Charles Sturt University's Wagga Wagga campus last week, Meat & Livestock Australia's group industry insights and strategy manager Scott Cameron said fat is enjoyed in meat in several key markets.
His data indicated significant percentages of consumers were regarded as fat appreciators, fanatics and lovers in China, Japan, Canada, the Middle East, South East Asia and domestically.
The research showed that 30 percent of American consumers are fat lovers, 22pc are fat fanatics, 20pc are fat appreciators and 20pc are fat apologists. Only 8pc of US consumers were described as lean meat eaters.
"So they (the Americans) enjoy fat in their product, so whether that is marbled or whether that is fat around the edge."
He said the 52pc of fat lowers and fanatics in America compared to 43pc in Australia.
"In Australia we like our meat more lean, whereas in the US that fat level is really appreciate a lot more.
"So that means that the indulgence factor (as a growth driver) really comes into it."
Japan has the highest percentage of fat lovers (43pc), followed by Canada on 41pc, China 27pc and South East Asia 26pc.
The Middle East had the highest percentage of lean meat eaters at 19pc, followed by South East Asia 15pc, Australia 11pc, Japan 10pc, Canada 7pc and China 6pc.
Mr Cameron said most markets had similar growth drivers, but in each market consumers weighted those factors differently.
The main drivers in most markets included safety and trust, being natural and healthy, sustainability, high or superior quality, the experience and convenience.
New growth driver tool coming
Mr Cameron said MLA is about to launch a tool on the MLA website that will help producers and brand owners to understand what the growth drivers are for a particular product in a market.
"For example, if your product is premium quality grass-fed and you've got sustainability claims, you can plug those criteria into the website, into the tool, and that will then spit out the different growth driver areas of opportunity that your brand has."
In his presentation, Mr Cameron described the consumer preferences of several key markets and how MLA used demand insights to inform its marketing strategies.
He said MLA is about fostering the prosperity of the Australian red meat and livestock industry.
"And the key aspect that the insights really focusses on to ensure that we deliver against that objective is to ensure that the insights enable stakeholders to make better decisions to drive industry profitability and global competitiveness."
Demand potential for other red meats
When asked if MLA saw any potential for exporting other feral-origin red meat such as goat or buffalo, Mr Cameron said there is a focus on buffalo meat in India and especially China and other South East Asian markets.
"The interesting fact is that there is a global protein shortage, in reality.
"So we can sell all of our product, every other market can sell all of their beef and their lamb and we still won't reach that threshold," Mr Cameron said.
"When you look at the laws of supply and demand, there is going to be opportunities for those (other red meat) products."
How to stay competitive in a high cost world
On how to stay competitive with the current red meat prices and the rise in living costs, Mr Cameron said the key lay in Australian products differentiating themselves by highlighting premium attributes.
"The other key is that the benefit we have in both beef and lamb is that we have a wide variety of different products, right from mince – low value at say $10/kg that can compete with chicken at similar price points – right through to premium high-end restaurants at $300-$400 a plate."
How did COVID change meat consumption?
Mr Cameron said COVID changed how people consumed food. When the food service sector shut down, people consumed more in their homes and their ability to experiment and cook new cuts was heightened.
"And the other big change has been online, so pre-COVID grocery online was about 4 percent of total groceries… it's now about 10pc.
"So that means for us, for example, from a fresh meat perspective, how do we ensure that our product, which isn't purchased and chosen at store can turn up at some's doorstep looking vibrant fresh and great every time?"
Pasture-raised claims resonate with US consumers
On the issue of the American No Antibiotics Ever program and the trend to raise chickens without antibiotics, Mr Cameron said Australian meat is seen as "high quality high-nature" in the US and MLA had tested how product claims resonate with consumers.
"It is sometimes as simple as pasture-raised.
"For example, our grass-fed product over there — because the majority of their beef is corn-based grain-fed product – something as simple as grass-fed beef with a claim pasture-raised is enough to overcome some of those perceptions of antibiotic use."