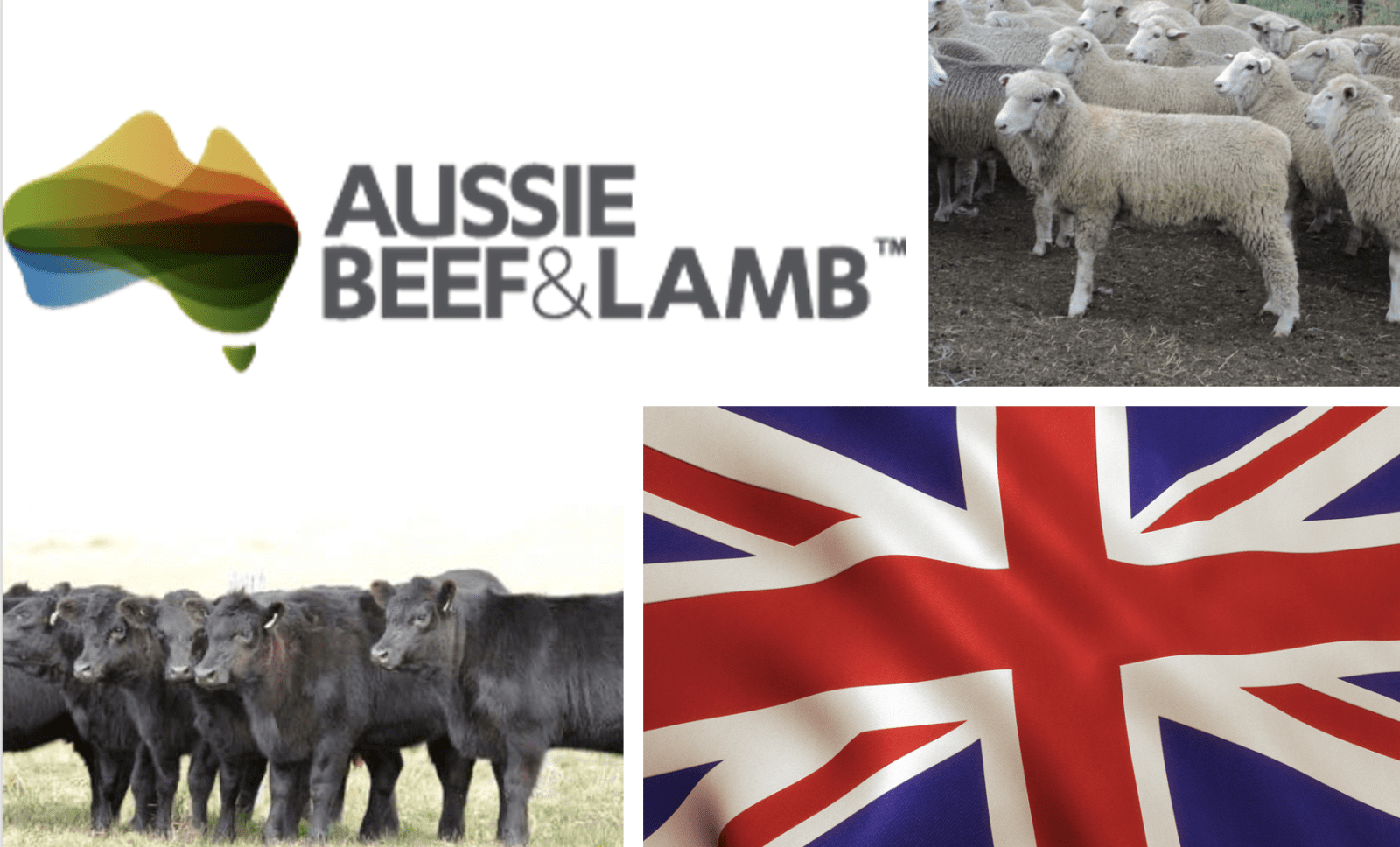 The Aussie Beef & Lamb (ABL) brand is launching in the UK following the historic UK-Australia Free Trade Agreement (FTA) June 2023.
The brand is designed to offer a point of difference for UK foodservice professionals and retail buyers looking for high-quality, consistent and sustainable red meat that complements British product.
Used to promote Australian red meat across export markets, representing beef, lamb, goat and veal.
Meat & Livestock Australia describes the Aussie Beef & Lamb brand as denoting premium products and quality assurance, with high levels of traceability, and standing for trusted, high-quality red meat that tastes great and is processed under the highest standards of food safety and animal welfare.
Mear & Livestock Australia UK business manager Stephen Edwards said Aussie Beef & Lamb as a brand is used to raise awareness of Australian red meat as a whole and works in conjunction with individual commercial brands and their own points of difference.
"For centuries, Australian farmers have passed down their knowledge from generation to generation, creating a proud meat and livestock industry brimming with tradition.
"We have a world-leading supply chain and an unspoiled enviroaussie nment in which to raise animals. This underpins Australia's reputation for producing some of the finest beef and lamb, which we hope will complement the high-quality British red meat produced here in the UK during low season and in certain niche markets."
The aim for the ABL brand in the UK market is to service a percentage of the 400,000 tonnes of beef and 80,000 tonnes of sheep meat that is already imported into the UK from overseas countries each year, complementing domestic production and supporting supply for lower levels of seasonal production and certain cuts that see higher demand.
UK imports one third of its red meat needs
The UK currently imports around a third of its red meat from overseas from regions such as Eastern Europe, New Zealand and South America. Domestic beef and sheep meat production cannot meet the entire demand for red meat in the UK – especially during low season.
The percentage the UK imports is forecast to grow in the near future, offering a real opportunity to shore up food security and strengthen supply lines with quality product from Australia.
"The UK is a nation of red meat lovers," Mr Edwards said.
"It is a diverse market where there is both room and demand for Australian exported products. Given our shared approach to food standards and animal welfare, bringing the brand to UK shores is about satisfying the consumer demand that exists in supermarkets and amongst food suppliers and restauranteurs who want to source quality product for British consumers. "
Australia and the UK have a shared history
Australia's values, vision and regulatory approach to red meat production is very much in affinity with the UK and its customer base. Given the inverse seasonal nature of our farming calendar, we believe that Australian imports can play a vital role in complementing British meat products.
"Imports from Australia can help guarantee British hospitality professionals and consumers will have access to high quality beef and lamb on supermarket shelves and in restaurants all year round, smoothing the impact of seasonal availability based purely on UK produce.
"We aim to service some of the importation demand and carve out a niche for our grainfed products in foodservice – which is not available usually available in the UK and will appeal to gastropubs through to fine dining establishments. Australian beef and lamb enjoy a reputation as consistent high-quality products.
The Grain-fed Beef Point of Difference
A point of difference provided by Australian beef meat, especially in the foodservice industry is for premium cuts at the top end of the market – specifically grain-fed beef.
British beef tends to be lean, grass-fed meat that is both a high quality and affordable option – one that is often currently favoured in retail and by a proportion of the British public.
In contrast, Australia has the means to produce large amounts of very consistently good grain-fed beef meat, which is renowned for its taste and superior cookability. Grain-fed beef is particularly flavoursome and cooks and travels extremely well thanks to the high amount of marbling running through the product.
Grain-fed beef is derived from cattle that start their lives in lush pastures then have been fed nutritionally balanced, high energy finished rations for a minimum specified number of days.
This feeding regime results in a more consistent product and enhanced marbling that contributes to improved tenderness, juiciness and flavour. Grain-fed beef from Australia generally yields more consistent fat and meat colour.
Typical feeding regimes in Australia are: short fed (100 to 150 days), medium fed (150 to 200 days) and long fed (200+ days).
It is favoured by chefs at top end restaurants, fine dining establishments, premium steakhouses and gastropubs. It is here that the Aussie Beef & Lamb brand can offer a real point of difference to the red meat produced currently in the UK.
Australia's grain-fed beef is widely regarded in many export markets as being among the best and most consistent in the world.
"Chefs and foodservice professionals are well attuned with the benefits of grain-fed beef, and it is here that we see a real opportunity," Mr Edwards said.
Grain-fed beef is not yet established in UK retail, but awareness is growing with understanding of taste and the eating-quality benefits of intramuscular fat.
"In retail, Aussie Beef & Lamb can offer a seasonal alternative – when domestic production is low, Australia is a viable alternative to some of the other import markets – for example South America. We offer excellent quality product which has high levels of traceability and the highest food standards in line with food safety standards domestically. chilled Australian beef achieves up to 140-day shelf life from production, the aging ensuring eating quality.
Servicing high seasonal demand for sheepmeat
"For sheep meat, we aim to service the demand for certain cuts and during high seasonal demand. Lamb legs for instance are hugely popular in the UK, but there is obviously only a certain volume of legs available from domestic producers. We see an opportunity during peak season at Easter and Christmas too. As the popularity of lamb continues to grow, we can meet the demand with a range of cuts and product lines with naturally processed, free range, pasture-raised, grass-fed and table-ready sheep meat with no added hormones, chilled Australian lamb achieves a 90-day shelf life from production, the aging ensuring eating quality.
"Another opportunity for Aussie Beef & Lamb is for Halal meat, most of our beef and lamb meat is produced to humane Halal standards – so the takeaway and the Asian restaurant market looks like a positive space for our products."
Cornerstones of the Aussie Beef & Lamb brand
Any red meat producer, processor or supplier associated with the Aussie Beef & Lamb brand must meet strict standards of food safety, sustainability, traceability, animal welfare and grading systems for red meat.
Food Standards Maintaining quality and food safety standards is essential to the international reputation and integrity of Australia's red meat export market.
Australia's animal health status is arguably one of the highest in the world with strict border biosecurity it is widely recognised as being free of epidemic diseases.
Sustainability and environmental impact Australian farmers are committed to environmental sustainability and best practice, because their livelihoods depend on the land. The sector is working towards net 0% greenhouse gas emissions by 2030 and to date has reported a 65% reduction in carbon dioxide emissions (on a 2005 baseline) and reduced water usage in cattle production by 73% (since 1985).
Australia has also conducted a full-scale Life Cycle Analysis of the environmental impact of beef & lamb production from the farm to plate.
The study investigated energy demand, water use, land occupation, greenhouse gas emissions and stress-weighted water use associated with producing, processing and exporting Australian red meat.
It concluded that transportation of products accounts for less than 4% of total emissions, which in many cases puts the environmental impact of importing red meat on a par with, or lower than, transportation of domestic product in the country of origin. Coupled with Australia's ambitious sustainability objectives and ability to produce highquality protein in an ideal natural environment, our customers should feel assured that in purchasing Australian beef and lamb, they're choosing to work with sustainable partner.
Traceability
Australia has a world leading traceability and quality assurance system that ensures the safety and integrity of Australian red meat. A 'whole of life' electronic tag is placed on every individual cattle.
All animals are identified with an accredited NLIS tag or device from their property (PIC) of birth.
As animals are bought, sold and moved along the supply chain, each movement is recorded centrally on the NLIS database.
Using this information, the NLIS is able to provide a life history of an animal's movements.
Animal Welfare
The UK was the first country in the world in the late Victorian era to bring forward a farm animal welfare legislation.
Australia broadly copied this meaning the culture and approach is similar to that of the UK – driven by high standards, quality and consumer demand.
The Australian red meat industry commits to the five domains of animal welfare.
Endorsed by the World Organisation for Animal Health the five domains are (1) nutrition (2) environment (3) health (4) behaviour and (5) mental state.
Grading high qualitymeat
More than 20 years ago, MLA and the Australian beef industry developed and established a grading system called Meat Standards Australia.
It labels each cut of beef with a guaranteed grade, eating quality and recommended cooking method. This system has dramatically transformed the guaranteed consistency of products increased trust between producer, supplier and end consumer.
Source: Meat & Livestock Australia. For more on sustainability in the Australian red meat industry click here