AUSMEAT'S Handbook of Australian Meat — widely accepted as the red meat industry's technical manual for trade — was launched last night in digital form.
Now in its eighth edition — Sheep Central's own well-thumbed third-edition copy dates from 2003 — AUSMEAT's Handbook of Australian Meat is an international red meat manual which facilitates the use of accurate product descriptions in domestic and international trade.
The new app version launched last night carries a range of high-tech new features, and is available as an app from today for smart phones and tablets.
Thursday's launch took place at The Hub, Kilcoy Global Foods' Value-Adding and Product Research and Development precinct on the Sunshine Coast.
In what is claimed as a world-first, the new app includes a 3D photo function which allows the user to manipulate a range of different sheep, lamb, beef, veal and goat carcase and primal images and anatomical guides to be viewed from any conceivable direction.
AUSMEAT has produced the app in conjunction with technical experts to ensure as many stakeholders as possible have access to the valuable information it contains, including international and domestic customers of Australian red meat, exporters, processors, trainers and specialist users.
The App has undergone extensive user-testing over the last three months.
The HAM app enables exporters and importers of Australian products to communicate detailed specifications and descriptions of red meat items using a common language.
AUSMEAT chairman Alan Bloxsom said the app version of the handbook had appeared in eight iterations over the past 30 years, since the Woodward Royal Commission, after which Truth in Labelling became a more important consideration for the Australian meat industry.
"The launch of the digital version today in the form of the new app gives all red meat stakeholders – both internationally and in Australia – the ability to be able to maintain the integrity that this has."
"This cuts to the heart of what AUSMEAT does, on a daily basis, in managing truth in labelling and industry standards. It is a very important tool for everybody's use."
AUSMEAT's general manager for Meat Standards and Training Services, Ben Robinson, was responsible for the App's development.
"Converting the hard copy handbook into an app offers significant benefits in its immediacy, portability, ease of use, interactivity, accessibility and enhanced functionality," he said.
The project had been 18 months in development, and represented a 'lot of hard work' over that time.
The first step was to take what was in the old hard-copy version, and turn it into a digital version. But developers also wanted to make it interactive.
In what is claimed as a world-first, the App includes a 3D photo function which allows the user to manipulate a range of different beef, veal, sheep, lamb and goat carcases and primals to be viewed from any direction.
"Beyond that, we have set ourselves up to really advance to tool over the next four years," Mr Robinson said. "We're planning to add features over time, that do not even exist today – making it even more interactive, and delivering and even greater user experience."
The app also includes quick, easy search tools, quick access and 'favourites' functions to speed up navigation of the platform by users.
A different file can be created for each customer, for example, allowing certain cuts or information to be tagged and accessed more easily. That file contains in excess of 500 different red meat products.
AMPC and AUSMEAT board member, Kilcoy Global Foods chief executive Dean Goode, told the gathering said the sponsors, Meat & Livestock Australia and AMPC, had agreed to support the App on an ongoing basis, with no charge to users for access or updates.
"What's been done with the app is truly commendable," he said.
"Just imagine how many thousands of people – regardless of whether they are in Dubai, Sydney, Los Angeles or Helsinki – can use this to look at Australian beef and beef cuts, and make purchase decisions.
"We should not under-estimate the value of this," he said.
"Not only have we built an industry language to be proud of around the world, we've built a marketing tool that everybody is going to be able to use. Every meat stand and trade show in the world is going to have that QR code, allowing potential customers to scan and learn about Australia's unequalled meat range and offer."
"We need to embrace it and spread the word."
AUSMEAT chief executive Stephen Crisp said the new app was based on the language, which was the foundation for the Australian meat industry's integrity in the global marketplace.
"When I started in the meat industry years ago, the first thing I was handed was the Handbook of Australian meat. With the launch of the app, it's great not to have to carry around that document in hard form, but be able to bring it up on your phone or tablet.
"Obviously the marketing implications are huge, and being able to talk with customers around the world at will, being able to call up the same code and talk the same language."
"Having our AUSMEAT language as the red meat industry language for the world is such a bonus."
"But it's not just about looking at 3D images of carcases or a primal. It can help in managing labelling or description issues with customers, or reinforcing industry programs, for example.
"This is another step forward in the process of integrity that AusMeat provides."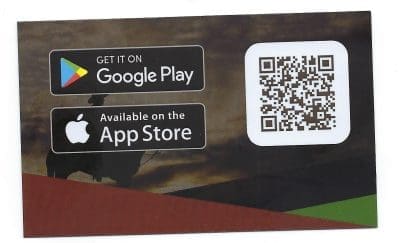 Readers can use this QR code (above), using their phone camera, to access, to view and download (if they choose) the new Handbook of Australian Meat App.
Alternatively, it can be downloaded via the Apple app store and the Google Play store, available for free for download on both Android and Apple devices.