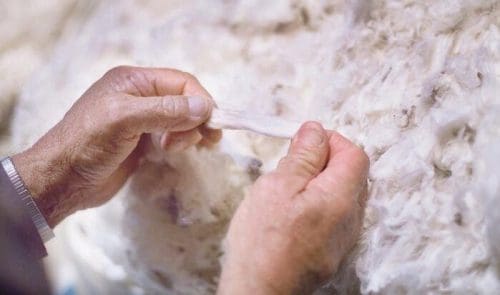 ONLINE wool sales held steady on AuctionsPlus last week, the last the annual three-week selling recess at physical selling centres.
The AuctionsPlus online offer board sold 171 bales, with most being 19 micron lines (52 bales) and 20 micron wool (72 bales).
The 19 micron wool sold to a top of 1195c/kg greasy, or 1752c/kg clean, and the 20 micron lines made to 875c/kg greasy, or 1406c/kg clean.
The top-price online was 1825c/kg greasy, or 2556c/kg clean, for three bales of 17 micron Merino fleece wool with an average staple length of 79mm and 0.6pc vegetable matter content. The line was branded 'L/Gleneagles' and was offered by Elders Victoria.
An anticipated offering of about 57,000 bales is expected in the resumed physical auctions this week.
Source – AuctionsPlus.