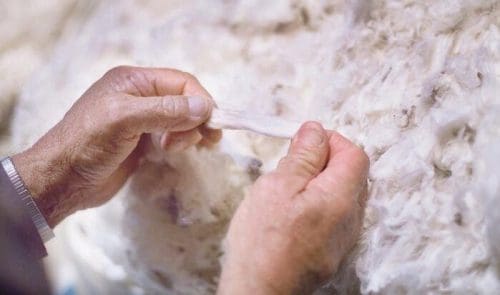 AUCTIONSPLUS online wool sale volumes steadied last week as the physical auction price benchmark held firm.
The AuctionsPlus offer board sold 479 bales, slightly up on the previous week, with the top price of 2120c/kg greasy or 3063c/kg clean going to a 14.9 micron Merino SUPAAAAFINE lot with an average staple length of 77mm and 0.2 percent vegetable matter content. The lot was branded Kelvedon and was offered by Nutrien Ag Solutions in Victoria.
The 15 and 16 micron wool sold online made to 2135c/kg greasy or 2965c/kg clean.
AuctionsPlus also sold 78 bales of 20 micron wool to a top of 990c/kg greasy or 1322c/kg clean.
AuctionsPlus said the auction market's AWEX Eastern Market Indicator rose 7 cents on Wednesday and fell 8 cents on Thursday to close the week at 1309c/kg greasy or US1014c/kg.
Despite a similarly strong offering, demand decreased slightly, resulting in the pass-in rate rising from 9pc last week to 9.3pc.
AuctionsPlus said large volumes are still being offered at the physical auctions and the quality of the freshly shorn offering decreasing, due to seasonal faults such as heavy vegetable matter and cotted wool.
It is predicted that producers are going to offload their stockpile of drought-produced wool, with 53,000 bales scheduled to be offered at auction next week, AuctionsPlus said.