PRICES increased in most sheep and lamb categories, but clearance rates varied, on AuctionsPlus last week.
AuctionsPlus's weekly commercial sheep and lamb offering increased 11 percent to 34,935 head.
Despite a seasonally small offering, market confidence increased with demand rising across a majority of categories, the online saleyard said.
The national lamb sale offered 19,614 head and there was 15,226 head in the national sheep sale.
Prices across all five lamb categories rose on last week, with clearance rates reflecting robust demand and slowly growing confidence in the market. Joined ewe categories also performed well this week, with most categories recording price rises on last week. However, clearance rates were mixed across the categories.
There were 6351 crossbred lambs offered that sold for an average of $132, $6 higher. The clearance rates was 94pc, up from 69pc the week before. At Brewarrina in New South Wales, a line mixed sex first cross lambs weighing 59kg lwt sold for $175 to a buyer at Grenfell, NSW.
The 7834 Merino wether lambs made up the largest lamb category for the week. Prices averaged $101, up $7, and the clearance rate reached 96pc, up from 74pc. A line of wethers at Booligal, NSW, weighing 45kg lwt sold for $137 to a buyer in Loxton, South Australia.
The number of Merino ewe lambs offered tripled to 1420 head. Prices for the category averaged $200, up $21, and all were sold. At Thallon, Queensland, 900 October/November 2021 drop Merino ewe lambs weighing 32kg lwt made $171 with a buyer in Longreach, Queensland.
Stronger demand for first cross ewe lambs
First cross ewe lambs sold to stronger demand last week, with the 2406 head reaching a 72pc clearance, up from 34pc the previous week. Prices for the category averaged $214, up $45. A highlight was a line of August/September 2021 drop lambs weighing 53kg lwt at Tottenham, NSW, that sold for $319.
Joined ewe listings accounted for 20pc of the total offering. Scanned in-lamb shedding breed ewes were the largest category with 2400 head and 78pc sold. The average price rose $85 to $374. At Cunnamulla, Queensland, a line of August/September 2021 drop scanned in-lamb Australian White ewes weighing 64kg lwt made $702, $200 above their reserve price.
Demand for scanned in-lamb Merino ewes slipped from the previous weeks' 100pc clearance to a 50pc result. However, the average price paid rose $38 to $211 for the 1948 head offered.
The 6307 unjoined ewes made up 18pc of the total offering. Prices for three of the five categories were back on last week; however, overall demand was higher.
Merino ewe hoggets in stronger demand
AuctionbsPlus cleared 95pc of the 1674 Merino ewe hoggets offered for an average price of $226, up $20. At Hay in the NSW Riverina, 217 15-16 month-old NSM Poll Merino ewes weighing 56kg lwt sold for $282.
Unjoined Merino ewes averaged $141/head, up $39. Only 45pc of the 1192 head offered were sold. Unjoined shedding breed ewes averaged $217, back $40. Prices for the 222 head offered ranged from $163-$270 and the final clearance rate was 71pc, up from 39pc immediately after the Tuesday sale.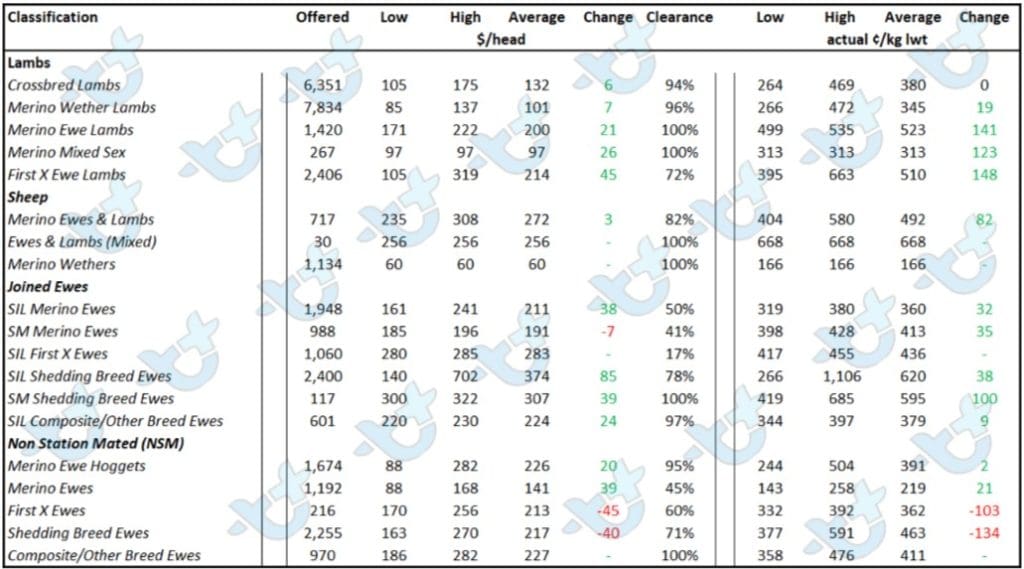 Source: AuctionsPlus.