AUCTIONSPLUS weekly commercial sheep and lamb listings exceeded 100,000 for the first time this Spring, rising 22 percent to 110,815 head last week.
Widespread rainfall forecast across much of the eastern states encouraged buyer and seller activity, as robust buyer sentiment absorbed the rise in listings, the online platform said.
Lambs continue to dominate the weekly offering, with new season lambs accounting for 68pc of the market.
Average price rises were recorded for the crossbred and Merino ewe lamb categories, ewes with lambs and the joined ewes, especially shedded ewes.
AuctionsPlus offered 24,270 crossbred lambs, up 26pc. The increased offering failed to dampen buyer confidence and prices averaged $140, up $4, with an 82pc clearance rate by late Thursday. At Kanya in Victoria, 280 White Suffolk/Merino cross mixed sex suckers weighing 39kg lwt sold for $144 to a South Australian buyer from Kangaroo Island.
The largest category was Merino wether lambs, with the offering rising 59pc to 33,688 head, boosted by a single vendor offering 20,000. They sold from $80 to $151, to average $104, back $10. The 65pc clearance rate at the sales reached 72pc aftr post-sale negotiations. A line of 200 Merino wether lambs at Narrandera in New South Wales weighing 48kg lwt sold $10 above reserve at $140 to a Victorian buyer.
Merino ewe lamb listings rose by 5001 head to 5565. AuctionsPlus said the average price was not impacted by the increased offering, but clearance was impacted by selective buying, with just 46pc selling for an average price of $200, up $46 on the previous week. At Coolah in NSW, two lines of 700 Merino ewe lambs weighing 39kg lwt sold for $226.
First cross ewe lambs experienced the only decline in week-on week listings in the lamb categories, with a 19pc drop to 9111 head. AuctionsPlus said the category remains impacted by selective buying, with only 22pc selling for an average of $189, back $18. At Nhill in Victoria, 271 first cross ewe lambs weighing 43kg lwt made $218.
The joined ewe offering dropped 49pc to 2427 head. The largest category was scanned in-lamb shedding breed ewes, and 80pc of the 922 head offered sold for an average of $508, up $239. The category's top price of $540 was paid for two lines of 200 1.5-2.5 year-old UltraWhite ewes scanned in-lamb to UltraWhite rams at Goodooga in NSW. Only 59pc of the 305 scanned in-lamb Merino ewes offered were sold for average of $201.
The 27,127 unjoined ewes listed accounted for 25pc of the weekly offering. AuctionsPlus said selective buying meant only one of the five categories had a price rise and clearance rates were mixed. The number of Merino ewe hoggets offered rose 27pc to 8681 head and 31pc sold for an average price of $209, down $24.
First cross ewe listings fell 16pc to 8174 head. AuctionsPlus said byer willingness to look for quality over quantity meant the offering averaged $255/head, down $1, with the clearance rate rising from 38pc to 48pc after post-sale negotiations. At Charlton in Victoria, 147 13-14 month-old first cross ewes weighing 68kg lwt sold for $314, $34 over reserve.
The small offering of 826 shedding breed ewes all sold to strong demand, with the clearance rate rising from 89pc at the sale, but the average price fell $70 to $288. At Cobar in NSW, 260 6-9 month-old Dorper ewes weighing 47kg lwt sold for $204.
Note: Prices as at 5pm, Thursday 6th October 2022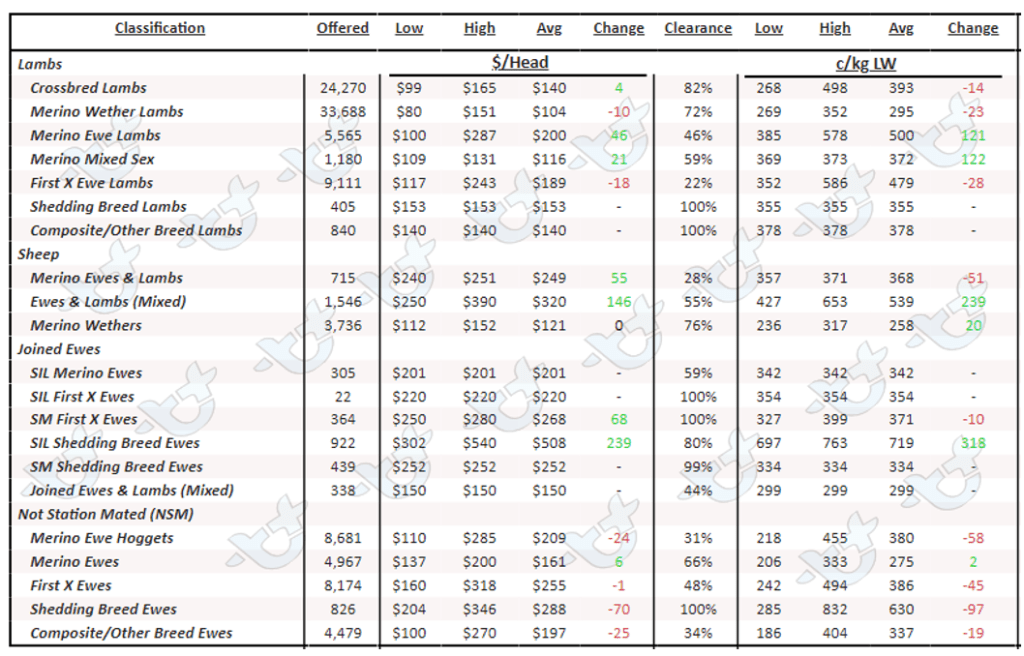 Source – AuctionsPlus.