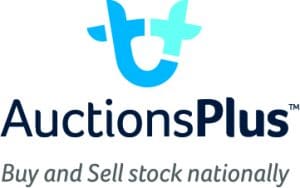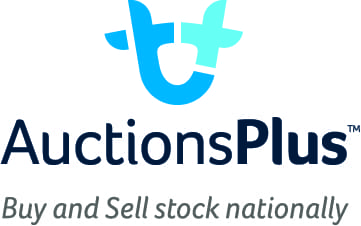 AUSTRALIAN sheep producers marketed more lambs online last financial year as seasonal conditions, more lamb-specific sales and market dynamics influenced their decisions.
In 2016-17 AuctionsPlus offered 2,749,551 sheep and lambs, up 24 percent from the previous year, and the overall clearance rate rose 8pc to 88pc.
AuctionsPlus market operator Anna Adams said the number of crossbred lambs marketed online increased from 610,000 to 710,000 or 16 percent year-on-year.
"This is significant growth is a season where producers had better opportunity to turn off lambs at slaughter weights compared to previous years and where more were sold as stores."
She said crossbred lamb prices were consistently higher year-on-year, but market dynamics and weekly lamb sales also resulted in better prices for vendors.
"Historical price analysis shows that buyers are better able to set market value when all lambs were listed in the same sale, rather than being split over multiple sales.
"Even though last season we listed more lambs that you would call a restocker or a store lamb, I think overall in the market place the supply of that article was reduced, compared to the previous year," she said.
"This was due to the good season the south had last year and a lot of producers were able to retain them and grow them out to slaughter weights."
Merino wether lamb numbers also experienced growth of 100,000 head, from 364,000 to 464,000 offered (27pc growth), due partially to the need for Merino lambs to supplement the intermittent supply of crossbred lambs.
"Dedicated lamb sales assisted in attracting these numbers, providing a platform for wool growers to compete against backgrounders and feeders also sourcing Merino lambs to bolster slaughter numbers," Ms Adams said.
"Having a platform where processors, wool growers, backgrounders and feeders can all compete against each other is certainly a good option for a Merino wether lamb."
Ms Adams said the good engagement from agents and producers with current AuctionsPlus lambs sales is continuing, with seasonal conditions leading to the turn off of more lambs as stores online.
Click on the links to see the graphs for the 2016-17 throughput and prices for crossbred terminal lambs, Merino wether lambs, new season terminal lambs $/head and new season lambs price/liveweight.
Ewe-lamb unit and ewe price increases apparent
The 2016-17 data also indicates the significant increases in prices paid for ewe-lamb units, scanned in-lamb Merino and first cross ewes in 2016-17, especially in the first half of 2017. Click on the links for the graphs illustrating the prices and throughput for ewes and lambs, SIL Merino ewes and SIL first cross ewes.
The 2016-17 AuctionsPlus sheep category throughput data has shown that the major categories marketed online were Merino ewes and ewes lambs (28pc), crossbred lambs (26pc) and Merino wether lambs (17pc). Click the link to view the sheep category graph.
Online new season lamb prices
The 2016-17 data indicates that new season lambs marketed on online sold consistently above saleyard indicator levels from late May to late August 2017. It showed that average online new season crossbred lamb carcase weight prices from late May to late August exceeded the National Livestock Reporting System Restocker Lamb Indicator by 9-435c/kg.
Ms Adams said the online new season lamb cwt prices closely followed the trend of the RLI, but averaged 158c/kg above the RLI during that period. The AuctionsPlus cwt price is based on assessors' estimate of carcase weight.
She said there was not necessarily a dedicated marketplace for store lambs when they need to be sold and saleyards are quite focussed on slaughter lambs.
"To sell a restocker lambs on an online marketplace is certainly an attractive option because we've seen them travel from northern New South Wales down to the Riverina and even Victoria.
"So you are opening up your buying audience that much further.
"Our customers are gradually realising that in a falling market, your local saleyard may not be the best opportunity to get the best price for your stock, because obviously everyone in your area is experiencing the same seasonal challenges, so you want to open up your audience as much as you can."
New South Wales stock agents David Corcoran and Ross Plasto said lambs on AuctionsPlus could be bid on by buyers from several states. Both agents marketed lambs for clients this year that would have otherwise been finished by the breeder except for seasonal conditions.
"That's why you do it," Mr Corcoran said.
New South Wales leads AuctionsPlus throughput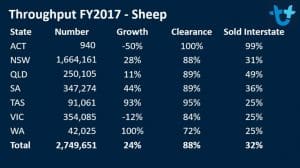 New South Wales was the major online trading state in 2016-17, followed by Victoria and South Australia, despite these states having the highest concentration of physical saleyards.
"It think it shows the increasing engagement with online platforms to sell stock," Ms Adams said.
NSW lead the way with number of vendors and buyers, as well as a throughput of 1,664,161, up 28pc on the previous year.
Victoria's online sheep and lamb offering lifted 12pc to 354,085, South Australia's rose 44pc to 347,274 and Queensland's improved 11pc to 250,105.
Ms Adams said it appears the movement of sheep out of Queensland is slowing, with one factor being producers rebuilding flocks behind cluster fences. She said while the number of sheep moving out of Queensland is significant, the percentage is dropping. In 2016-17 the percentage of sheep sold online from Queensland to interstate buyers was 49pc, while two years ago it was over 80pc.
"The systems are in place now to help manage the problems with dogs which saw a lot of producers get out of sheep in recent years.
"I think also with cattle prices having been at historical highs in the past couple of years, a lot of people perhaps were turning to sheep as a more manageable way to restock if they had reduced their overall livestock numbers and needed to buy in to use feed."
SA is top online customer engagement performer
Although Tasmania recorded the highest online percentage throughput growth of 93pc in 2016-17, Ms Adams said South Australia was the stand-out state for growth of numbers and customer engagement in the past year, for sheep and cattle. She said more SA agents had trained as AuctionsPlus assessors to offer more selling options to clients. This increased buyer exposure led to significant numbers going to interstate buyers.
In Western Australia, Ms Adams said the growth from a zero offering the previous year to 42,025 in 2016-17 was driven by agents and vendors taking advantage of eastern states demand for Merino ewes. The extra competition aided in reducing the disparity between the two markets, she said. Buyers in Victoria and southern NSW purchased the bulk of the sheep heading east. Click the link for the customer engagement by state graph.
Source: AuctionsPlus.