SPOT AUCTION wool prices fell to flat forward levels last week, with most market participants having concerns coming into the week.
The rapid auction market rise of the last fortnight was meet with resistance last week.
The spot auction was unable to maintain the momentum, falling back 2 percent for the week.
It was asking a little too much to think the recovery of the magnitude we had seen over the last five trading days to continue without an underlying change in sentiment or demand.
On the forward market, bidding started the week pitched 20 to 30 cents under cash for the nearby window. It was soon apparent that offshore sentiment was flat and the only forward trades for the week were executed prior to the commencement of the auction series. October traded at 1610 cents (spot 1636 cents) for 19 micron. November 21 micron traded at 1345 cents (spot 1378 cents).
The spot market fell to the forward levels and hedge bids were difficult to find. Among the headwinds for prices this week was a strengthening Australian dollar and no apparent easing of COVID restrictions across China.
The chart below tracks the recent movement of the AWEX 19 Micron Price Guide. After breaking through the key 1600-cent level last week, the pullback to the average of last three years has chartists divided on which way from here.
On balance, it appears that the market will struggle again to hold ground, although a pullback to the early October levels seems unlikely.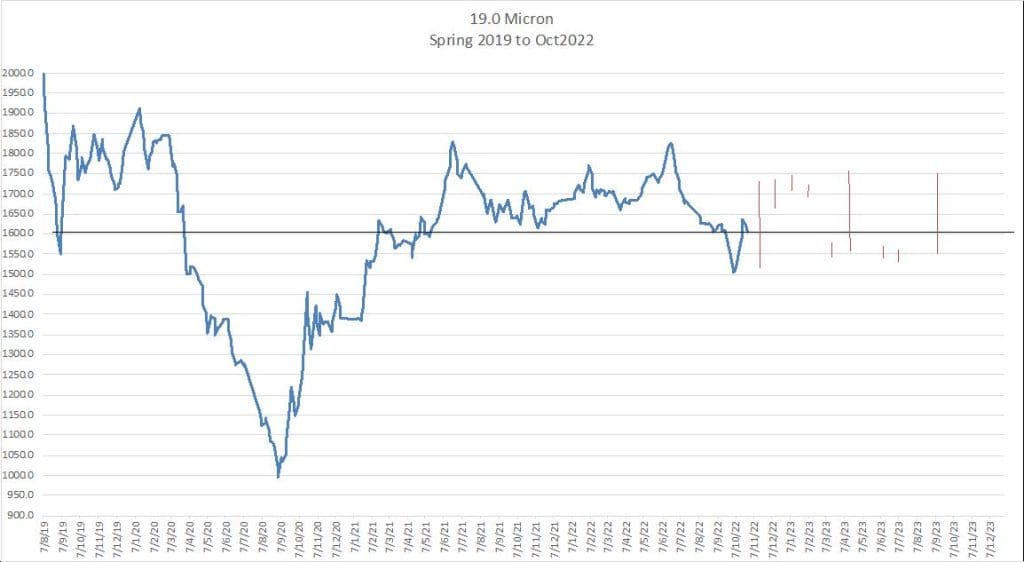 This week's trades
October 19 micron                                         1610 cents                        5 tonnes
November 21 micron                                     1345 cents                        5 tonnes
Total 10 tonnes