WOOL traded forward out almost three years close to current cash levels in an unusual week for the market.
The spot auction market again performed well, with all microns gaining 0.5-2 percent for the week.
Medium wools gained the most for the week, clawing back the topsy turvy range in January with 21 micron reaching 1465 cents and equalling its season high achieved in December.
Finer wools, that performed well post-Christmas, recovered to print positive numbers again. The 18 micron indicator has stabilised above 2000 cents — its highest since September — and  19 micron indicator traded through 1700 cents to close at 1712 cents, a level not seen since July.
This price action triggered better participation in the forwards. While most activity remains stubbornly in the nearby window (February and March) it was pleasing to see buyer activity along the longer-term months. The 19 micron contract is the focus of interest and is bid from December 2023 through to 2026 at 1670 cents. The percentile chart below and the 10-year graph illustrates where that level sits in the long-term.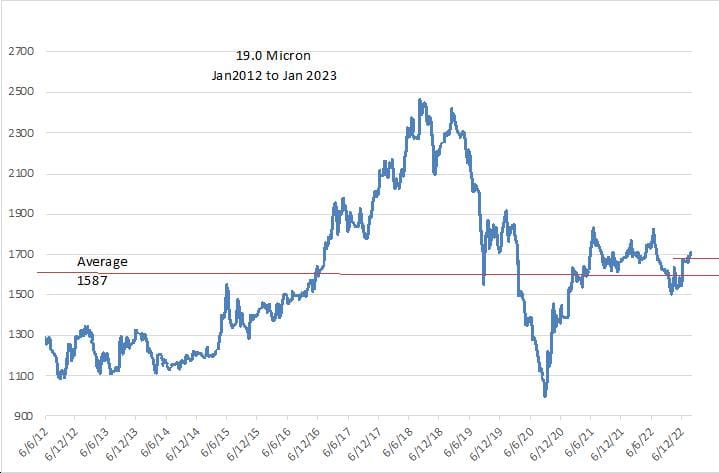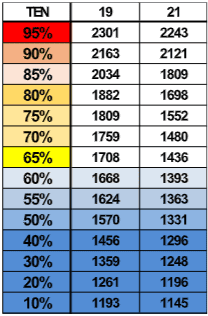 This bidding stimulated grower interest that resulted in trading in 19 micron at 1670 cents for September 2025, but also triggered trade in 21 microns at 1400 cents for the Spring of 2024.
Long-term hedging levels have now appeared into this Spring and into early 2024 at 1700 cents for 19 microns and 2005 for 18 microns. It is likely that we will need a significant break of these major levels in the spot auction to initiate at these higher levels.
Trades this week
February 19 micron                                        1650 cents                   5 tonnes
February 21 micron                                        1400/1420 cents        35 tonnes
March 19 micron                                            1650/1670 cents        10 tonnes
March 21 micron                                            1410 cents                 10 tonnes
September 2024 21 micron                           1400 cents                 10 tonnes
September 2025 19 micron                           1670 cents                 10 tonnes
Total 80 tonnes