SHEEP meat and wool prices are likely to continue to remain volatile in coming months due to forecast strong production growth, according to ANZ's latest agri commodity report.
The community report said the forecast production growth could reduce the likelihood of strong price rises, despite continued demand from overseas markets.
Australian sheep markets are coming off two consecutive years of strong production and flock recovery, following good seasonal conditions across much of the nation's sheep production zones, ANZ said.
ANZ associate director of agribusiness Alanna Barrett said national lamb slaughter data supports this sentiment, with more than 400,000 lambs processed each week in October, up almost 18 percent on average year ago levels.
"Fortunately for lamb markets, the consistently high supply in the market throughout Spring has been matched with continuing strong export demand.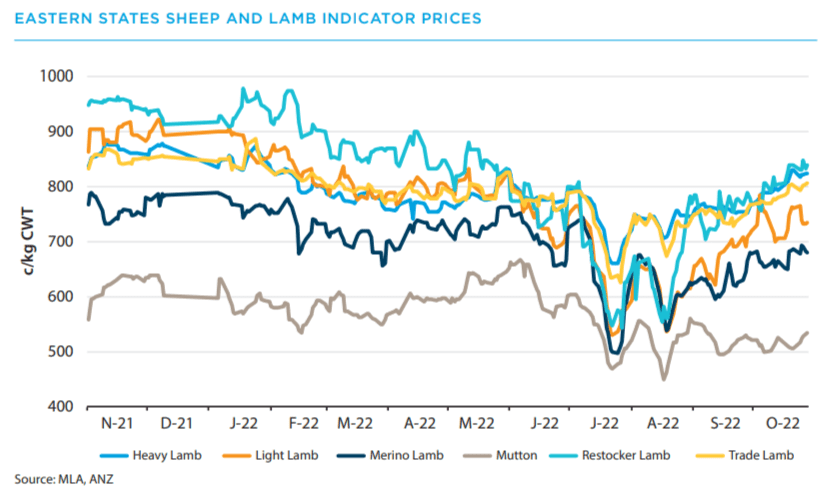 "For lamb exports, figures to late 2022 have exceeded both 2021 and 2020 levels by around 5-10pc, with the industry continuing to enjoy particularly consistent growth in the United States market, along with a steady trade with China," she said.
"Going forward into the Summer months and into 2023, the plentiful yet volatile supply is forecast to continue across both lamb and mutton categories, which is likely to keep fluctuating prices the norm from week-to-week."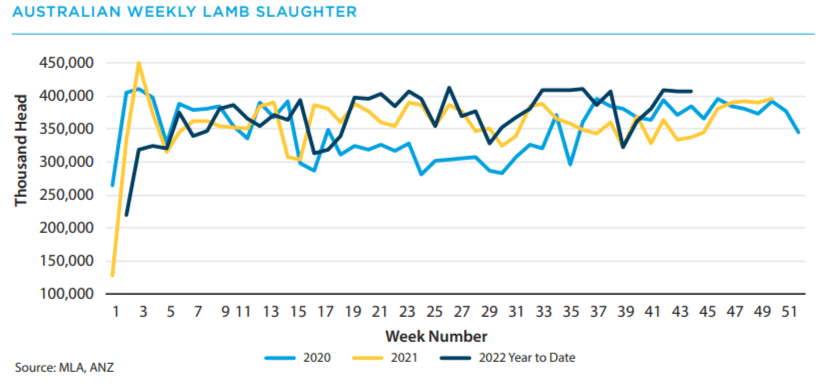 Wool garment demand under pressure
Ms Barrett said with the impact of volatile global economic conditions, the demand for discretionary items such as wool across key importing nations is under pressure, as the cost of living rises and economic uncertainly looms.
"This is particularly prevalent across the European nations, where traditionally Winter would see a peak in demand for woollen garments."
"Given that China's domestic retail sales are also struggling to keep pace, and continued interruption to first stage processing in the country is also impacting demand from major buyers, this could keep pressure on Australian wool prices over the coming months," Ms Barrett said.
"As the industry moves further into the 2022/23 season, wool production is forecast to continue to grow along with the national flock, which will not aid in the likelihood of any price recovery over coming months."
"Large price spreads continue between coarse and fine wools, playing into the favour of Merino producers 20 micron and under, who now make up 65pc of wool tested, up 7.5pc over the past five seasons."