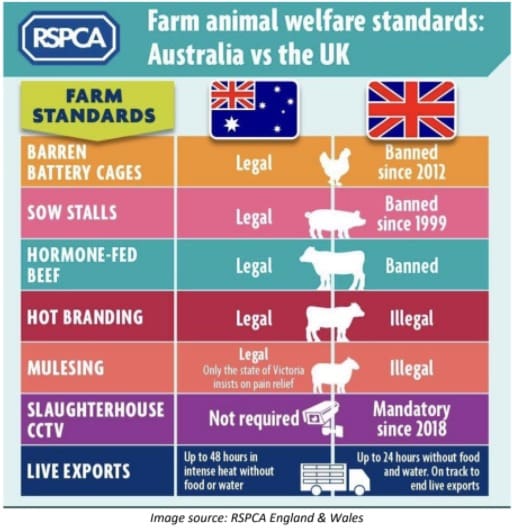 AUSTRALIA'S ongoing use of animal welfare practices banned in other countries will continue to cause difficulties in trading relationships, despite the proposed free trade agreement with the United Kingdom, according to Humane Society International.
According to Australia's Department of Foreign Affairs and Trade, the two countries have seemingly agreed to include FTA provisions on animal welfare that recognise how animal welfare is regulated in Australia and the rights of each country to regulate animal welfare protections.
However, HSI head of campaigns Nicola Beynon said the contrast between UK and Australian animal welfare standards caused considerable controversy on the UK side of the FTA negotiations.
"If Australia continues allowing practices that are banned by our trading partners and that are shocking to their public, it will continue causing difficulties in these trade relationships.
"No doubt the gap in standards will be a hot topic for the animal welfare working group the UK and Australia are setting up under the agreement so the dialogue and scrutiny of Australia's standards will continue," she said.
Ms Beynon said HSI's UK office will continue pushing the UK to insist on equivalence in standards.
"It is not fair to the British public or producers for their higher standards to be undercut by imports from countries with lower standards.
"Australia's primary producers object to this when our standards are higher than importing countries and the shoe is on the other foot," she said.
Ms Beynon said British brands and retailers are very responsive to animal welfare concerns.
"Australian producers would be very brave to expect continuing access to the British High Street without meeting growing community expectations on animal welfare.
"Take the issue of mulesing; Burberry, John Lewis, Marks & Spencer, Next, Tesco, Top Shop and the Arcadia Group all have policies against mulesed wool, with more brands expected to follow," she said.
Ms Beynon said HSI is pleased the Australian Government has agreed to animal welfare provisions in the FTA with the UK.
"It starts a dialogue.
"Of course, the UK and EU free trade agreements are just one of multiple upward pressures on Australia's animal welfare standards," she said.
"But for Australia to respond well to these pressures we are going to need better governance structures for animal welfare standard setting, and investment and leadership from our federal government to coordinate and drive change," Ms Beynon said.
"HSI recommends a dedicated body to act as a centre of excellence for animal welfare and coordinate standard setting processes, consulting fairly with all stakeholders and guided by ethics and objective science.
"HSI recommends passage of the bill from Independent Andrew Willkie to establish an Independent Office for Animal Welfare," she said.
"Our trading partners would surely look favourably on such a move."
DFAT has told Sheep Central in a statement from an unidentified spokesperson that each country retains its own right to regulate animal welfare protections under the FTA.
"Australia has agreed with the UK to include provisions on animal welfare in the FTA that we consider to be appropriate for such an agreement and which recognise how animal welfare is regulated in Australia.
"There will be ongoing negotiations to finalise the details of these provisions," the DFAT statement said.
"Industry organisations, including those representing wool growers, have been, and will continue to be, consulted as the negotiations progress."
In the attached opinion piece, Ms Beynon puts the case for greater Federal Government investment in improving Australia's animal welfare reputation.